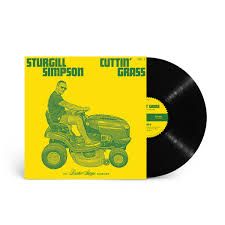 I've written about Sturgill Simpson a few times, seeing him live in electric rock mode with Tyler Childers (tinyurl.com/zubsturgill) and the amazing bluegrass live stream he did from an empty Ryman Auditorium (tinyurl.com/zubryman). Sturgill was raising money for charity, and he told his fans if they reached a certain amount of donations, he would make a bluegrass record. Well the fans came through, blowing the roof off in donations, and the result is Cuttin' Grass Vol 1. 
I'm not a huge fan of Sturgill, but he is one of the most authentic American artists of our time. He's a great songwriter with a truly commanding voice. What I really admire about Sturgill is his single-mindedness; he absolutely will not play the Nashville music/major label game. He got himself kicked off of his label on purpose, and now he does what he wants, his way. 
Sturgill has reworked 20 of his own songs bluegrass style, and the material is all from his first four LP's, including his first band Sunday Valley, High Top Mountain, Metamodern Sounds In Country Music, and A Sailor's Guide To Earth. He keeps the arrangements traditional, and these songs work very well in bluegrass form. Sturgill, a Kentucky boy, has this music in his blood, and he's a natural. 
Recorded at The Butcher Shoppe, a nondescript studio (once owned by John Prine) in the industrial Germantown area of Nashville, this is a one-take kind of record, no overdubs, the real deal. Sturgill used his longtime producer/engineer Dave 'Ferg' Ferguson, and the results are pretty spectacular. 'Breakers Roar' from Sailor's is an uptempo revelation. Sturgill's voice has never been better. 
The assembled players are among the best bluegrass has to offer. Sierra Hull on mandolin and vocals is a real standout, as well as Stuart Duncan on fiddle. Scott Vestal on banjo and Mike Bub on double bass are rounded out by Tim O'Brien and Mark Howard on guitars, and Sturgill's regular drummer Miles Miller hits the snare and sticks. It couldn't be a better lineup. It also should be noted Duncan and Bub played on Steve Earle's turn at bluegrass, The Mountain, in 1999. (See Adrienne's review of Earle live at tinyurl.com/zubtinyearle). 
Other highlights include 'Just Let Go' from Metamodern, which is given a bouncy treatment and sparkling fiddle. 'Life Ain't Fair' from High Top Mountain has the classic call and response vocals; it sounds like an old classic. 'A Little Light' turns into a bluegrass gospel take on the road to heaven. Metamodern's 'Life Of Sin' is a perfect bluegrass specimen. 'Living The Dream,' with its six note start/stop figure, is a great workout for the band. It should be noted that there is not a lot of instrumental stretching out or "look at me" soloing. Sturgill keeps the arrangements tight and bound to the songs, which just seem to fly by. 'Railroad Sin' is joined with a blistering Scruggs-like banjo and has the feel of a Bill Monroe track. 
'Turtles All The Way Down,' from Metamodern has that Kris Kristofferson feel: Kris goes bluegrass. It's quite catchy with an undeniable melody. The record ends with 'Water In A Well,' a sad lament from High Top Mountain, and once again Sturgill Simpson has pulled off another one. 
In a letter to his fans, he spoke of growing up with bluegrass. He's a Kentucky mountain boy with a birthright to this music. His young protege, Tyler Childers, has also recently "gone bluegrass" with his new History Of Violence LP. I'm not a big bluegrass fan, but good music is good music, and this is among the best. This Appalachian music is descended from English, Scottish and Irish ballads and African-American blues and jazz. Being a Scot with old Irish heritage, this is really my music, and sometimes it does strike me like something in my DNA. Coming from poor, hardscrabble coal miners in Kentucky or tenant farmers in the highlands of Scotland or the fields of Ireland, this is the music of a poor, proud people. Don't forget bluegrass was once called "hillbilly" music and made fun of by the Nashville hit-making country set.  
Sturgill Simpson is a true trailblazer, and he has made a fantastic record rediscovering his roots. Listening to Cuttin' Grass, I must admit it had a calming and almost therapeutic influence on me. Sturgill has very high standards and he does what he wants. He's a true artist, and I cannot wait to see where he goes next. 
----Steve McGowan
Thanks for dropping by. This blog is part of zubrecords.com, an indie label run by people who make and love music! Check out Alert for blogs on music, films, books, and more! Our podcast, Singles Going Steady, is on all major podcatchers and at tinyurl.com/SGSPodcast Lots of cool things to read and listen to at zubrecords.com.