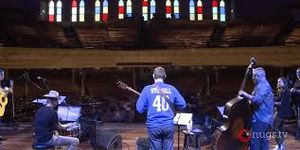 Sturgill. He is the man. After having his most recent tour cancelled halfway through due to the pandemic, a tour that I saw in Asheville, he contracted COVID-19 and was out of commission for a few weeks. Then he stirred up shit on the Internet, and achieved his dream of getting his record company to drop him. I got the impression he was over music for awhile, but tonight he seemed energized and ready to go, with a full-on Bluegrass band. 
Sturgill explained he started a fake organization - 'Dick Daddy Survival School,' to raise money for Music Cares, Nashville, wounded vets and other charities. He promised to do a show and release an LP this year if he raised $200K; his fans have spent $248,000 to date. That's what this show tonight was about. 
Opening with 'Living The Dream' from Metamodern Sounds In Country Music, he revealed, in the empty Ryman, a totally crack band of Bluegrass vets. Upright bass, banjo, mandolin, another acoustic (plus Sturgill's) and violin, and Sturgill being an iconoclast, the non-Bluegrass purist inclusion of a snare drum. Next up was 'A Little Light,' and both songs sounded like Bluegrass classics. The Metamodern songs continued with 'Life Of Sin,' basically the story of Sturgill's career. Next was 'All The Pretty Colors' from his first band, Sunday Valley. He introduced it as a song "he played in a punk rock band in Kentucky," and it was a high-tempo scorcher. 
Sturgill spoke before 'Long White Line,' (again from Metamodern), mentioning he had "difficultied" his way out of a record contract, and talked about getting back to Bluegrass, music from "gravel parking lots and porta-potties." He said this was the music that was in his heart and soul.  
Next up, 'Breaker's Roar,' from A Sailor's Guide To Earth. This was a song with Bluegrass trappings but with a much more sophisticated and deep underpinning, Sturgill singing: 
Oh, how the breakers roar 
They keep pulling me farther from shore 
Thoughts turn to a love so kind 
Just to keep me from losing my mind 
So enticing, deep dark seas 
It's so easy to drown in the dream 
Oh, and everything is not what it seems 
This life is but a dream 
Shatter illusions that hold your spirit down 
Open up your heart and you'll find love all around 
Breathing and moving are healing 
And soothing away 
All the pain in life holding you down 
This song was just stunning, and his voice never better. In the same way, (A Sailor's Guide's) 'All Around You' had a Bluegrass framework, but this is an R & B, soul music song in bluegrass trappings. I could hear Sam Cooke singing this: 
There will be days 
When the sun won't shine 
When it seems like the whole world is against you 
Don't be afraid 
Life is unkind 
You can let go of the pain if you choose to 
'Cause time slips away 
Skies fall apart 
It ain't too hard 
A universal heart 
Glowing, flowing, all around you 
There will be nights that go on forever 
Like you're long-lost at sea 
Never to be found 
Just know in your heart 
That we're always together 
And long after I'm gone 
I'll still be around 
'Cause our bond is eternal 
And so is love 
God is inside you all around you 
It's devastating.  
They followed up with the Sunday Valley song 'Sometimes Wine,' back to traditional Bluegrass. Then they did 'Time After All,' a meditative song from Sturgill's first record High Top Mountain. This was followed by some true, traditional Bluegrass, beginning with 'Pretty Polly,' which I'm familiar with through Ralph Stanley. Then Sturgill did his own 'Railroad Of Sin,' which fit in beautifully, and they ended up with the Stanley Brothers 'Sharecropper's Son.' 
I can't hardly tell you how much admiration I have for Sturgill Simpson. Including this stream, I've seen him three times, and each time it was like seeing a completely different artist. His talent really appears to have no limit. His songwriting otherworldly, singing so expressive: Sturgill does not chase any sort of musical trends. Sturgill does whatever the hell he wants, and he's great at whatever the hell he wants. He coyly said he was going to release TWO albums this year, intimating he might have different takes on the same material. Will there be a rocking version and a Bluegrass version of the same songs? Sturgill might do this just because the Sturgill, free of the old label restraints, is just gifted and ornery enough to do it. 
He is back to his Kentucky roots, perhaps influenced by his tour-mate Tyler Childers (see our live review at tinyurl.com/zubsturgill), and the results are spectacular. Sturgill is still miles ahead of his audience. Follow him, it's a wonderful ride as you follow along in his wake, trying to catch up. 
----Steve McGowan 
Thanks for dropping by. This blog is part of zubrecords.com, an indie label run by people who make and love music! Check out Alert for blogs on music, films, books, and more! Our podcast, Singles Going Steady, is on all major podcatchers and at tinyurl.com/SGSPodcast Lots of cool things to read and listen to at zubrecords.com