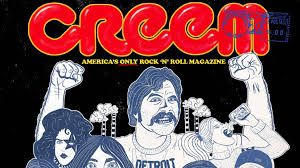 If you are of a certain age, you remember Creem as a true rock and roll magazine. They ran from 1969 until 1993 and the magazine was a must have in my house as a kid who devoured rock and roll news. This is a very well done documentary that involves many of the Creem journalists that are still with us. 
Creem started in Detroit when Barry Kramer, who owned four successful 'head shops,' cashed them in to raise money to publish a magazine. He was initially guided by Tony Reay, who wanted the magazine to be a serious treatise on blues and blues-rock. Kramer wanted something more irreverent, more rock and roll, and Reay was jettisoned. The magazine was outstanding in its coverage of local bands like the MC5, The Stooges, Bob Seeger, and Ted Nugent (the doc shows an amazing pic of the Nuge and Patti Smith hanging out backstage!)  
In the post racial riots of Detroit in 1967, while many magazines dealt heavily in the politics of the time, the Creem staff dove deeper into music. David Gilmour look-alike Dave Marsh was the chief  editor. The first offices were on Cass Avenue in a seedy section of downtown, where bands would play and crash. Kramer was paying the staff $5 a week each and everyone seemed happy to be there. In 1970, the indomitable Lester Bangs appeared, writing a bad review of the MC5. Lester would do anything to push the envelope, but no one could argue that he wasn't a great writer. Check out his article on Black Sabbath from 1975, entitled 'Take Your Mother To The Gas Chamber.' 
After making a mark and planting the flag as Creem's heart and soul, Lester was on stage with the J.Geils band writing the review on his typewriter while they played. At the end, of course, he smashed the typewriter. Writer Jaan Uhelszki appeared onstage with Kiss (in Kiss makeup) for a story. 
Gaining some financial success, Kramer moved the magazine (and staff) to a farmhouse compound in Birmingham, Michigan. For two years things got a little weird and stir crazy with the staff in each other's pockets. Uheleski states that the magazine was sexist and a 'boys club,' but admits that a lot of the sexist content was written by her and other women writers.  Creem definitely pushed the envelope, but that is what made it Creem. It was the 1970's, as they seem to repeatedly justify, sigh… 
As the magazine grew, and went nationwide, the staff did not grow and everyone was pushed to the brink. I have a whole box full of my buddy Joey's Creem magazines from the late 1970's. They are treasured possessions. Magazine features included were a goofy 'Creem's Profiles,' a parody of a Dewars scotch ad (in which famous people tried to appear contemplative and interesting), and irreverent 'Star's Cars' (Devo getting on a bus, Joe Perry in an expensive sports car he had totaled).  
They then moved offices to downtown Birmingham, Michigan, for real office space. Chad Smith, the Red Hot Chili Peppers drummer, tells a great story of him riding his ten-speed bike from his nearby home in Michigan to the Creem address. As he arrives, the door opens and out comes Alice Cooper! We're not worthy!  When the Runaways got a bad Creem review, Joan Jett arrived to kick the writer's ass. He sneaked out the back! Joan's epic and funny letter to the magazine is a highlight of the documentary. 
There is a lot of discussion of the merits and attitude of Creem vs. Rolling Stone. RS is painted as being run by a trust fund baby who likes to hang with celebrities. They do culture and politics. Creem was run by a bunch of dirtbags who lived for rock and roll; in a way the magazine was rock and roll. In one scene, Dave Marsh is credited with coining the term 'Punk Rock.' Cut to the great Legs McNeil; Legs says that Dave is "such an asshole" and is no way the originator. But indeed Creem embraced punk in a way no other magazine did. They knew what the good stuff was. 
Lester Bangs is portrayed as sort of a 'dancing bear,' a big, cuddly, but unpredictable entertainer, and a guy who had some real problems. But his jousting with Lou Reed was amazing, because he loved Lou so much. The two would meet up, get hammered, and basically yell at each other. The article where he slugged it out with Lou was called 'Let Us Now Praise Famous Death Dwarves:' 
Check out his article on Lou's Metal Machine Music, entitled 'The Greatest Album Ever Made,' it is genius rock crit. 
Things start to go south for Creem, with Dave Marsh leaving for New York and joining the hated Rolling Stone. Publisher/owner Barry Kramer gets heavily into drugs and is an absentee owner. His wife goes to rehab, and Barry comes to visit and snorts blow in her rehab bathroom. In 1976, Lester left, also heading to New York. In 1981, Kramer died of an accidental overdose. He was found with a bag over his head filled with Nitrous Oxide. Lester died in 1982 after relapsing with drugs after quitting. Creem hung on until 1989, but their rock and roll dream was over.  
Barry Kramer left the operation to his young son JJ Kramer, now a lawyer, who obtained all the rights and articles from the magazine. This documentary is part of him restoring Creem and its legacy. The film includes interviews with many involved in the music scene of Creem's heyday as well as those shaped by a love for the magazine, including Wayne Kramer (MC5), Suzi Quatro, the reclusive Peter Wolf, Greil Marcus, Michal Stipe, Alice Cooper, Mitch Ryder (who played once at Cass Ave.), Robert Christgau, and a very excited Kirk Hammett (Metallica) who was a big fan of the magazine. There's some great old video, some amazing pics (one with Lester rolling his eyes standing next to Debbie Harry stands out), cool animations, and concise interviews. 
Adrienne and I watched the doc through a streaming agreement with the Carolina Theater in Durham, one that benefitted the shuttered venue and the filmmakers. The film captures a bit of the excitement, joy, and absurdity of rock that Creem both celebrated and heckled. If you read Creem, I'm assuming you have already seen it. If you were there and haven't yet, you must see this film. If you weren't, it is even more vital that you do. 
Boy Howdy! Give it a spin. 
----Steve McGowan 
Thanks for dropping by. This blog is part of zubrecords.com, an indie label run by people who make and love music! Check out Alert for blogs on music, films, books, and more! Our podcast, Singles Going Steady, is on all major podcatchers and at tinyurl.com/SGSPodcast Lots of cool things to read and listen to at zubrecords.com