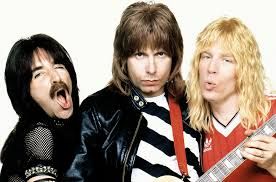 This Is Spinal Tap is a touchstone in my life. Indeed, most musicians are great fans. The 1984 film is the ultimate parody of musicians and life on the road. It was probably the first of the so-called 'mockumentary' films, and it is still the best. Largely improvised, the movie was directed by Rob Reiner (playing Marty DeBergi, basically Scorsese in The Last Waltz). The movies' three leads are Chris Guest as dull guitarist Nigel Tufnel, Micheal McKean (Lenny from the TV show Laverne and Shirley) as the leonine frontman David St, Hubbins, and the very underrated Harry Shearer (the voice for Mr. Burns, Reverend Lovejoy, and many others on The Simpsons) as the 'intellectual' bassist Derek Smalls. 
I've seen Spinal Tap so many times I can quote almost every scene, and the quotes are all epic: 
"This one goes to eleven" 
"There's a fine line, between stupid...and clever" 
"Too much f*cking perspective" 
"None...none more black" 
"You come in here...looking like an Australian's nightmare" 
"We need to record it in dubly" 
"You can't exactly dust...for vomit" 
There are too many to list. I was in a cover band called 'Goes To Eleven,' and my trusty Soldano guitar amp...yes indeed...goes to eleven, because "that's one louder!."  
So, I was pretty excited to see the principals of the movie were meeting as a fundraiser for Pennsylvania Democrats, I had to see it. The show was a pretty professional Zoom type call with Patton Oswalt as the host. I really like Patton, and he was a fanboy but knew his stuff about the movie. Rob Reiner began, explaining that the band Spinal Tap was created for a TV variety show, a parody of the 1970's music show Midnight Special, with Reiner doing famous host Wolfman Jack. Russ Kunkel was on drums and Loudon Wainwright III on keys!  
They said when they pitched the movie, they didn't have a script, so they made a 'test movie' to get financing. Only one minute of that film was used in the final version, the band as "The Thamesmen" in their British Invasion phase, playing 'Gimmie Some Money' in perfect black and white video. The drummer was Ed Begley Jr., and he made an appearance on the stream, saying he played drums "like the little tire on your car that you use when you have a flat." 
They mentioned uber-jazz drummer Greg Bissonette played drums live on their 1990's reunion tour. The 'Mime Is Money' scene was shown with Polymer Records' Bobbie Fleckman, one of the indelible characters in the movie. Fran Drescher (The Nanny), who played Fleckman, now appeared on the stream and was charming and beautiful, The boys said when she was on set they really had to straighten up, and you got the impression they all had a crush on her. Next up was Billy Crystal, the 'Bitter Mime,' who was very funny and showed merch he'd sold at his Broadway show, winter toques embroidered "Mime is Money." I learned the blonde mime he is berating in the scene is actually Dana Carvey. 
The song 'Big Bottom,' in which the two guitarists also play bass, and bassist Derek Smalls boosts to a double neck bass, was next, Rick Parnell was the drummer and John Sinclair played keys, which was ironic as Sinclair left Spinal Tap to play with the Tapish Uriah Heep! They showed the famous Nigel Tufnel scene with all the amazing vintage guitars (from Norman's Guitars in California) and the Marshall amp that "Goes to eleven." Nigel's cluelessness still makes me laugh. Then the scene at the (fake) Graceland where the band tries to sing 'Heartbreak Hotel' at Elvis' grave. Too much f*ucking perspective. 
A few more scenes were played, then they talked about getting the band together to do the live scenes, including opening for Iron Butterfly at Gazzari's on the Sunset Strip in Los Angeles. Turned out there was an issue with Iron Butterfly's schedule, so they played first! So Spinal Tap headlined with Iron Butterfly opening. They explained that all the live scenes in the movie with the band playing were filmed on one day, so there was a marathon of moving cast, crew, costumes, and equipment to five or six locations in the Los Angeles area. Somehow they managed to pull it off. 
The wonderful Paul Schaffer appeared, talking about his turn as record promo man Artie Fufkin. He has since met many, many promo men and he said all of them say something to the effect of "I'm the Artie Fufkin of the (Your Area Here)." Thoughts turned to the recently departed Fred Willard, who was obviously held in the highest regard by these amazing actors. They said Fred was "a window on to another world." His scene as the commander at the Air Force base (where the band has another disaster of a show)  is shown, and you can see Chris Guest as Nigel losing it and hiding behind another band member. Fred was the player that consistently broke up all the others. 
At the end some politics were addressed, as this was the point of the show/fundraiser. It was great to see and hear Guest, McKean, Shearer, and Reiner chat. They feel like old friends, and they are all ridiculously dry and funny. Chris Guest is known as the master of Mockumentary films, with Waiting For Guffman, A Mighty Wind, For Your Consideration, and Best In Show. I see Michael McKean has a thriving Broadway presence, and is amazing as Chuck McGill on Better Call Saul, Also, whenever I see him on the Food Network's Food, Fact or Fiction? I'll usually stop and watch. Harry Shearer is a constant presence on The Simpsons, has a public radio comedy show, and has written three books. Rob Reiner (Meathead from Archie Bunker) still makes movies, acts, and is an activist for the Democratic party.  
All of these guys are 70-ish, but they are as vital and funny as ever. The movie was described by Oswalt as "part of the vernacular, " and that is true for Adrienne and me. Not a day goes by that I won't quote the film. I love Spinal Tap, and I love it's creators, and this was a genuinely heartwarming and informative stream. 
-----Steve McGowan 
Thanks for dropping by. This blog is part of zubrecords.com, an indie label run by people who make and love music! Check out Alert for blogs on music, films, books, and more! Our podcast, Singles Going Steady, is on all major podcatchers and at tinyurl.com/SGSPodcast Lots of cool things to read and listen to at zubrecords.com