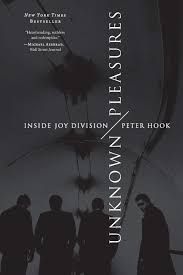 There's no secret how much I love Joy Division; I've been following the short-lived group since 1979. I've read many books about the band, including Deborah Curtis' Touching From A Distance and Jon Savage's excellent oral history of the band, This Searing Light, the Sun and Everything Else (tinyurl.com/zubsearing). Peter Hook, Joy Division's bass player, has written the definitive account of the band: forming, struggling, and ending with singer Ian Curtis' suicide on the eve of an American tour in 1980.  
Unknown Pleasures was published in 2012, Hook's second book after The Hacienda: How Not To Run A Club. I have read his third book, Substance: Inside New Order which is a long and excellent read. Hooky's writing style is conversational, he doesn't mince words, and he tells it like he remembers it. 
The story starts with the famous Sex Pistols gig at the Manchester Free Trade Hall. Hook and his buddy, Bernard Sumner, see the show and it changes their lives. Like any typical Mancunians, they not only think "I can do that," but that "I can do that better." They quickly form a band, Stiff Kittens, that goes through drummers and vocalists. They settle with Ian Curtis, a bit older and married, unlike the other members, and Stephen Morris on drums. 
The band rehearses and the story is fairly straightforward, driving along British motorways in a freezing van, playing shit gigs, and getting into it with other bands. Now known as Warsaw, the band releases the Ideal For Living EP (financed by Ian). You can only put so much time's worth of songs on a side of a 45, and they overloaded the time, making the record grooves unstable. The recording sounds like crap and everyone hates it. At this point, two very important people come into the band's orbit: manager Rob Gretton and Granada TV and future Factory Records boss Tony Wilson. Gretton gets the restarted band (now Joy Division)better gigs, more exposure, and better press. People start to really turn out at the shows. 
Hooky describes much mischief on the road and bad blood with other bands, including Slaughter and The Dogs. When they opened for the Cure, they were completely snubbed. Hook reckons they were jealous of Joy Division. Gretton and Wilson convince the band to record the first LP, Unknown Pleasures (tinyurl.com/zubunknown) for independent label Factory, retaining artistic control, and not being under the yoke of a major label. This turns out to work very well for the band.  
About three quarters into the book, Hooky makes the astute observation that the book is as much about Ian Curtis as it is about him. Ian comes off as a real music head, a lover of Iggy and the Velvets (the band covered 'Sister Ray'), and an intellectual. Hook points out that Ian loved to be one of the lads on tour, chatting up birds and getting pissed. Ian was also very driven about the band. As they tour and Ian's epilepsy grows, he starts to have fits onstage. No matter how bad the fits are, he insists that he return to the stage or play the next gig. No one tells him to stop. 
Hook is obviously devastated about what happened to Ian. He says the band weren't mature enough to handle Ian, they just went along. He mentioned Ian being all things to all people:one man with the band, another with his wife, and someone else again with his mistress Annik. An early suicide attempt leaves the band a chance to do a gig without Ian, with guest singers. Hook guiltily writes about the relief he felt that Ian wouldn't be there. The gig turns into a riot. 
One of the bands that comes off well in the book are Buzzcocks. They are supportive of the Manchester bands and take Joy Division on a tour as an opener. Hooky says they usually upstaged Buzzcocks almost every night.  
As the band approaches making their second LP, Closer, Ian is in bad shape, with his seizures continuing, divorce impending, and a new girlfriend, he just couldn't handle all the pressure. Ian did not handle the pressure; he hanged himself just before the  band's first US tour. Hooky is upset even today, he says that the band just didn't see it coming.  
Unknown Pleasures  is a great read from not just an observer but a participant in a seminal post-punk band. It's a sad, tragic tale perhaps only redeemed by the transcendent music the band left us. Hook is straight and unflinching in his writing. A story worth delving into, and thanks also to the Greenville County Library for stocking such a cool book. 
----Steve McGowan 
Thanks for dropping by. This blog is part of zubrecords.com, an indie label run by people who make and love music! Check out Alert for blogs on music, films, books, and more! Our podcast, Singles Going Steady, is on all major podcatchers and at tinyurl.com/SGSPodcast Lots of cool things to read and listen to at zubrecords.com