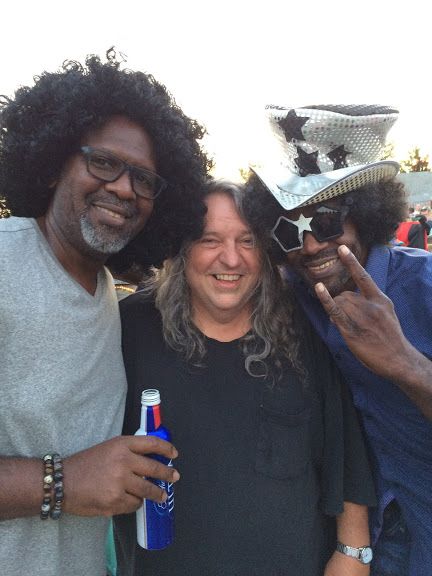 This was a much-anticipated show. Adrienne and I had seen George Clinton and P-Funk at the Blind Tiger in Greensboro late last year, and it was an absolutely wonderful show. But the extra bonus tonight was FINALLY getting to see Fishbone. I've always loved Fishbone, although I don't have all the records. I've seen their excellent documentary, Everyday Sunshine, more than once, and this portrays a frighteningly great band that has had a lot of bad luck. Heck, one of the original members joined a cult and the band had to break him out. That's just one of the fascinating stories in the movie. 
Having been in D.C. the night before (see Blondie/Costello review at tinyurl.com/zubbeastly), we were slightly late for the 6:30 pm show at the White Oak Amphitheatre, arriving about 7 pm We missed the first band, and were stuck in a very long, very slow line to get in for about 30 minutes. This place needed some real organization. We heard Fishbone starting their set with 'Party At Ground Zero,' but didn't get in and to our seats until the beginning of their second song. The seats were uncomfortable but the view and sound was very good, if very loud (luckily, I had my earplugs). Fishbone didn't play long, being an opening band, but they made the most of their time. Frontman Angelo Moore was a Tasmanian devil, thrashing all over the stage, playing his sax, and giving us a little of his alter ego, 'Dr. Madd Vibe'  when soloing on his theremin(!). Original members Norwood and Phillip 'Fish' Fisher, on bass and drums respectively, were killing the groove throughout as Fishbone spun out their very unique mix of punk, funk, ska, R&B, and anything-else-they-damm-well-feel-like-playing. Norwood was one of the funkiest bassists I've ever seen, and Phillip played his drum kit set with his back to the crowd. Early on, Angelo sailed out into the crowd, walking on the backs of the seats like he was a teenager, and led the crowd in a "F*** Trump/ F**** Racism" chant. The crowd went nuts. I can see why all the bands in the Everyday Sunshine documentary all agreed that Angelo Moore was the best frontman they've ever seen. All I can say was that Fishbone could have played a lot longer. It was more than I ever could have expected.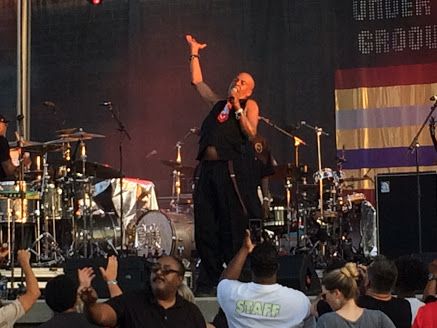 Just looking at the stage from a soundman perspective, George Clinton and the P-Funk All Stars made me nervous. There were somewhere between 12 and 14 wireless vocal mics. There's a full drum kit, a bass, three separate guitar rigs, one keyboard station, and at least a couple of horns. Somehow, someway the sound people running the show did a great job with this seeming simmering chaos. Around 9:30 pm, the core band was jamming and the singers skanked on stage, led by George himself. The party was ON. Wearing a silver outfit and clean shaven, I didn't recognize George until I heard his voice. Second tune was 'Get Off Your Ass And Jam,' they had the crowd out of the seats, and EVERYONE was funkin'. This included Fishbone, with many band members sitting on the lawn for the show, as excited to see P-Funk in effect as the rest of us. 
Early on one of the low-voiced MC's told us, "welcome to the universe of George Clinton," and this was totally true. The world of Clinton is a magical, alternative place, with it's own language, folk tales, iconography, and the groove. Always the groove. George and his mob play such a cool, funky amalgam. There's a little bit of EVERYTHING in his music; funk, R&B, doo-wop, rock, jazz, keyboard explorations, prog: EVERYTHING. But it's all P-Funk. Almost every song was a highlight, with 10 or so singers up front, including three very attractive ladies strutting their stuff. 'One Nation Under A Groove' led to the funkiest of funky 'Flash Light,' again with the whole crowd grooving.  
Guitarist Blackbird McKnight tore through the Hendrix-like 'Maggot Brain,' a true epic rocker. They got pretty raunchy on 'Dirty Queen,' but that's what the funk is all about. 'Cosmic Slop' was also a highlight leading into 'Give Up The Funk.' George, now 78 years old, was onstage for the whole show, active and singing, with an occasional stretch sitting on his onstage 'throne' (which was a folding chair). As they wound down, or I should say, wound UP the set, there was only one missed note, when the funk ground to halt as Clinton grandson Tra'zae rapped. The change so close to the end was a cue for many to head for the exits to beat traffic. Their loss as, of course, George ended this farewell tour set with one of his biggest hits, 'Atomic Dog,' a magical way to exit the Clinton universe back to our drudgery. I'm pretty sure this will be the final tour for George, and farewell is not a marketing ploy. I've been lucky enough to see him and P-Funk three times. His music is like no other, and there will never, ever be another like him. Just like Sir Nose de-void of funk, you made me dance, George. Thanks.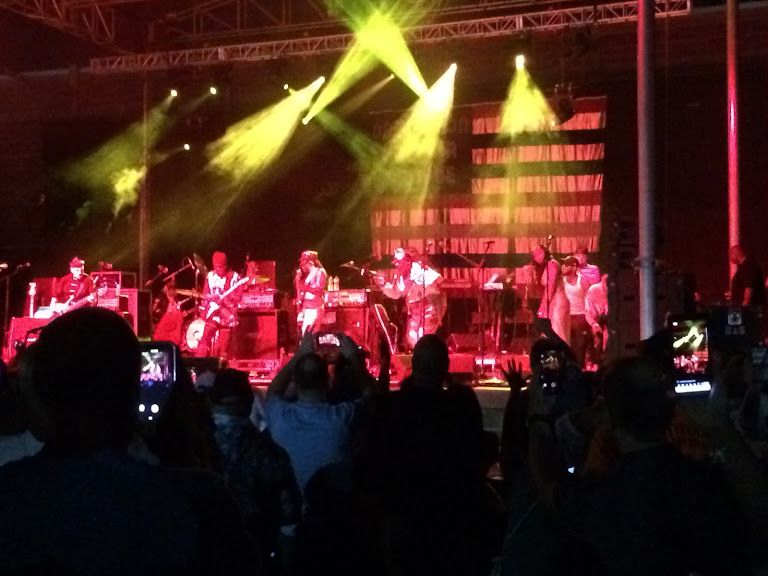 ---Steve McGowan
Live at The Greek Theater, LA (Whole Show)