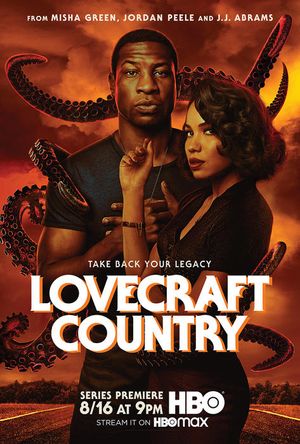 In a nutshell, I absolutely loved this show. It was must-see TV at my house. Also, the show is a complete mess. Written by Misha Green (also behind the historical show Underground), Lovecraft Country is an adaptation of Matt Ruff's 2016 novel, and is all based on sci-fi horror writer H.P. Lovecraft and his stories. 
Lovecraft in real life was a vehement and abhorrent racist, so it is great to see a show upend his story. Like the recent, amazing adaptation of Watchmen (see our review at tinyurl.com/zubwatchmen), Lovecraft Country is made by and featuring African-Americans. Showrunner Green hits all the horrible points of Jim Crow racism, and producer Jordan Peele brings all the formidable horror tropes. The cast are proud, fearless, smart characters that will not be cowed. Lead actors Jurnee Smolett and Johnathan Majors are mesmerizing, and, it must be said, the absolutely hottest couple on TV.  
The show is set in 1960's Chicago, where Atticus 'Tic' Freeman (a Korean war vet) is searching for his father, lost in 'Lovecraft Country,' in Devon Country, Massachusetts. Traveling to New England with Leticia 'Leti' Lewis and his Uncle George, who compiles the 'Safe Negro Travel Guide' aka 'The Green Book,' they encounter a murderous white sheriff. The sheriff  takes them in the woods to lynch them, but they are saved by the appearance of 'Shoggoths,' underground tunneling beasts with rows of teeth. The beasts rip the police apart and our heroes get away. 
Here is another point about Lovecraft Country. It is gory. Disturbingly gory, excessively. The CG effects are amazing and there are some scenes so disturbing I would not even try to describe them. Let's just say, never have sex with a Korean Kumiho. Tic and his friends discover Ardham Lodge, owned by Titus Braithwaite, and the idea of a magic-run secret society is moved forward. Due to a great-great Braithwaite raping and impregnating Tic's great-great enslaved ancestor, Tic has the magic in his blood and the Braithwaites want it. 
In the second episode, the heroes find and rescue Tic's father Montrose (Michael K. Williams) but Uncle George and Leti are (spoiler) shot and killed. Christina Braithwaite and her 'friend' William are introduced; they are the scariest, most Aryan-looking white people. Christina uses magic to resurrect Leti, but George does not survive. Episode three involves Leti buying a run-down mansion in Chicago, and Peele uses the best haunted house tropes. 'Day One,' 'Day Two,' just like many horror movies. The place is of course haunted, and a black medium is brought in to remove the malevolent ghost. Christina tells Tic that they are looking for missing pages from the Society's 'Book Of Names' and she needs help to find them. 
By episode four, this show is all over the place. Tic, Leti, and Montrose break into a Boston museum to find the pages in the vault below. Leti's sister, Ruby, who's ambition in life is to work at the cosmetics counter at the Marshall Fields department store, is introduced. She sleeps with Christa's 'friend' William. In a remarkable scene, Ruby wakes up to see she is a white woman. William has a potion that changes her, and she uses it to get her job at the store. Unfortunately, the potion does not last long, and when it wears off, Ruby sheds her skin, literally, in nasty and bloody chunks. Ugh. 
Episode six is a stand alone episode about Tic's Korean lover Ji-Ah (Jamie Chung) who is cursed to be a Kumiho, a fox monster that kills men during sex. When she almost kills Tic, she sees his future and his death, but, terrified of the Fox and its deadly tails, he up and leaves her. It's an amazing episode and Jamie Chung is a real star. 
Hippolyta, George's wife and Tic's aunt, has never believed the cover-up story about his death. She finds a way to get to the Winthrop Observatory in Lancaster, Kansas and figures out how to open a portal to the future. She realizes she can be anything she wants, and is a dancer with Josephine Baker in 1920's Paris, becomes a Dahomey Amazon and, incredulously, fights and kills a group of Confederate soldiers. She ends up in space, and returns to Chicago. 
While she is gone, Hippolyta's daughter Diana, traumatized by the murder of Emmett Till, and put under a spell by the sheriff, is followed by two very scary ghosts, Topsy and Bopsy, the characters from the cover of Uncle Tom's Cabin. They catch and attack her, leaving her to turn into a Topsy looking character and they wither her arm. Atticus tries a spell of protection for himself that does not seem to work, but after a shootout with the police at Leti's mansion, his own personal Shoggoth appears and turns a squad of police into bloody viscera. Looks like the spell worked after all. 
Towards the end of the series, they time-travel to Tulsa, Oklahoma in 1921 to get the Book Of Names. Once again, the genocidal race attack in Tulsa is shown on TV. (this was the centerpiece and opening scene in Watchmen). I'm truly ashamed to say that I never knew anything about this event until Watchmen, and I have a degree in History. 
The ending is set up with Christina trying, as did her father, to cast herself a spell of immortality. Tic's wrists are slashed, but Leti saves the day by stabbing Christina with her own sword, and Ji-Ah (who has come to America to help out) becomes the Fox and uses her tails to stop Christina.When Christina says she can't use magic, Leti tells her, "It's not just you, it's all white people. Magic is ours now." It's a triumphant moment and a few minutes later, young Diana, freed of the Topsy and Mopsy curse, appears with her new robotic arm and slowly, painfully chokes the life out of Christina.  
I've only scratched the surface here. I loved this show but there is just...too much. Plot over plot over subplot forever. It's crazy trying to really make sense of it. I enjoyed the ride, but it was bumpy and jaw-dropping. I do admire Misha Green and Jordan Peele for showing us a new kind of TV, and not being afraid to confront the terrible institutional racism in this country.
Lovecraft Country is one wild ride. 
---Steve McGowan