The Simpsons Forever: The Cromulent World of Springfield In Which I Still Live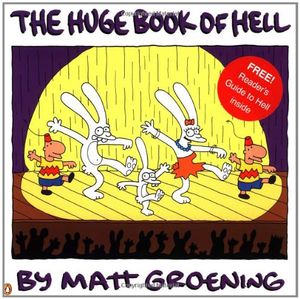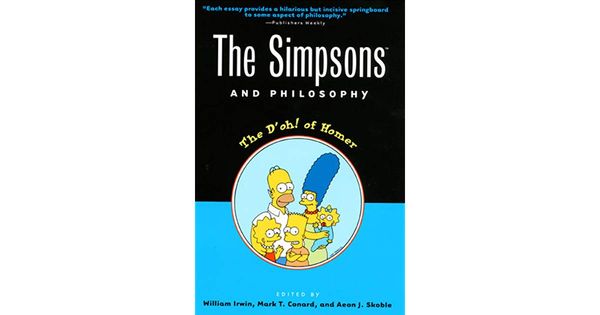 In the 80's, finding the cool, the offbeat, the under-the-radar works of creative genius speaking to your own peculiar skewed sense of taste could not be found via sub-Reddits, streaming everything, and social media shares. Word-of-mouth and reading trusted publications, like Trouser Press, Creem, and The Village Voice were our only insights into music, films, authors, artists, and other creators that piqued our curiosity.  Local free papers, like Creative Loafing published locally in a few cities,The Spectator and Independent in the NC Triangle, and photocopied 'zines from the local record stores were also a source to find works that rose above the mediocre noise of most mass culture. 
Word of mouth brought me to Matt Groening's Life In Hell cartoons. I found a subversive, brilliant, weird, uproarious, and byzantine world filled with frustrated anthropomorphic rabbits, fez wearing twins (maybe lovers, maybe brothers, maybe both), goofy magazine mock-ups (Lonely Tyrant: The Magazine for Abusive Bosses Whose Employees Hate Their Guts), and phenotypical charts like "The 9 Types of High School Teachers" (The Fossil, The Dip, The Jock….)  Beef Person Ken Norton turned me on to the miraculous Life In Hell microcosm. I hungrily devoured each collection as it was published, with punchlines added into our own private lexicon. None of the local free papers carried it, so mine was a Life In Hell life in hell, waiting for Groening. Now there is an online archive: http://lifeinhellarchives.tumblr.com
Then, the Voice had a really interesting article about a new kind of television network that would soon start broadcasting: Fox. As a TV upstart, they were interested in more adventurous programming, including scheduling a weekly variety show, back then something entirely missing from TV and considered moribund for about a decade. This brave entrant in the variety competition would star Brit Tracey Ullman, who I knew as a Stiff Recording artist.  I wanted to see how this audacious experiment would play out. 
To make a long story longer, The Tracey Ullman Show remains as one of my all-time favorites. Maybe I'll sing its praises in future.  But now, imagine my excitement when it was known that the show would also feature a short cartoon clip from my beloved rabbit cartoonist, Matt Groening. An animated Life In Hell?!?!  Excited utterance! 
Then it aired. But there were no rabbits.  No twins. No Life In Hell.  There was instead--this yellow family with bizarre hair and odd names. Two of my favorites from the show ensemble, Dan Castellaneta and Julie Kavner (who I had loved since she played Rhoda's little sister, Brenda Morgenstern), were voicing the parents.That was good.The cartoon script was low key and mildly amusing.OK, I thought: I don't hate this, even though it is not what I was hoping for. 
Then came the Christmas special, really a pilot for The Simpsons series. In Simpsons Roasting On An Open Fire, Springfield arose fully formed and breathtaking, born perfectly realized like Botticelli's Venus. I was utterly hooked. My whole family was. I was living with my parents while I was in grad school and Thursday Simpsons viewings were instantly sacrosanct. My aunt loves to tell of calling my dad and being told "Can you call back? The Simpsons are on." My dad had done doctoral work in philosophy, been to Harvard's Business school, and run his own aircraft manufacturing factory: hearing call back I'm watching my cartoon struck her as downright goofy. But this was no kid's cartoon.The Simpsons was the rightful heir to the Rocky & Bullwinkle social satire crown. It was smart, insightful, satiric, sweet, scathing, exuberant, and flat-out funny. What else could you want?   
And I still am still watching, 30 years on. I'm one of the few die hard originals that hasn't turned my nose up, lamenting the loss of its one time perfection. Of course staff writers have changed, the context has changed, tastes have changed. But I call Springfield home, still. Like an aging ballerina, of course The Simpsons doesn't stick all the moves, but the spirit and poetry are there, still intact. So, I'm still there for The Dance. And there are still dazzling moment where it works and the old magic is back. 
Did I tell you about the time I ran a half-marathon? I watched half of the episodes in real-time on the FXX Network's inauguration of their "Every Simpsons Ever" programming. And I did pretty well in the even-longer marathon of the growing library of episodes the following year. I still derive great pleasure spending time in Springfield, and not just in the classic episodes of the "golden age" however you define that. Send-ups of pop culture, political satire, meaningful human relationships, philosophical discourse--it is all there. Still. 
But some things have not aged well in Springfield. Exhibit A is Apu. Comedian Hari Kondabolu points out in his documentary The Problem with Apu that the character is a problematic, racist,  broad-stroke, and lazy stereotype. Debate within the Indian American community has alternately praised Apu as a paragon of education (he has a Ph.D. in Computer Science!), diligence, and entrepreneurship, a real exemplar for immigrant aspiration versus many others expressing opinions closer to the documentary. The show made a bad attempt to address the controversy, which may have worsened matters. See 'The Simpsons' Finally Tried to Address the Apu Controversy and Just Made People Sad . Representation matters, and Apu's clumsy accent voiced by an non-Asian American actor is at best tone deaf.
My own solution is something like revealing Apu was suffering from Foreign Accent Syndrome for all these years and a cure from Dr. Hibbert (or heck--let's give Dr. Nick a win) has him speaking henceforth in the voice of any of the great Indian-American comedians.  The source of the old accent? He suffered a trauma while watching Peter Sellers in the 60's similar tone deaf portrayal of an "Indian" man in The Party. Al Jean, call me! 
Another sadness is the loss of beloved members of the Springfield community (not you, Dr. Marvin Monroe, you were never popular). Maude Flanders, Edna Krabappel, Homer's mom Mona, Good Ol' Grimey, Bleeding Gums Murphy: we'll mourn ya 'til me join ya. The real life murder of Phil Hartman (Lyle Lanley, Troy McClure, Lionel Hutz) and the deaths of original producer Sam Simon and the unparalleled Marcia Wallace (Mrs. Krabappel) feel almost like family losses. 
So not every visit to Springfield is memorable. But a bad day in Springfield is better than the greatest day in whatever Hades-drenched Hole they inhabit on the Big Bang Theory. Come visit me there. 
Adrienne's Creme de la Creme Distillation of the Marathon: A Dozen D'ohnuts 
Say you don't have an iron bladder and a hardcore dedication to run a Simpsons 10K-like mini-marathon Sunday. I understand that not everyone can have an embiggened episode endurance like me.  So I have highlighted the absolute can't miss episodes from Sunday's run, which in turn was selected by longtime showrunner Al Jean. But really there is something worthwhile is each episode, on or off the list. 
+9 a.m. "Life on the Fast Lane" (Season 1, Episode 9) 
This episode is an absolute family favorite focusing on the Simpson marriage and the lure of romance with that stereotype, the super-sexy bowling instructor. 
+9:30 a.m. "Homer vs. Lisa and the 8th Commandment" (Season 2, Ep 13) 
Will Homer lose his immortal soul over stolen cable? Worry with Lisa. 
+10 a.m. "Radio Bart" (Season 3, Episode 13) 
You don't have to know about Baby Jessica falling down the well and transfixing American TV viewers to love this Bart prank gone wrong that inspires a celebrity awareness single featuring Sting. 
+10:30 a.m. "Marge vs. the Monorail" (Season 4, Episode 12)
This is listed as nearly everyone's Top 5 episode, a stone-cold classic penned by Conan O'Brien. "I call the big one Bitey!" Leonard Nimoy! And a giant donut as a hero.  Perfect. 
+11 a.m. "Cape Feare" (Season 5, Episode 2) 
Kelsey Grammer is tremendous in this parody of Cape Fear as Sideshow Bob, whose murderous rage against Bart leads the family into the Witness Protection Program. I am giggling just thinking of all the highlights in this first-rate episode. There is even a Gilbert & Sullivan musical climax!    
+11:30 a.m. "Lisa's Wedding" (Season 6, Episode 19) 
Alternate timeline episodes are usually gold. This one sure is. A fortune teller shows Lisa her future courtship with an English foreign exchange student. Will his posh family accept their American in laws? What do you think. 
+12 p.m. "Treehouse of Horror VI" (Season 7, Episode 6) 
+12:30 p.m. "Homer's Phobia" (Season 8, Episode 15) 
John Waters stars as a kitsch store vendor adored by Homer--until he learns he is gay. Especially timely appearance of Annual Gift Man. Hope America's steel workers are still reaching for that rainbow! 
+1 p.m. "Trash of the Titans" (Season 9, Episode 22) 
+1:30 p.m. "Viva Ned Flanders" (Season 10, Episode 10) 
+2 p.m. "Behind the Laughter" (Season 11, Episode 22) 
A pitch-perfect parody of "Behind the Music" type shows, the episode takes us behind the scenes to show us the real life Simpsons. Another perfect episode. 
+2:30 p.m. "HOMR" (Season 12, Episode 9) 
+3 p.m. "She of Little Faith" (Season 13, Episode 6) 
+3:30 p.m. "Three Gays of the Condo" (Season 14, Episode 17) 
+4 p.m. "The Way We Weren't" (Season 15, Episode 20) 
+4:30 p.m. "Future-Drama" (Season 16, Episode 15) 
Another episode set in the future/alternate timeline.  What will life be like in 2013? 
+5 p.m. "The Seemingly Never-Ending Story" (Season 17, Episode 13) 
+5:30 p.m. "The Haw-Hawed Couple" (Season 18, Episode 8) 
"No man should have to outlive his fictional wizard!" This episode focuses on relationships--Bart and Nelson developing a friendship and Homer and Lisa bonding over sharing the "Angelica Buttons" fantasy books. Sweet but not cloying. 
+6 p.m. "Eternal Moonshine of the Simpson Mind" (Season 19, Episode 9) 
+6:30 p.m. "Gone Maggie Gone" (Season 20, Episode 13) 
+7 p.m. "Once Upon a Time in Springfield" (Season 21, Episode 10) 
+7:30 p.m. "Angry Dad: The Movie" (Season 22, Episode 14) 
+8 p.m. "Holidays of Future Passed" (Season 23, Episode 9) 
This is probably my favorite episode of the last 10 years. See which space captains Bart's sons are named after! Alternate future timeline done really well. Perfect episode. Maybe Maggie is a Zub Records Ltd. Co. recording artist! 
+8:30 p.m. "Treehouse of Horror XXIII" (Season 24, Episode 2) 
+9 p.m. "Brick Like Me" (Season 25, Episode 20) 
+9:30 p.m. "Treehouse of Horror XXV" (Season 26, Episode 4) 
All the Halloween episodes are fun, even if it is just looking for aliens Kang and Kodos to make their annual appearance. This year's features interaction between Ullman-era Simpsons and the current iterations. 
+10 p.m. "Halloween of Horror" (Season 27, Episode 4) 
+10:30 p.m. "The Town" (Season 28, Episode 3) 
+11 p.m. "Gone Boy" (Season 29, Episode 9) 
+11:30 p.m. "Bart's Not Dead" (Season 30, Episode 1)