We have stored up a number of accounts of the fantastic Sweet Home Quarantine Shows given by Robyn Hitchcock and Emma Swift from their Nashville home. For excellent trainspotting setlists of these shows, see Marcus Slade's impeccably curated listings at The Asking Tree, beginning with the first show https://askingtree.com/gigs/2824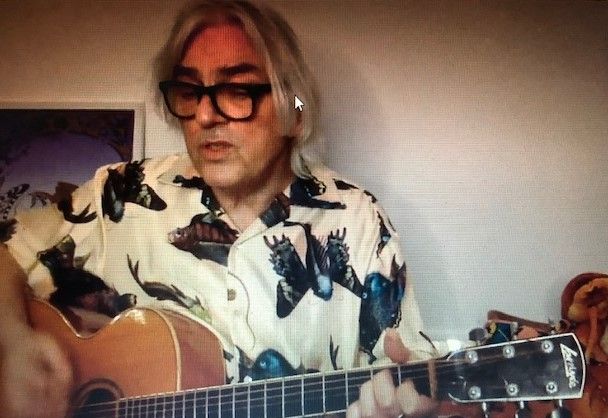 R Hitchcock in N Lowe saluting spectacles.
3/3/21 Lou Reed Show 
What a night to skid in late. I join with Lou night in full swing, Robyn and Em singing from Swiftcock Towers! I barely catch the song, and they converse, riffing on The Ramones somehow being in harnesses like Cirque du Soleil and opening for themselves and, as with the best of their banter, I can't tell if I am glimpsing their skewed hive mind, lost from being late, or a beautiful amalgam of of both. 
But tonight is about Lou Reed, and the two launch into a wistful 'Candy Says,' Robyn's brightest tone acoustic pulling duty as the axe of choice. Lou could write a pretty song, couldn't he. 
Robyn announced after the song that he is holding a trolley bus fundraiser for the trolley bus deprived "namely me." He thanked the Groovers for a thoughtful Zoom greeting that they put together for his birthday. He seems genuinely moved, so well done, Groovers. 
Next up is a request for Harold Lepidus, 'Coney Island Baby,' sung by Emma and joined on the last chorus by RH, in his best Lou impersonation. It's fun and lovely at the same time. 
Then, we're back to the party mode, Lou being a man who felt the extremes. It's Velvet Underground Lou again, 'Beginning to See the Light.' RH is having a blast with his Lou-isms abounding. The chorus ends by repeating "How does it feel to be loved?" Robyn assures us "one day we'll find out." He then launches into "Rock n Roll Heart," Em across the room, off-camera, infectiously joining the chorus, and quickly dancing on screen with Tubby. It's a Lou Party! 
Robyn then continues on the VU vein with "I'm Set Free," and I am sadly prematurely exiting from a very fun and loving acknowledgement of the great Lou Reed.  
--The Adrienne Underground featuring Meddocko (Imagine a Warhol banana cover here) 
3/10 No-theme Theme Show 
I enter with Robyn playing 'Idonia' from Luxor, playing his lovely Gibson with the dark neck with the mother of pearl lozenge inlays. Both sound great. He informs us that he has utilized "guest tuning," having made up an alternate to the tuning that he now can't work out, but he has selected a "Roger McGuinn vocal setting." Hee. Next is moss elixor's 'Heliotrope' and I am put in a spring state of mind, the daffodils are out and I imagine flowers turning their faces to follow the sun as it traverses the sky. I remember the fields of sunflowers in Kansas, watching the sun's arc in unison, and the lovely song ends. RH informs us that he can't say no to a rage and bowl of rose leaves. Such blends make stellar songwriting for sure. 
He plays 'Glass' by request, a personal favorite, and he's in great voice this evening. Emma joins and the interstitial banter turns to contentious divorces, which dissolves into an achy rendition of The Beatles' 'Rain.' 
Appropriately, we next get an RH original, "inspired by a Raymond Chandler story he never wrote," 'The Man Who Loves the Rain.' He and Em provide a nice version and RH discourses on leaving cups of tea on Raymond Chandler's 2 graves, or so my notes appear to claim. Em leaves RH to perform 'I Saw Nick Drake' and a becaped Em returns with Ringo, the cape donned in honor of "Stevie Wonder's cape at the 1984 Grammys." RH called David Crosby Emma's "spirit father." Emma, puzzled, asked why. RH, to us, "Stone me, if she had a moustache and 200 pounds, she'd look like David Crosby." So that explains it.  
Next up is 'Time Coast' from the Robyn Hitchcock album, and they kid, mid-song, that it includes "an intended Stephen Stills track, left in by mistake."  Next up is a request by "our favorite Libran, if he was a Libran…: 
Dylan's 'Shelter from the Storm,' their voices making the song their own and it's a lovely version. 
At the break, RH is absolutely smitten with Em's cape. She notes the last time she wore it was at the Stevie Nicks' show, where it was required. They noted the mark of one year of the Sweet Home Quarantine Shows. They recognize that pandemic memories have faded as events and lyrics have been forgotten. I think we all feel this weird effect on our brains and understanding of time. But avoiding the maudlin, RH breaks into a beatbox hastily rendered 'Escape (The Pina Colada Song),' Emma joining in, vocalizing. SHQ has brought us the rarest and most unusual and (unlooked-for) gifts. 
Next up is 'Tell Me About Your Drugs' from Element of Light. And my notes have gone off on a trip so I'll draw to a whimper of a close rather than a bang on this No-theme Theme show. 
--Adrienne Known-to-don-a-cape Meddock 
3/17 Technically 99th Show Celebrating the 100th Sweet Home Quarantine 
The landmark show opens with 'Bass' from Element of Light, which RH remarks at the conclusion "it just stops, for some reason." I love how his songs have minds of their own. On to another personal favorite, 'Strawberry Mind,' which he admits he "had to look this one up." What follows is an upbeat, exuberant, carefully picked version of the great song.  
He chats afterward with Perry the Lobster, RH, replying to his "whispered" inquiry, "No, no strawberries were harmed, this is a show where nothing is damaged." A lovely commentary of why we've followed for scores of shows. 
The next song he introduces as being "designed for a bank of synthesizers, but it never got that far." It's 'You've Got' from You & Oblivion, sans synthesizer one, but great nonetheless. Then, in response to a request for something from the forthcoming album, RH introduces "something in the same key as "a song from that record," 'Feathery Serpent God.' 
Emma enters with Ringo, who is high on a gifted catnip pillow, sent by a Groover. E Swift notes it is "the ultimate vibe improver." The confession comes that Perry keeps the set list, but Groover Marcus keeps the reliable list, according to Emma, but RH wonders about his qualifications, it seems, "Does he have pincers?" 
On that note, Emma joins in on 'Flesh Number One (Beatle Dennis)' from Globe of Frogs. Then it is time for an Emma feature from Blonde on the Tracks, 'Going, Going, Gone.' "Planet Waves" notes a Groover in the StageIt comments. RH replies "Yes, and it waves back." Someone suggested the mashup 'Simple Twist of Balloon Man,' and RH notes they were both highly played. Maybe they are onto something. It does lead to RH riffing on the line "a cat who gets things done." These little improvised songs could form the backbone of their own SHQ compilation. 
They sing 'The Devil's Coachman' from Queen Elvis, and then Emma's off to "find a bottle of Perry." RH plays 'I'm in Love with a Beautiful Girl," ending it with a nice "proto-rager" flourish. 
Em enters with an unusually chill Tubs, blissed out on catnip. Em notes the house "smells like a hippie den," and remarks that she misses "the smell of clubs: stale tobacco, beer.." RH notes that a graffito in the Hope & Anchor reads "police smoke cocks heavily," an apt introduction to their "Rock n' Roll Toilet," a Soft Boys treat and SHQ Groovers favorite. With an eye toward the upcoming Nick Lowe song, RH suggests that Nick would be more likely to be found in a Rock n' Roll spa. Having read Will Birch's excellent Nick biography, Cruel to be Kind, (our interview with the author is at tinyurl.com/zubcruel) I had the feeling Nick is a bit posh around the edges. 
Emma, putting on her "gravitas face," sings the requested Prince classic 'Nothing Compares 2 U.' Emma wonders if they shouldn't do a 70's Theme show. RH replies "they felt dismal at the time, but now seem…" A global pandemic puts the yucky excesses of the 70s in their place, I think. But Emma is undaunted. "Can I get you in one of my onesies? Who'd you be in ABBA?" RH speculates he'd be "the darker haired woman or the least beardy man." 
The show closes with the two of them singing 'Cynthia Mask.' Next week, it's Nick Night for we Groovers. 
--Adrienne Meddock, guest Groover 
Nick Lowe Birthday Show: Friday Grooving? 
Nick Lowe and Robyn Hitchcock are longtime figures on the British music scene. RH describes him as his "oldest froleague." He calls the Soft Boys getting a break opening for Elvis Costello, a high point in their careers. A good gig in the late 70s for sure. Of that gig, he recalls Nick dropping his Senior Service cigarette, which RH picked up and used to light his own. The Stiffs were traveling by pack in those days I suppose, NIck and EC. 
Incidentally, I believe I am attending on a rare (for me) Friday, the afternoon show geared for the European Groovers. My notes are bereft of clues, so I am relying on my fickle pandemic brain for that detail. But this was one of the birthday shows, I am certain of that! 
So now we launch into the Cream song 'Badge,' as they are noting Eric Clapton's birthday as well. "Add phasing in your head," urges Robyn. Next Nick's birthday celebration checks in on RH's 'My Favorite Buildings are Falling Down," a request from I Often Dream of Trains. Robyn tells us the country side of Lou Reed can imagine Nick Lowe singing it. He assures us we'll be in Nickland soon. 
But oh no--sound trouble! Emma comes in and tends to the tech, while RH mutely mugs to the camera with Perry the Lobster. She gets the sound back and it's Black Snake, Diamond Role's 'A Skull, A Suitcase and a Long Red Bottle of Wine." 
Now we're "moving into Nicksville, and moving to a guitar with different tuning." RH is wearing his "Nick Lowe spectacles in honor of Nick Lowe" and it's 'Endless Grey Ribbon' offa the UK version of Labour of Lust. RH introduces the next song, noting "this song could have been written by Nick" and describes how they moved in West London as sort of mirror images of each other. Are they still mirrors? RH is still mistaken for Lowe. He asks Em, "Do you think he has mad old lady hair like me? He probably has a secret barber." They imagine Nick Lowe is more put-together in quarantine than they have been. Emma notes "You've taken the Crosby 'I Almost Cut My Hair' approach to Covid." 
On to 'Detective Mindhorn,' but Robyn is a bit off, and Emma, trying to sing along, quips, "Pitch! Should we try that again?" RH: "Might be best for them if we don't." But they do, and the next time through it's perfect. RH sums it up. "See, that was easy." Love these two. 
Robyn tells us he always felt he was Nick Lowe's "younger, hippie brother." He notes that "there's been more than usual a man at the bottom of the garden playing emotive piano ballads." Emma asks eagerly if they can play "Elton John songs for his birthday?!?" Robyn is chagrined, "Tell me you don't like 'Tiny Dancer.'" Em's love of rock's schmaltzier moments is rearing its head. 
Fight averted as Emma must sing 'I Knew the Bride,' and it's a fine version but I can't believe how tired I am of this song. Not your fault, Nick, Em, or RH. (It was the cue music at my dinner theater workplace that tables needed to cash out. Stress!) Interstitial banter turns to Dylan's "old guy, Vincent Price moustache." Perhaps it is more of a Chuck Berry. At any rate, this leads to "the twangy side of me," Robyn Hitchcock's 'I Pray When I'm Drunk.' 
Robyn introduces the next song as "requested by me, one of my favorite Nick songs, from The Convincer,  'Lately I've Let Things Slide.' It's less morose than Nick's "too much fucking perspective" versions I've heard live; the song is almost upbeat in Robyn's hands. Nice job. 
Emma returns with snacks, and the conversation turns to truckers "talking cheese" and specifically to Kris Kristofferson in Convoy wearing trucker hats. You know, patented, au courant SHQ banter.  
Robyn introduces the next song as one that "Nick really likes" and that they've sung together. 'So You Think You're in Love' from Perspex Island, another personal favorite, I'm with you, Nick. 
Emma wonders if they should add 5 minutes time onto the StageIt hosted show, RH cautions, "only one of us is a great singer, and neither of us is a great guitarist…" but the button IS pushed and it is time for Emma to lead on the perfect Nick song, 'Cruel to Be Kind,' RH joining the chorus as they play it "mid-tempo, like The Eagles!" 
The banter resumes with an exuberant "Pub rock! High-five!" This is a call back to the discussion of a bad CSN and possibly Y documentary that closes with a goofy "High-five!" Emma goads RH: "say something Nick Lowe would say, ooh, can you do Lou doing a Nick song as a gift to me?" 
The ensuing 'I Love the Sound of Breaking Glass' (Pure Pop for Now People/Jesus of Cool) IS sung by Robyn cum Lou Reed and it is the platonic ideal of such things. He even throws in a little Johnny Cash, appropriately, at the end (recall Johnny was step-father to Nick's one-time wife, Carlene Carter). Robyn describes this version as "The late, great Pisceans do Nick Lowe." 
Time runs down with 'Mr. Kennedy' and the sun sets on The Basher's birthday bash. 
--Adrienne Meddock, American, Squirming 
3/31 Guest Grooving Again 
Greetings, Groovers. Eyes on the Swiftcock Studio C this week are mine again, as I sub in for dyed-in-the-wool Feg Steve. Tonight we'll have RH songs and celebrations of the birthdays of Richard Thompson and Ronnie Lane. I was lucky enough to get my second Covid jab this afternoon, so any side effects will hopefully enhance the general grooviness of these wonderful, intimate shows. 
RH opens with 'Captain Dry' from You & Oblivion. Robyn is playing the lovely Gibson with the lozenge inlays on the neck and they sound great together. He observes that he "definitely recorded that song at sometime. I have no memory of writing it, but it sounds like me." He explains that Johnathan Demme had suggested it for inclusion in Storefront Hitchcock.  
Next up, a song he notes is "sadly not 'Roadhouse Blues,' but 'Star of Hairs.' He quips the Invisible Hitchcock track "would have been a natural for Marc Bolan or an artist of their calibre." On that note, enter Ringo Stardust, coming in for a little love from RH. The kitty reportedly smells great tonight and Robyn pronounces him "a perfect Fold." 
The Richard Thompson birthday remembrance kicks off with 'Calvary Cross,' which RH starts with a lovely picked interlude, sounding very Richard-Thompson-NPR-bumper-tune, as is apropos. He notes that it is not quite the 1975 version of the song, "but 1975 is hard to access." It is a lovely rendition. The next song, "is by me, but it is as dismal as Richard Thompson could have written." It's 'Luminous Rose' from Globe of Frogs and I am not mired in dismalia at all. 
Enter Emma, and the two of them are excited to discuss the venture Tiny Ghost Press, the literary arm of their in-house media empire. I think it quite literally is in their house. It is a fantastic idea that they seize the means of production for their creative works, adding to their recording endeavor, Tiny Ghost Records. Tiny Ghost Press will debut with a beautiful illustrated lyric book, Somewhere Apart: Selected Lyrics 1977 - 1997, featuring Robyn's work, coming to us in "high summer." Order here: https://robynhitchcockofficial.bandcamp.com/merch/somewhere-apart-selected-lyrics-1977-1997 
Emma launches into 'I Want to See the Bright Lights Tonight,' their second Thompson song. Reaching for a capo "that limits the bloodstream to the guitar,' Robyn switches guitars again. Emma jokes "you are channeling Elvis Costello" because RH keeps changing instruments. Conversation veers in a few directions, culminating in RH's making up a silly song about eggs, breaking it down to a beatbox again, as he has tended to lately. Emma asks, "is that your version of 'Avalon'?" RH: "Eggalon. Must be the love object that turned into a bird, so there'd be an egg. So it all adds up." 
 Ronnie Lane's day is not forgotten and The Faces "Ooh La La" kicks off that part of the celebration, Em and Reg trade verses, joining together on the choruses. "Written by birthday boy Ronnie Lane," Robyn adds in a dj voice, mid-song. The last verse is entropic, as they make each other laugh. 
"Dig the clams, folks, here we go," says Robyn as they quickly launch into 'I Want to Tell You About What I Want' from Robyn Hitchcock. Discourse then turns to a discussion of the Beach Boys, "Everybody hates Mike Love, mention his name and plants wilt . . by your works ye shall be known, he nails himself to that very unlovely cross … (referring to the MAGA hat Love wears) Emma, laughing, interjects into the tirade "Happy Easter, folks!"  
She announces that the Christmas cards have finally all gone out, so coming at Easter makes them a twofer! The capo is on, and Emma is ready to sing as Robyn plays, the wrong thing. "Want to get the chords right, Guv?" They start over, this time getting right "1952 Vincent Black Lightning," the Richard Thompson song. 
Next up is "Itchycoo Park," perfect for RH's voice, with Emma calling the questions out and harmonizing. Transcendent and simple, a great salute to Ronnie Lane. "The duck-feeding lyrics are a gas, and they know it," RH comments, adding in beatbox "phased drums." He really is a rhythm machine these days; Biz Markie, watch your back. 
They suggest the upcoming album, Check Out that Tram with Mira Sorvino (a gatefold double album, natch). 
RH breaks into "San Francisco," admonishing us to wear some flowers in our hair, in a low voice. Emma objects "with that baritone, you sound like a creep in the park!" So they move on to "Balloon Man," a not-creepy, pretty, picked version with Emma in harmony and that is SHQ for March. 
--Adrienne Meddock, It's All Too Beautiful