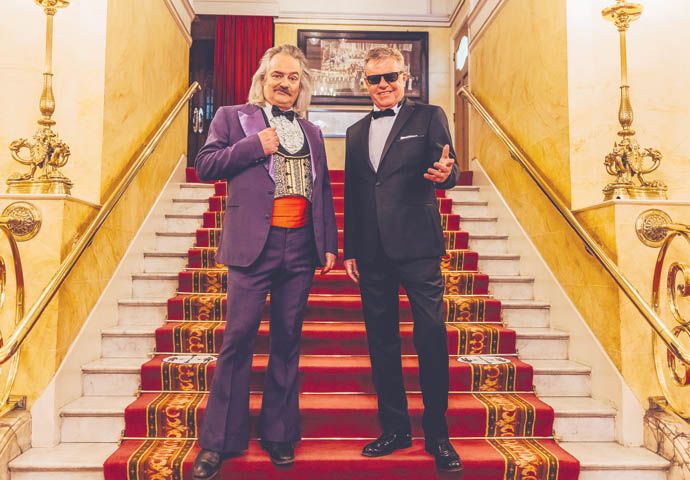 Charlie Higson and Suggs at the London Palladium 
The weekend of March 14, Madness, the stalwarts of the nutty, nutty, second-wave ska sound, hosted a bold streaming event. The ticket price ($24 in the US) was healthy and a real production promised in return, featuring notable British comedic Swiss (Toni) Army knife, Charlie Higson (of The Fast Show fame). (Don't get the Swiss Toni reference? Raising a reference, in a way, is like making love to a beautiful woman). Turns out he and Suggs are neighbors, and instantly for me Britain became an island populated by all my favorite people borrowing cups of treacle from each other, just like in my imagination. 
To a rabid consumer of a certain brand of British comedy and music, this offer was irresistible. The show aired at several points between May 14 and 17 on the new-to-me Driift platform. I opted for the Friday night concert, just like the real thing. 
A Zoom session with the band discussing and introducing videos was the streaming pre-show. The first video I caught was 'Wings of A Dove,' a big production with a choir on a plane, along with the usual Madness mugging and OTT production and it was wonderful. Still, I was a little concerned that $24 for a Zoom was something most might bring ire from those less entertainment starved than I if this was what we were in for. 
The 'Driving in My Car' video was up next. Not a green-screen production, the then-seven lads crammed into a Morris, lip-synching in front of a projected background. They were quite proud of it technically, and recalled renting the film projector was $500 quid. I don't believe I'd caught either video back in the day. In the pre-YouTube days, seeing a music video was all happenstance. I recall waiting up late to watch USA Night Flight in case they'd show a video I hadn't seen before, eventually there was MTV's 120 Minutes. But early on there were always videos showing up in weird places such as bumpers between shows on odd cable networks. Well, enough digression, at least of this variety. 
But now it's time for the real show. The Get Up! begins with a newsreel parody, the band arriving, formal Nutty Boy style, at the London Palladium theatre. Fears allayed: it is incredibly high quality as cast to my TV screen. Time to settle in. 
The Get Up! writer Charlie Higson plays both the house manager (Victor Marley) and a bartender right out of The Shining. Victor discusses with the band all the others who played there, from the Stones to Vera Lynn, a veritable who's who of English music hall entertainment and he also throws in The Crazy Gang. Of course we all remember The Crazy Gang. Thanks to the pandemic there will be no audience present and the show will be attended by the ghosts of former audiences and those that should have been there. The mass loss of life and weirdness of shows in the Covid era make this land a little more morosely with me than I'd have expected. 
Of course the Queen is in the Royal box for the proceedings (keyboardist Mike Barson doing the honors). Is it really British comedy without drag and a skewering of HRH? Covid and the loss of Philip can't keep her from a good show. 
The framing device is that the band is attending a performance of the staged Madness story. The curtain opens on a set of someone's mum's lounge, the band forming and rehearsing together. The current Madness is playing the nascent Madness, before an audience of the current Madness, in a possibly haunted by otherwise empty theatre… plus the "Queen." Audience Madness thinks the cast is too old "they've gotta be in their 60s!" So audience Madness will heckle and reminisce from the seats as "Madness" plays out their own origin story on stage. 
The band works out the arrangement of 'My Girl's Mad at Me,' and it is fun as the current Madness grumbles and complains about the "actors'" version on stage. As a B-story, sax player Thommo has been attempting to find the rest of the band, exploring the nooks and crannies in and outside the Palladium. Will he be reunited with the rest of Madness? 
Next up is 'Bed and Breakfast Man' and Madness sounds great, as does 'Feel So Fine' (a Johnny Preston cover). "Suggs" leaves rehearsal for a Chelsea football game, and the band decides to audition other singers. 
In comes .. Roland Gift! His voice is still wonderful, and I am thinking about the connections, Fine Young Cannibals featuring the guitarist and bass player from fellow 2-Toners The (English) Beat (it's complicated). The band keep insisting they don't like ska, and we get a runner with bassist Mark asking for rockabilly and drummer Woody eagerly asking for heavy metal, each playing a short bit entirely unrepresentative of their preferred genre. 
But we don't get a "slightly rockabilly version" of 'Concrete and Clay,' the mid-60s beat era pop hit by Unit 2 + 4. (Watch their vintage, high quality film here.) This is a genius choice for his vocal range, Gift showing his great highs in this ska-rock steady version. Hmm, I think he'd make some band very, very happy. 
But another candidate for lead singer has shown. We hear an approaching scooter and of course it is who we'd hoped, the Modfather himself, Paul Weller. Paul plays deadpan pretty well, as jokes about Woking abound and he plays eager and earnest. They ask him if he knows Jimmy Cliff's 'The Harder They Fall,' and Paul deadpans sure, and play it in D, or H if they don't know it in D. What follows is not mod, rockabilly, scooter cool, or heavy metal but a ska/rock-steady respectful to the original version. He can still belt it out and it is another smart cover choice for a guest singer. But he needs to leave to catch the last train to Woking. 
Suggs returns and is given one more chance to sing for "The Invaders" (as the kick drum says). It is time for "The Prince,"  leading into 'Madness' their cover of a Prince Buster classic. They had been toying with band names "Morris and the Minors" and "The Invaders" as on their drum kit. No rockabilly, no heavy metal, they have found their inspiration and their name: Madness. 
The narrator brings us up to speed as Act One winds down on "those teen boys from North London…" Audience Madness, joined by a now-found Thommo, is not having it, as they watch their origin story. "Why are they so obsessed with this ska stuff?" 
And so the band has been christened Madness. Scene. 
END ACT ONE. 
OPEN SCENE TWO 
The band has now achieved success and we have a concert in progress. A horn section has been added and we kick off with "One Step Beyond," and it's a cracker. Act One ended on Prince Buster, and Act Two starts covering their inspiration. Giving props. 
We are getting the big Madness show now, with 'Embarrassment.' The songs are so evocative, I am reminded that there really needs to be a Madness musical. 
But now there is a NEW song, 'Baby Burglar,' and it sounds like it belongs. 'NW5,' the bittersweet broken relationship song from The Liberty of Norton Folgate is next. This album is so terrific you really have to grab it if you haven't already. It's a gobsmacker. 
'House of Fun' elicits dancing in the royal box between HRH and Marley. It makes everyone dance. Madness is on a full-tilt roll: 'Baggy Trousers,' "Shut Up.' and 'Night Boat to Cairo.' They then add in a second new song, 'If I Go Mad' and it is another solid addition to the catalog. 
The show is going so well, so well produced, sounds great, looks like a big stage production, that 'Our House' sneaks up on me. Despite its ubiquity, this song has never lost its luster for me. They rip through its paces, reminding me again of its place in my personal pop pantheon. 
Is that the show? Higson as Marley gives a bit of a Shakespearean epilogue, leading to what would have been an encore if there were an audience other than themselves. We get 'It Must Be Love' and 'The Cruellest Comedy,' appropriate for the grand theatre setting. 
The show is over and we file out of the theatre. We finally get a good look at the "Victor Marley" portrait hanging in the corridor that the band members have checked out at various points in The Get Up! He's been dead for decades according to the plaque! Well, he did tell us the place was full of ghosts. The Nutty Boys knew it, and just went with the flow. Madness. 
The band still has it. Suggs is a compelling frontman, making the most of his limited range and strong accent, utilizing them as secret weapons. Each player steps up and shines when the song demands it, never hot dogging for the sake of ego. They are an absolute unit, surprisingly built to last. 
We had tickets for Madness in May 2020 postponed due to Covid. I am looking forward to seeing them in person in summer 2022.They are still writing great songs and sound as good as ever. Maybe they'll work in some rockabilly or heavy metal! 
--Adrienne Meddock