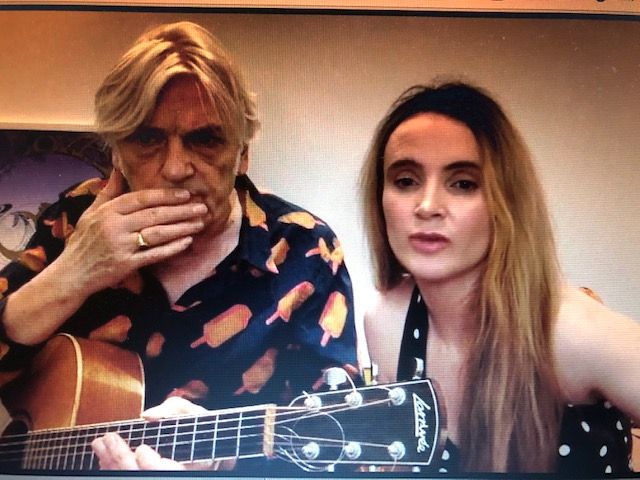 Who made that request? 
4/7/21 
Welcome welcome to April!  Tonight I scoot in a wee bit late; RH enters my screen adorned in a top hat and playing' Erasing Your Life' from the Tromso, Kaptein record, followed by what Robyn introduces "one of my fertility songs especially for Easter," 'Globe Of Frogs.' In wanders Tubby, who Robyn declares " a great copilot tonight."  
RH is in a good mood. a small frog trinket from an adventure in Exeter appears and is briefly placed on RH's top hat brim.  It's on to 'Fat Angel,' the Jefferson Airplane cover of a Donovan tune. The Scotsman gets a little kinder look in the halls of the Zub, probably more than most places, and this is an excellent choice of cover. Go Donovan!
Ringo and Emma enter. RH announces that is haircut is set for him for the 18th -- a startling return to civility and civilization that we hardcore lock-downers share. My last haircut was March 5, 2020, in the before-days, so imagining getting a haircut makes me feel ... wistful?  Someone remarks they've been in a glamorous psychedelic prison. They share Sid Jones recollections about his ever-growing nose, leading into a duet on the next song. RH claims his song to be very like him, adding "you're bound to have favorites,'  It's 'Antwoman' from Jewels for Sophia. 
It's time for banter. They explain that when they have a question they ask Perry the Lobster who "lobsplains"  responses to their questions after he's Googled them. 
Emma sings 'Chelsea Hotel Number 2,' the Leonard Cohen song, RH providing the accompaniment. Robyn calls the Chelsea Hotel a flophouse, having been there during the so-called heyday and mincing no words. 
Next up Robyn plays request by himself, but first the Saga of the Elaborate Gluten-free Donut, the "Gordon Jamsey" must be told. We hear of the yellow pinky disc, and somehow the discourse goes to religious rites and transubstantiation. Back to the music, and we're treated to 'Sally was a Legend,' Emma adding inventive backing vocals on another Jewels for Sophia track. 
Emma left to find Ringo. RH plays a request for "a song performed on Storefront Me but not performed elsewhere, 'Let's Go Thundering." Then  the capo comes out for a request, 'Strawberries Dress' from Love from London. 
Tubs, Emma, and Perry the Lobster enter with Kristoff the Frog. Tubs high-fives. We are reminded that Perry has pincers so he can't high five. 
RH and ES launch into 'Chinese Bones.'  They tell us the Dead and  Suzanne Vega performed the song in 1988.  Emma asked who's who as between them, that is who represents the Dead and who's playing Suzanne. Robyn replies "I think of us as Simon and Garfunkel." 
They tell us that Dave Rawlings and Gillian Welch perform the song perfectly. They don't have email, though, they joke you have to contact them by pigeon.  Robyn improvises that " Norm  the messenger pigeon went to work with some other pigeons…" as he spins the tale of the Rawlings-Welch pigeon service.   
The next song has a glitch and Emma chides him "why practice when you can tweet?"  as she steers him into playing their final song for the night 'Brenda's Iron Sledge.' Thinking of Robyn's comment at another show about his lack of commercial acumen, I am left to wonder if Andrew Ridgeley's presence could have made the tune the 'Wake Me Up Before You Go-Go' of the surreal. 
--Adrienne Meddock, I want to hit that high... 
4/14/21: That 70's Sweet Home Quarantine Show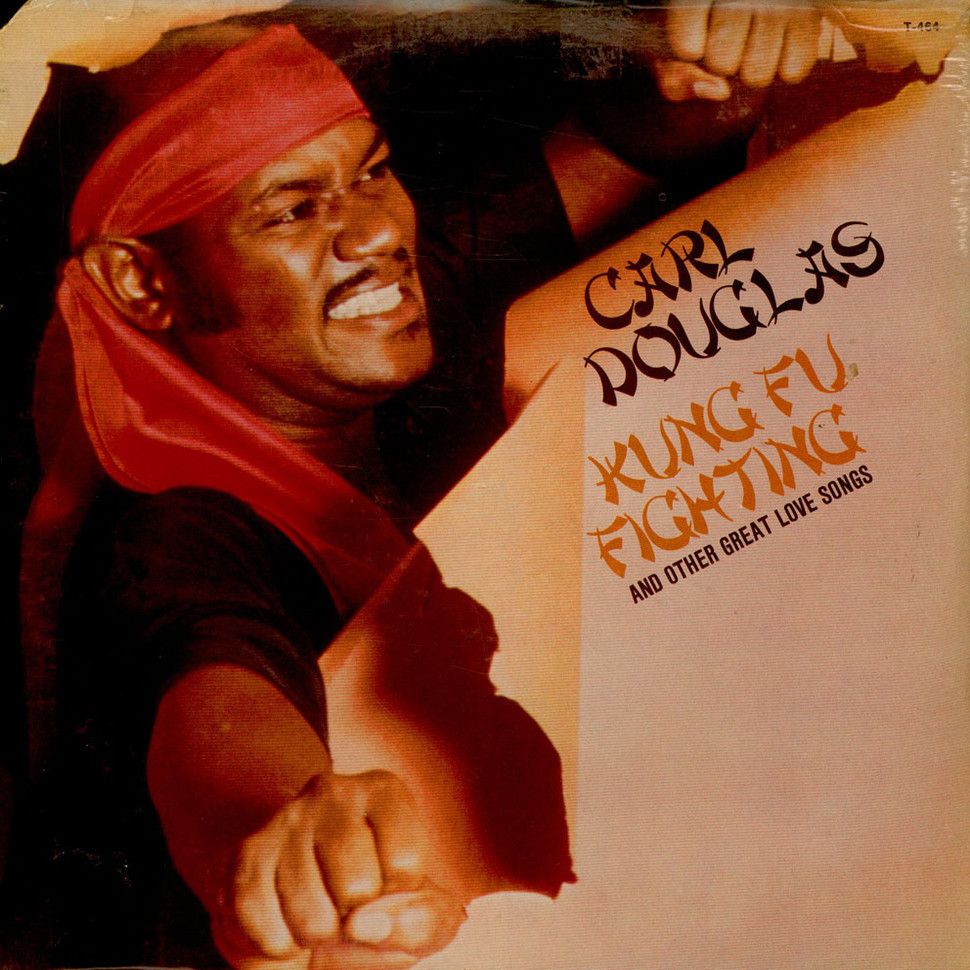 Tonight's show features songs from the 1970s. Robyn reminds us that's pretty good as the 70s is the decade he started to write, the 80s were a flower bed from the 70s compost heap from which he grew. Take that, 70s! 
So the plan is that Robyn will play mainly covers of 70s songs but he'll bookend the show with songs that he wrote in the 70s. Hence, the opening song is 'Insanely Jealous' from Underwater Moonlight.   
Humans are capable of enormous emotional swings: Robyn moves to the 70s covers with Rupert Holmes' 'Escape (The Pina Colada Song).'  He asked us to imagine what was going on in the 70s as he adds lyrics about "Jimmy Carter," and intejects a few more 70s movers and shakers into the lyrics of the old AM radio chestnut. It is a fairly spirited cover with the silly scat bridge matching the absurdity of the truly inane song. Upon finishing,  Robyn assures us he'd like to take us down Columbus Avenue in the rain and spin us around and sing the song to us as he'd like us to hear it. As Rupert would like us to hear it.  
Next up: Nick Drake's 'Parasite' from 1972's Pink Moon. It sounds like a cousin to 'Dear Prudence' in RH's hands but without the psychedelic overtones, if you can imagine that. 
Robyn doesn't miss a chance to conjure Bryan Ferry and he selects the song Ferry dedicated to Humphrey Bogart, '2HB' 
Em and Tubby appeared and Tub is very much enjoying the scritches he was getting, for a change. Either R.H. or Em makes the great comment "I talk about you because I like your hair." Emma comments about the ring light needing adjusting and Robyn comments "better the ring light than the ringworm." They'd both make great characters for a future Hitchcock composition, 'The Ring Light and the Ringworm.'
RH then sings the inescapable 70s soundtrack staple, 'Stayin Alive,'  with Emma harmonizing. Since the Bee Gees spanned the homelands of both Robyn and Emma they each swap personal stories of friends of friends who had encounters with the young Gibb family. Robyn tells us that his former father-in-law told stories of running off the Bee Gees from rehearsing in the TV studio where he worked on Saturdays. 
Emma and RH experiment with Robyn singing falsetto with Emma singing the lower part and then they switch it up, vice versa. It's very fun and silly but also well done.  As the song ends Emma giggles saying "the Gibb Brothers: the biggest influence on the Soft Boys."  They wonder if Morris (Windsor, drummer for Soft Boys and Egyptians)  likes the Bee Gees as he very much likes the Beach Boys.  I don't think they came to a resolution. 
Still "in the 70s" Emma professes her love for Rod Stewart. Robyn comments, " legally he can only marry models."  He goes on to suggest that Ron Wood is Rod's sleeper cell in the Rolling Stones and can get him in if he needs. Perhaps model shopping. 
When we get to the Rod song it's 'Maggie Mae,'  with Emma singing and pulling faces at the surprisingly problematic lyrics. I guess it's a little more thought provoking and stark singing those words without the pop radio accompaniment as most of us learned to sing it. It's like sunlight showing how aged some of the lyrics seem.  Still It reminds me how much I loved this song as a kid, not yet 10. It was the sort of song I'd listen to  and think one day I will have these big feelings or at least have cause for the big feelings I'm already feeling. 
It is interstitial time, and Robyn  pledges he'll learn sitar the next time Emma is out of town. Emma  goads him "just like you learned to play the  banjo that you got when you first moved to Nashville?"  Robyn answers that he sees the banjo is a kind of corrupted sitar. 
They move into the next request proclaiming it to be almost the right thing like a gift from your grandma, and instead they provide a different Bowie song than requested, 'Drive In Saturday.'  
Then Robyn performs solo 'Green is the Colour' from the movie Move, music Pink Floyd wrote the 1969 film.   
He follows this with one of the greatest love songs of the 70s or any decade, 'Kung Fu Fighting.' I have great affection for this song. The Beef People, our band, rehearsed above some storefronts. In one room of our upstairs "Beef Nest" were personal effects of what looked like a circa 1974 divorcee. There were period albums, polyester clothes, TV Guides with time capsule schedules. The gem of them all was the Carl Douglas album, Kung Fu and Other Great Love Songs. I've never listened to the song the same way again. 
Emma returned with Tubby and Robyn realizes that he played a 1969 song on a 70s show and apologizes profusely. He tells a story of Lou Reed's bass player as the bouncer at Irving Plaza and I lose the thread but it was very funny. Ephemera into the ether. 
They share vocals on the next 70s nuggets, ABBA's 'Dancing Queen.' Robyn adds a very low voice for the verses while Emma does interesting things vocally that are appropriate and fun. When they conclude, Emma announces that RH is wearing a polka dotted onesie. 
For Harold Lapidus they play the request 'Only Living Boy in New York' by Simon and Garfunkel; it's very lovely. Recall Paul Simon recently sold his publishing catalog, so there's been a lot of focus on his songwriting on my social media. In many ways he's been unfairly forgotten as a writer. I guess he's the Donovan of American folk, unfairly dismissed as a mere Bob wannabe. 
Emma then performs Blondie's 'Heart of Glass' and at her invitation Robyn make up his own verse and it's all great fun and that's our 70s grooving night. You know, I don't think we got the other RH bookend. 
--Adrienne Meddock, Looking for her Elephant Flares 
4/21 SHQ: Robyn HItchcock Songs by Request 
The show opens as Robyn, along with Perry the Lobster, kicks off the all- request Robyn Hitchcock show with one of my personal favorites, 'My Wife and My Dead Wife.' He's had a real haircut and is in good voice and mood. On the line "my wife sits in a chair" he gazes at Perry park next to him on a seat. I love that he has fun  with his old songs, even ones as revered as this. 
Robyn offers a twofer: letting requester Chris know that "this is what you get when you rub the lamp with the right kind of polish." 'Railway Shoes' follows, with emphatic guitar accompaniment, Robyn's getting great droning overtones from his acoustic. The Groovers in the StageIt comments are well pleased. 
Soft Boys are up next. Robyn informs this was written back when he put as many chords as he could to a poem he'd written in his songwriting. He tells us he'll play as many as he can remember. The request for 'It's Not Just the Size of a Walnut' when he hits the name Kenneth in the lyrics he pauses an aside, "I've just sent an email to Kenneth…." Back to the song, a Beatles-meets-Beefheart-meets-balladeer mashup. 
Tubby's in Studio C with Emma. Ringo is lurking. He's eaten 3 of Tub's meals that day, naughty Ringi. Emma announces the next song, 'Socrates in Thin Air,' is on the upcoming Hitchcock album on Tiny Ghost Records. She is a one-person full-court-press promotion team and it's great.  
70's song holdover from last week's gig comes with a story. The Soft Boys had a wonderful gig in Edinburgh on the bill with the Only Ones, The Groovers all hold their breath and yep it's 'Another Girl, Another Planet' and I turn into a quivering bowl of trifle.  Robyn finishes, suitably moved by this nonpareil pop lodestar, saying "you can only write that once and most of us haven't written it at all."  
Emma announces her June tour to Australia. She is permitted to travel because of her Aussie passport so she's going alone: no cats, no Reg. She'll rehearse with a pick-up band when she hits the continent. She tells us that Robyn will continue SHQ while she's gone. There's some dispute over whether it is going to be pre-recorded or transcontinental or how that will be arranged. The Groovers get a treat of a long time SHQ favorite '(A Man's Gotta Know His Limitations) Briggs.'  
Hitcho announced he has a fall tour in New England with Emma. The Groovercasts will continue, which Emma jokingly dubbed them the "Live from a Quite Shit Hotel on a Dubious Highway" shows. 
The Folds went to the vet's for kitty dental care so I imagine that was a project. This was by way of introduction to 'Television' from Spooked with Emma joining on vocals. This is a very delicate song with a very quiet wind down, a very nice denouement for the evening. Emma suggests they have a new album project, Simply Having a Dismal Christmas Time. Robyn suggests it will not be a full-assed Christmas album but maybe just one cheek. We see what you meant there. 
Robyn puts on his best Bob-voice and uses his bare finger to play slide guitar on 'We're Going to Live in the Trees' another one from Spooked. 
Emma comes back in time to hit the 5-minute extension and sings 'Who Knows Where the Time Goes' and it's a Sandy Denny folk lady revival. Is that Pachouli I smell? 
The extra time isn't wasted because we get 'Sickie Boy,' the Robyn Hitchcock and the Venus 3 tune.  But now our bonus time has run out and we're sent on our ways, bidding us peace and love, channeling the other Ringo. 
--Adrienne Meddock, Looking for a Bargain on Iron Sledges 
4/28/21 Mostly RH Songs Requested by Us All 
So we are winding down April with a collection of songs "almost entirely requested by y'all." I like that Robyn has adopted the great southern collective pronoun "y'all." Having spent my formative years in the Midwest our collective noun was you guys, which I felt was sexist and non-inclusive. Y'all has great utility in that it can be used to address more than one person in the second person. Y'all is very practical. Next to biscuits (the fast bread, not cookie), "y'all" is one of the best inventions of the American South. Oh and chess pie. 
Things get off to a cracking start with 'The Man with the Light Bulb Head' played to a very serious accompaniment. Enter Perry Lobster as the Man with the Light Bulb Head -- he's come to turn us on. Robyn then adds, "all sorts of things happen, sometimes, when they have to.''
Today there are triple birthday wishes for Groovers. The first up was Quigly's request, 'The Rain' from Groovy Decay. But in true Robyn style, the next request is not for a birthday Groover, "I Got a Message For You'  from Invisible Hitchcock. He tells us it's a song who's tuning he could not work out so it is a redux version. Back to the happy birthday requests, Eliza gets 'The Green Boy' from A Star for Bram. He says the songs are like a branch with a heavy bird on it and off he goes on weightless birds….  
Emma joins us to discuss the popular demand for the return of the top hat in the StageIt comments, RH shows us the "capacious curvy body" of his lovely blond guitar. And they sing 'Only the Stones Remain' from the Soft Boys' Underwater Moonlight. 
Emma imagined Hitchcock and Perry celebrating the pink moon at Stonehenge: She'd seen a photo on the internet and had envisioned it. A few more birthdays were noted, Taurean birthdays. Emma and Robyn sing us a particularly lovely version of 'Cynthia Mask,' harmonies and picked guitar on the verses and it's just great. 
A discussion of "third from Rod" turns a mention of Rod Stewart into a Sweet Home Quarantine drinking game. Robyn and Emma have been singing all day so their voices are bit fragile Gildabeest requested 'Trilobite.' RH said he skip the intro which he admitted could be a bit tedious 
There was talk of 90 per cent of trolleybuses ending in a great conflagration and of "the Parthenogenetic Lord--the great Scottish Fold in the sky."  And then a pitch for the transport museum in London which is a particular Swiftcock favorite. 
We finally get to the third birthday request, for Cassidy, who gets name-checked in 'Time Coast' from the Robyn Hitchcock album. 
Back to banter. They compare their performances to a Christmas cake with really good bits but with a stray raisin. Here's why it's mostly RH by request: there's been a request for something different. Robyn tells us "this really doesn't sound like this but let's see what happens."  It's Jimmy Webb's 'Wichita Lineman' and  Robyn hits a lovely high "line" on a vocally challenging song he acquits in lovely fashion.   
I saw Jimmy Webb in concert a few years back, he's from the mold of great composers/poor vocalist, surrounded for the tour by gunslingers. Webb is an important to hot-air balloonists as the songwriter of 'Up, Up and Away.' which popularized the sport that provided a living for my family for over a dozen years. 'Wichita Lineman' is a song that's much better than it needs to be for an AM radio hit. And now I'm melancholy about Glen Campbell, and the lyrics of the song, and the loss of longing, and radio trips with my family to fly balloons at county fairs all over the Midwest, and it's too much f****** perspective. Now that's a performance and a solid song that can elicit all that. 
Next up is a request for Syd Barrett song. Robyn skips the intro and gives us the low range bookend to the 'Wichita Lineman' high notes with a rumbly 'Baby Lemonade' from 1970's Barrett album.  
Emma returns with Tubby. Robyn asks "do you think we will be able to stand when we do shows again?" having spent over a year performing seated shows twice a week for us via StageIt. They are pre-recording shows for use while Emma's gone on her Aussie tour and in quarantine. 
After a rousing version of 'The Yip Song' from Storefront  Hitchcock,  they go out on 'Get Back,' a Beatle song request fulfilled. RH says he might do 'Let It Be'  Emma jokes, that's a show "Robyn Hitchcock does the songs of The Beatles badly."   
That April's Sweet Home Quarantine. 
--Adrienne Meddock, I could use a small vacation, but it doesn't look like rain