To acknowledge Judy Garland's 99th birthday, Rufus Wainwright put together a spectacular streaming concert experience. Since 2006, when Rufus released his own version of "Judy Live at Carnegie Hall," he has performed the double album in its entirety at a limited number of full-orchestra shows in London, Toronto, the Hollywood Bowl, and Carnegie Hall itself. He repeated some Judy dates in 2016, the 10th anniversary of the audacious project. 
Rufus has streamed a number of "Quarantunes" shows (compilation here: https://www.youtube.com/watch?v=dZgUT2jRXWg), and has even done whole album streams (hate that I missed Want One). But taking on the lodestone 'Judy Live at Carnegie Hall' (JLCH) album in a pandemic will call for some creativity. 
How to do it? In place of a full orchestra is a tight jazz combo of pros and the venue, like Carnegie Hall, echoes with the spirit of Judy Garland. They chose a live recording room in Capitol Studios, a hallowed space where Frank Sinatra and Judy and other great belters recorded. Set up in one room are the band, Rufus, and an audience of one: the woman who won an Oscar for portraying Judy Garland, Renee Zellwiger. Renee is given a headphone mix, a clear view of the players, and a comfy chair to groove on it all.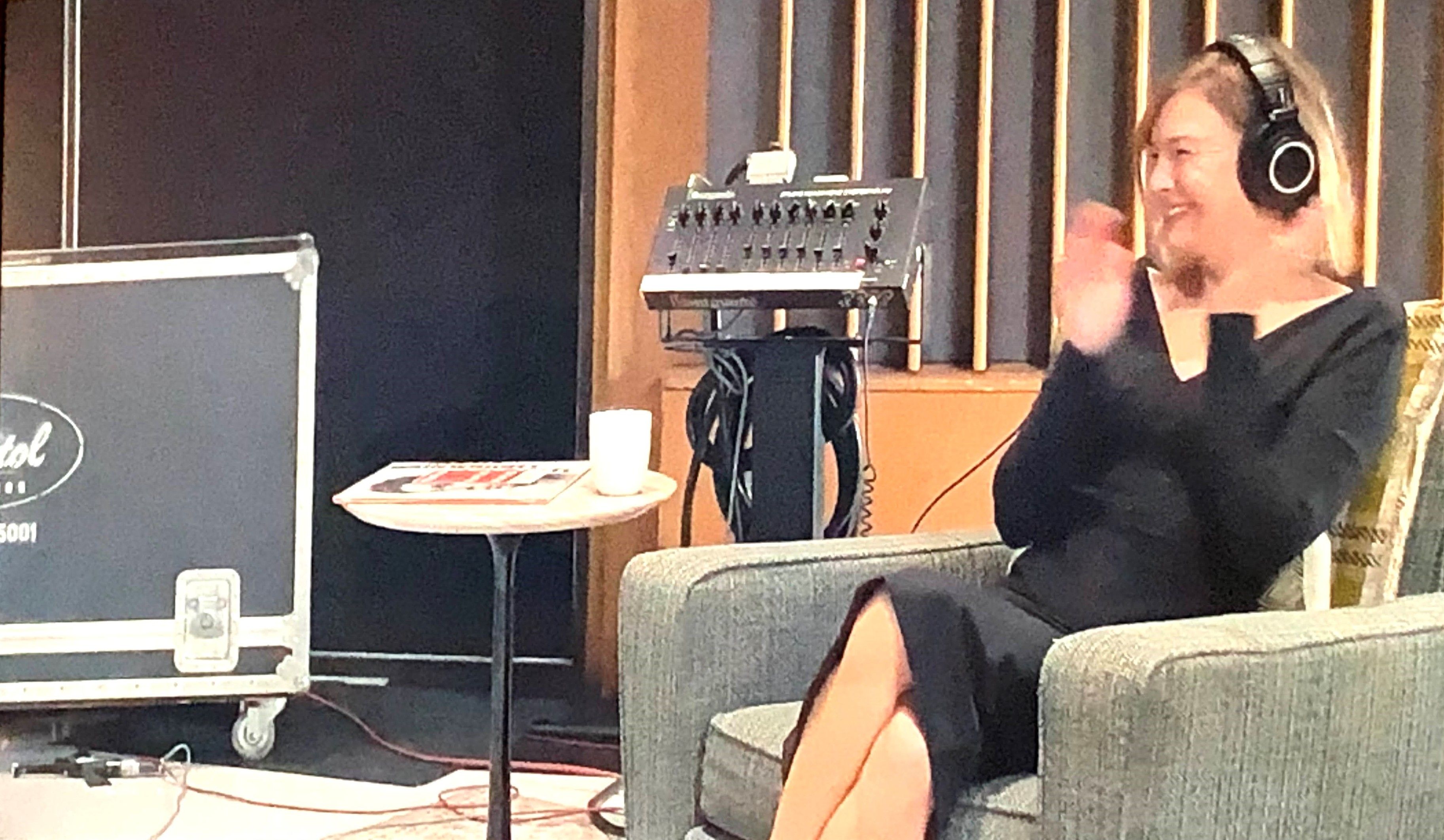 The concert streaming platform is new to me: VEEPS. Like the Madness stream (see our account at tinyurl.com/higsongetup), the show streams at predetermined times across several days, to give international fans prime viewing times). There was a rewatch feature that I didn't utilize and can't vouch for. There was seamless streaming to my TV system (something that is not true of all interfaces). Sound and look was great. 
As a lead up to the show, Rufus answered several questions in a prerecorded piece about why Judy, why Capitol Studios, preparation for the 2006 Carnegie Hall performance, and his role in bringing Judy to a new generation. 
Like on 'JLCH,' we get a true overture with snippets of highlights to come and get a good look at the combo: piano, guitar, drums, and upright bass. Pretty hot jazz combo.  
Rufus is shown backstage, getting ready, donning his sparkling black tuxedo jacket and finally sliding on fabulous glittering ruby loafers. The homage comes full circle. He enters the studio, where the band is playing, masked, 
Renee joins the room, assuming her place as audience of one. Rufus announces that this show is the finale to his Quarantune shows, and that he has selected outrightinternational.org, a global LGBTQ support organization, as the charity they will promote that night. 
Columbia has told him they have selected a vintage mic, used by Judy, for Rufus' vocals that night. He is chuffed. 
The opening song is 'When You're Smiling,' a bit of a chestnut, but Rufus is in absolute control of his instrument and gives it life. I've seen Rufus live a few times, and tonight his voice is the best I've ever heard. Magic mic. 
Renee and Rufus will chat some between this evening. Rufus explains that the first time he performed 'JLCH' he was newly sober; the performance left him very drained and feeling very close to Judy. 
The second time around, he felt he was channeling Frank Sinatra--I guess self-assuredness will do that for you. More ring-a-ding-ding, less zing-zing-zing. 
On 'Do It Again,' he told Renee he got to show his tessitura high range. I of course think of Tessie Tura, the gimmick stripper from Gypsy. But who doesn't. It is a very delicate performance, but totally in control. 
On 'You Go To My Head,' Rufus loses some lyrics, but seamlessly sings on without losing a beat. I like that he is not a perfectionist here. Seeing some fallibility amid this Herculean (Jud-ean) task works in the intimate atmosphere of the show. 'Alone Together' is next, a heartbreaking beauty. 
Next is that Jazz Age speed rap, 'Putting on the Ritz.' Notoriously difficult to spit with its rapid fire lyrics and syncopated rhythm, as Bertie Wooster noted, the chap, Berlin, 'Has too many words and note enough notes." (See the classic Jeeves & Wooster scene here: https://www.youtube.com/watch?v=zO9axGrzDE0). The zippy version attempted by our gang is a bit too much, as there is a bit of a word pileup and they need to restart. Second time: nailed it! 
Rufus tells Renee that he hated the song and wanted to take it out of the set then realized that you don't mess with Judy's set, although you felt she was suffering from that list, given the difficulty level. Arlen and Gershwin were her favorites, so he let that guide him. Her picks are his. 
They talked about song pushers and writers. The McGarigle Sisters (his mom and aunt) tried for years to get fellow Canadian Celine to sing one of their songs. Dion's people charged $100,000 for her to select your song. I guess the access to resulting royalties made the system pay off for the chosen songwriters, eventually. 
After belting out 'San Francisco,' Rufus laughed exhaustedly in relief. "Well that's half done. We'll see if I can come back and finish it." Renee: "I'd be dead!" He promises a change of wardrobe, so I am looking forward to what he has in store. 
Returning, Rufus has changed to a natty teal patterned suit and sequined top. The ruby slippers remain where they belong. He performs 'I Can't Give You Anything But Love' and 'That's Entertainment,' winding up with 'Come Rain or Come Shine,' blazing back for the second half.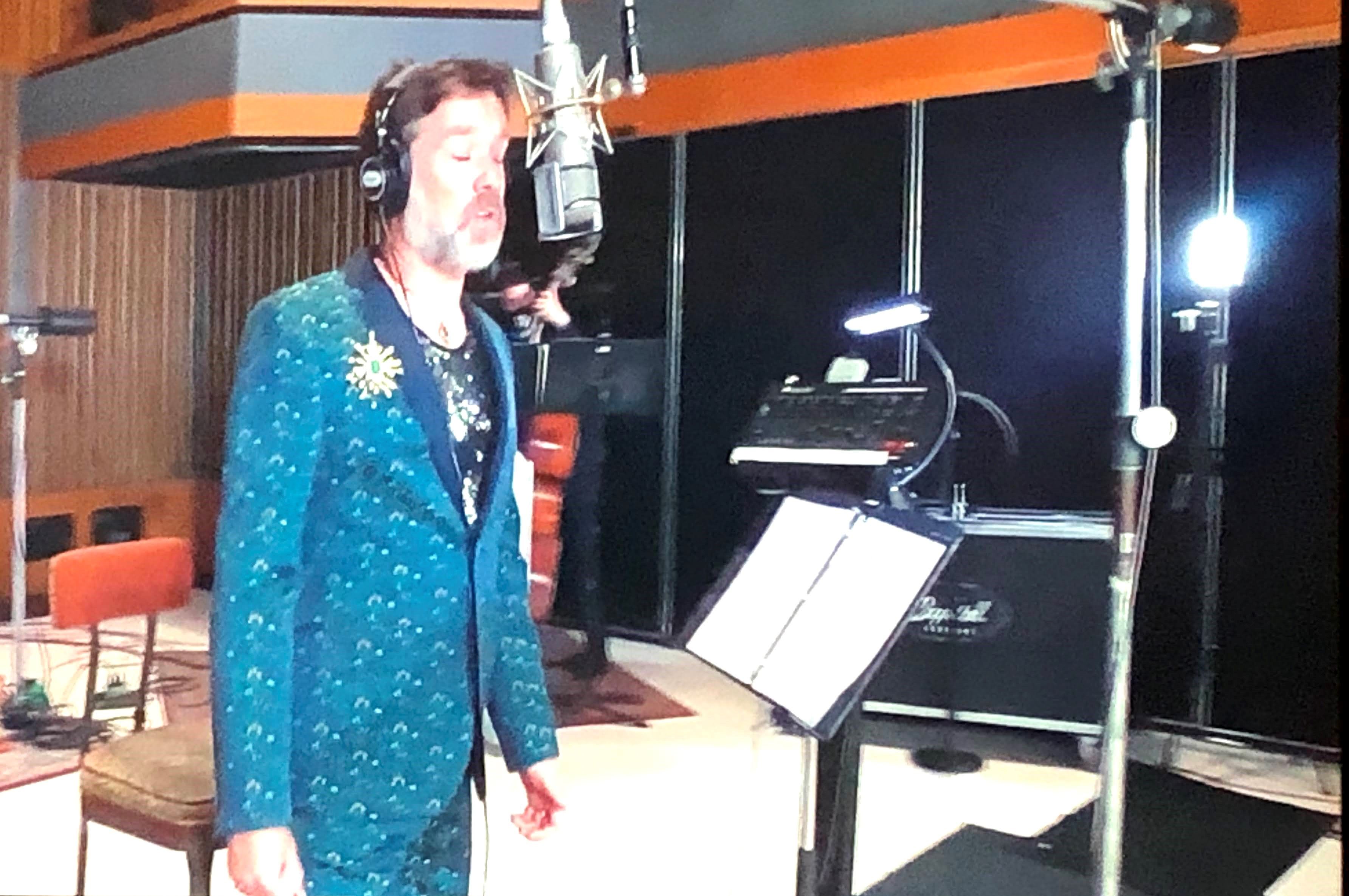 Taking a break, he chats with Renee about their Thai food snack at intermission, which he is thinking might not be the most buoyant choice for the athleticism needed to perform 'JLCH.' He compares notes with Renee about performing 'Come Rain or Come Shine,' which calls for a cathartic, physical performance. Feeling the heat of the Thai and the performance, the jacket comes off to reveal the fabulous sequined tank. 
'Foggy Day in London Town' is a song that Rufus feels is all Judy's, her version is forever supreme. Judy died in London, where she spent the last years of her career. Rufus finds the song "haunted." 
Special guest time. Sister Martha Wainwright Zooms in from Montreal to sing a heart-felt 'Stormy Weather.' the final track on the original 'JLCH" album.  
We're on to bonus and assorted material now and right off, things get dicey. Rufus chose to perform the problematic 'Rockabye Your Baby (with a Dixie Melody)" and 'Swanee.' These were signature Judy songs, and they NEVER were acceptable. Time has not helped them except by widening the circle of listeners who see the problems. These are songs that really celebrate and nostalgize minstrelsy, the contorted take on race that was a staple of the 1800s entertainment. White performers in black face sang and danced exaggerated caricatures of African American performers. "Swanee" even alludes to Al Jolson's black face performances.  
Rufus recognized they were problematic. But a mere mention of the troubling content is insufficient. The concert comment section was on fire, showing that these songs cause more discomfort than consciousness raising. Some "forgotten" lyrics or updated lyrics commenting on the racist nature of the songs are needed now. If the melody is so dang compelling, imagine how catchy a truthful lyric could be. 
Thank God it is now time for the final guest, Kristen Chenowith. While Judy's "other daughter" Lorna Luft performed with Rufus at Carnegie Hall, Kristen is here to sing 'After You've Gone.' They nimbly trade verses and join each other in duet at other points. At the song's conclusion, they compare ruby footwear. Kristen has impossibly high and tiny heels, which she holds against Rufus' robust ruby loafers. Everyone is properly appointed for the occasion. 
"But Not for Me' gets a fulsome, emotive Broadway-style performance. They then take on the Judy/Barbra duet from Judy's TV show a mashup of "Get Happy/Happy Days (Are Here Again)' Kristen Chenowith is a straight-up angel. 
Last up is 'Chicago,' and Renee is aflutter. I recommend you tweak the lyrics the way I always have, singing that Chicago is "the town that Billy Sunday couldn't pronounce!" Belt it out; you'll feel better. Rufus: I am available with this sort of rewrite of the terrible Rocakbye/Swanee lyrics. Text me! 
To summarize: VEEPS platform: works fine. Columbia Studios: what a great place to make passionate noise. Rufus' singing voice: better than  ever. Now if he can only hit the right notes on problematic material.
Hear our Rufus Singles Going Steady pod at tinyurl.com/zubacross.
Thanks for dropping by. This blog is part of zubrecords.com, an indie label run by people who make and love music! Check out Alert for blogs on music, films, books, and more! Our podcast, Singles Going Steady, is on all major podcatchers and at tinyurl.com/SGSPodcast Lots of cool things to read and listen to at zubrecords.com