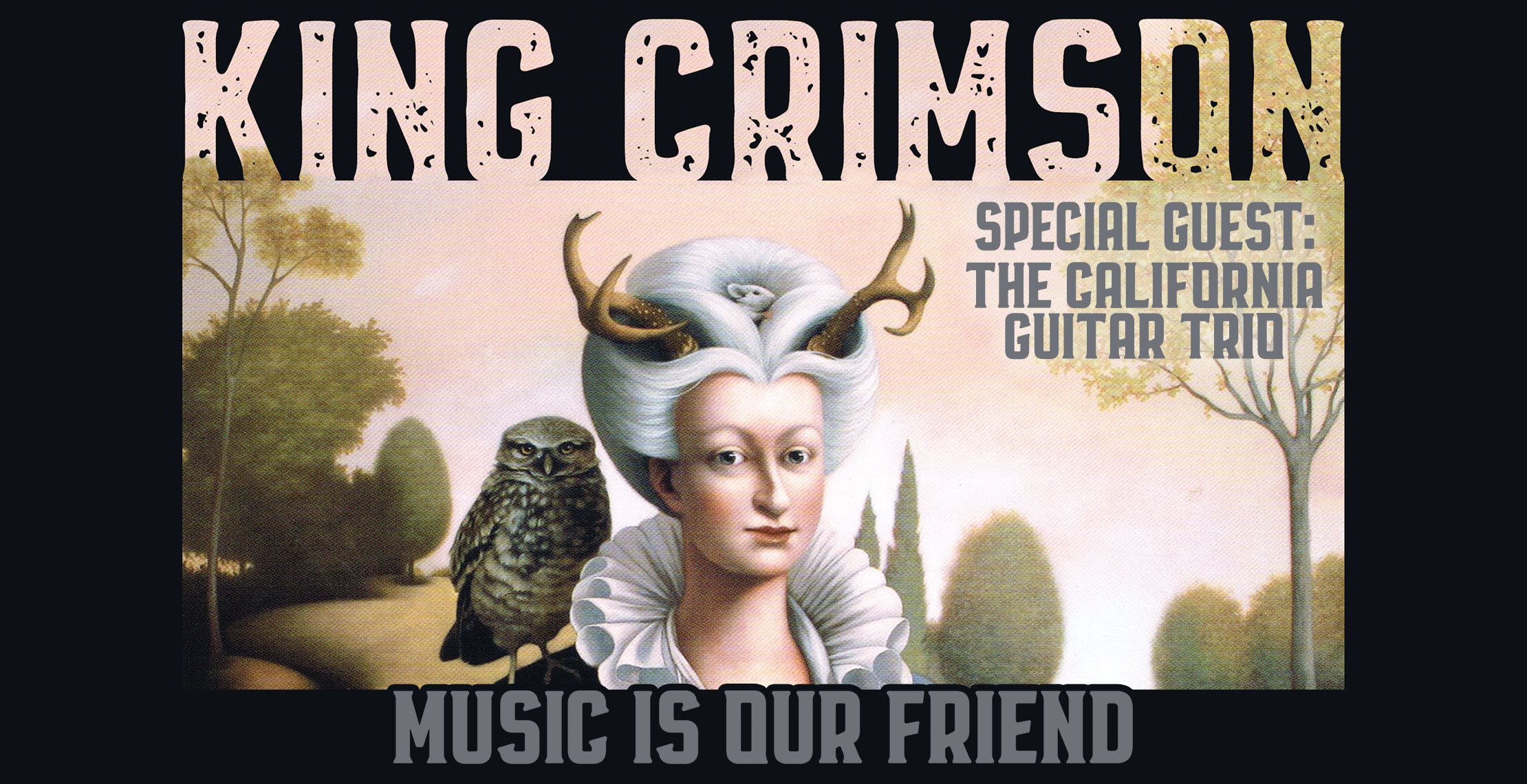 This was it for me. My first rock show since the pandemic began. First since my transplant surgery and stroke. The tour: Music is Our Friend.  
And the band was the legendary King Crimson, the band that essentially invented 'prog-rock,' holding forth and riding on all cylinders at the famous Fox Theater in Atlanta.  
Now, I have always been a carrier of the punk/DIY music gene, but I got into Crimson around the time Adrian Belew was the singer. What I always appreciated about KC is their ability to play rock with an almost orchestral approach. These guys read music and practice their instruments (how very un-punk/DIY). After being made fun of by some drunk asshole (since my stroke I use a walker, so hey look at the old guy at the rock show with the walker! Well, that douche very nearly had his skull smashed by the old guy with the walker), and we entered the Fox.  
The venue is fantastic, styled like a Moorish castle. I have seen many memorable shows there (Squeeze, The Police, and both Costello and R.E.M. many times), but I hadn't been back to the Fox for years. Great place, good seats, great sound. This leads me to the band, the seven-headed beast of Crim.  
KC is led by guitarist Robert Fripp, known for playing on Bowie's Berlin trilogy of records, and on a few Blondie songs. He is a precise and exacting guitarist who plays complicated riffs that are out of this world, along with mellotron-sounding keyboards. Next to Fripp is singer/guitarist Jakko Jakzyk, who can sing just like early KC singers Greg Lake and John Wetton. Next to him is the terrific bassist Tony Levin, who played on the modern Peter Gabriel records. He plays a five-string Music Man bass and the Chapman Stick, a 10-string instrument with frets that is 'tapped' to play, giving a combination bass and lead sound. Rounding out the back row is Mel Collins, original member playing all manner of saxophones and flutes (fun fact: Mel played sax on Foreigner's 'Urgent'). But the frightening part of KC is the front of the stage, with not one, not two, but THREE drummers. 
Why? Why? To my left was Pat Mastelotto, who worked with XTC and seemed to be the 'alpha' drummer. Next to  him, wearing his trademark bowler hat, was Jeremy Stacy, drummer and keyboardist. Gavin Harrison was the third drummer who was really number two on the drummer chart. Just walking in and seeing the stage was humbling, the soundman in me was panicking. The three drumkits up front, percussion, cymbals, electronic pads, keys, etc. etc. in my quick calculation were at least 72 inputs. Imagine trying to mix all that! 
After a fine opening set by the California Guitar Trio (who played at the Bohemian in Greenville once), there was an announcement that there would be an intermission and a warning for no photography or phone use of any kind during Crimson's set.KC started at 8:30 pm with an extended three drum piece ('The Drumsons') that was astounding. The first set was heavy on the older material, including 'Islands' and 'Lark'sTongue In Aspic 5'.  
Fripp played with skill and aplomb all night, and Jakko sang very much like Greg Lake. The first set ended with a mind-bending version of 'indiscipline' by Adrian Belew, using the three drummers for a fantastic intro. Then, as Jakko said, "there's an interval." So: intermission. 
Set 2 had Jakko finding his inner John Wetton during 'Red,' and they played  a mellotron-heavy 'In The Court Of The Crimson King.' There were two encores for the very enthusiastic crowd, ending with an eight minute version of 'Starless,' the lights turning blood red on stage as Fripp and Jakko each played their odd-time two-note filigrees and Tony played a very odd figure on the Chapman stick. Outstanding. Weird. Wonderful. Crimson! 
----Steve McGowan