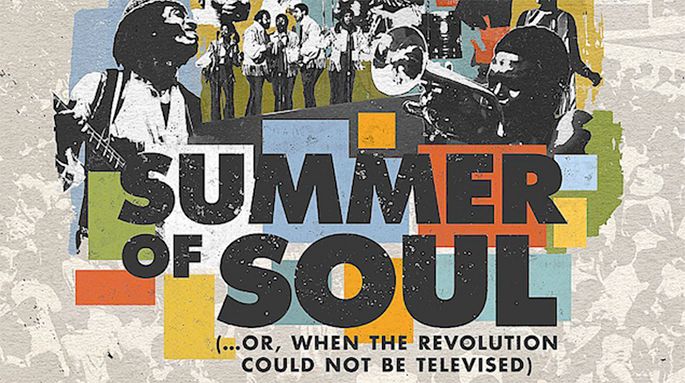 Questlove's directorial debut is a dazzling contemporary look at a summer series of concerts filmed in Harlem in 1969. The new documentary is based on over 40 hours of high quality video tape made by Hal Tulchin (read his obit here). Shot on faith, Tulchin was convinced  that something worth capturing was happening in Mount Morris Park. 
And was it ever. Questlove as director has placed the concert in context, politically, socially, and spiritually so that the marvel of the Harlem Cultural Festival, and the pride and uplift that the event brought to the community, is undeniable and unmistakable.  
The performances are, of course, astounding. If you've read anything about this film, you've probably heard about the moving "passing of the torch" mic-share by Mahalia Jackson to Mavis Staples. Stevie Wonder's drum solo. The impossibly high notes David Ruffin, newly solo from the Temptations, hits on 'My Girl.' It's true, they are all there. 
For me Nina Simone and Abbey Lincoln with husband Max Roach set the cultural high watermark. As one attendee remarks, Simone seemed like "an African princess." Her 'Young, Gifted, and Black' is a rallying call, a statement of what is and what should be. Power couple Lincoln and Roach are the embodiment of cool, elegance, and excellence. When Nina Simone reads a poem by one of The Last Poets, the impact, even today, is a haymaker to the conscience. 
So this documentary is not just a concert film, but a contextual history. After the upheaval of 1968 and the assassinations of MLK and RFK, the escalating death toll of Vietnam (that fell disproportionately on black and brown communities), emotions and tempers were running high in the summer of 1969. The Harlem Cultural Festival was series of 6 Sundays concerts from leading performers, black excellence in action, all sponsored by the City of New York. The same year a poorly planned three-day festival was held outside Woodstock, NY, the contrast is palpable. While the "Black Woodstock" is attended by all ages, people in their Sunday best, just arrived from church for the concert series. From its concert film, the music at Woodstock appeared to be almost a sideshow (in part because of the over-attendance and measly sound system); the audience at Mount Morris is rapt by each performer, there to groove on the music. Woodstock was the party you throw when your parents are out of town; Harlem Cultural Festival was a tent meeting revival. 
There is so much to love here. I imagine this will become a staple for social studies teachers who want to show what that time was like. It is only a slice, but as the Fifth Dimension sings, surry down: it's a stoned soul landmark film.