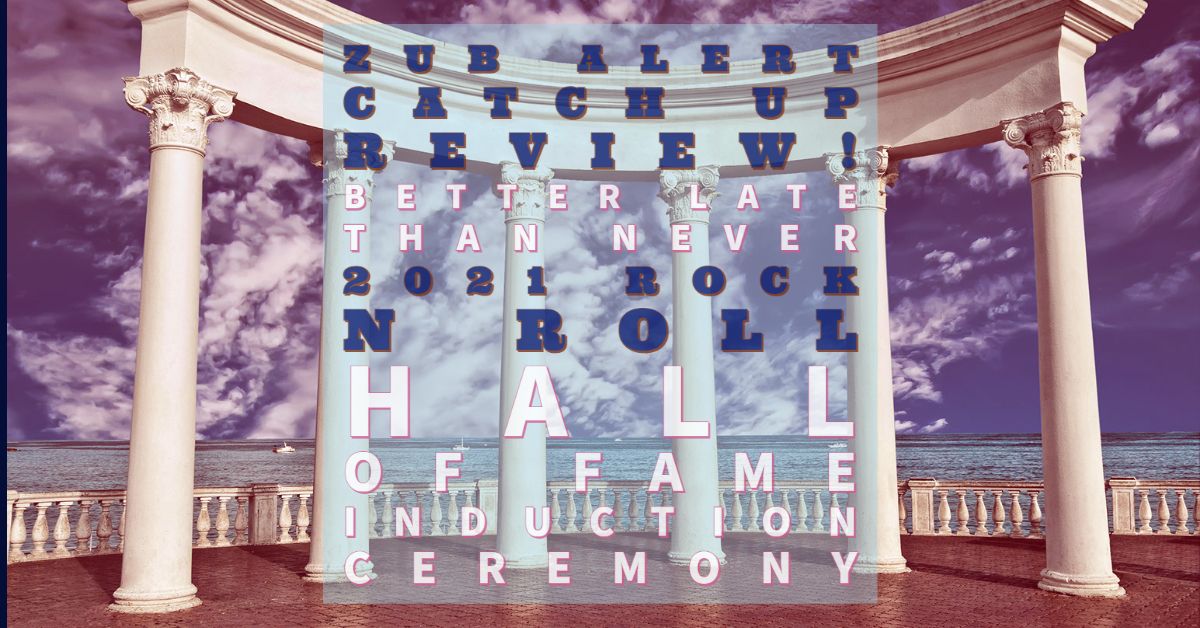 I noticed the other day that the Rock and Roll Hall of Fame 2022 was airing on HBO in anticipation of the 2023 ceremony. This made me realize I had not finished my review of the 2021 broadcast. The time gap? There lies a tale for another day. With 2023's event looming, there's no motivation like a deadline, so here we go, 2021. 
The Hall Of Fame keeps rolling along. The show abandoned live music last year (2020) due to Covid, but was back strong now with a strong list of both female and black artists.  
The first inductee was Carole King, introduced by Taylor Swift, singing the feminist anthem 'Will You Love Me Tomorrow.' Carole could have won a HOF award just on all the memorable hits she and husband Jerry Goffin wrote; they cranked them out in NYC's Brill Building. Songs like 'Pleasant Valley Sunday' (for the Monkees) and 'Natural Woman'(for Aretha Franklin) and many, many others .Once divorced, she wrote and recorded Tapestry, the ultimate singer-songwriter album and a staple possession of any and every young woman of the day. It sold over 25 Million copies. Carole came out to the piano, and with her old band, played 'It's Too Late,' and 'Up On The Roof,' sounding strong and confident. A surprise was next, as James Taylor showed up and he and Carole did a sweet version of 'You've Got A Friend.' Taylor Swift inducted Carole, and after a few words, Carole thanked Aretha Franklin. Jennifer Hudson, making the rounds as Aretha in her new biopic, started 'Natural Woman.' Jennifer began slowly but ended up tearing the roof off the sucka - she is a phenomenal talent.  
Next out was Dr. Dre to induct LL Cool J. Dre explained that LL is the kind of artist all generations like, from your middle school kids to college age to momma's age, even your Grandpa. LL was the first act signed to Def Jam Records, and as had a lot of memorable hits over 5 decades, including 'I Need Love,' 'Around The Way, Girl,' 'Doin' It,' 'Going Back To Cali,' and 'Mama Said Knock You Out.' LL got up to play, wearing a cool silver space suit style jumpsuit, and rolled out a medley of his hits, Eminem showing up for one song ('Rock the Bells') and J-Lo on another('All I Have'). It was crazy good fun.  
The next section was 'Early Influences' featuring three shorter video clips. First, Tom Morello inducted Randy Rhoades, Ozzy Osbourne's guitarist who played on 'Crazy Train' and many other essential metal tracks. Ringo Starr inducted Billy Preston, who played on the Let It Be LP, and also played with the Rolling Stones, and had his own hits with 'That's The Way God Planned it' and 'Will It Go Round In Circles.'There was a too-short clip for Kraftwerk, the German electronic band that practically invented electronic music and have been a massive influence on all genres.  
The highlight of the evening was next, with the induction of the Go-Go's. Drew Barrymore gave a real fangirl introduction while changing into a towel, applying cold cream, and wrapping a towel on her head (like the band did on the cover of Beauty And The Beat). Once inducted, the band gave their thanks then tore into a great mini-set. Singer Belinda looked stylish in a multi-colored shift dress and plastic jellies. Charlotte the lead guitarist wore her standard black Catholic school dress with white lace collar, bassist Kathy was all Texas cowgirl, wearing jeans, a giant denim duster, and cowboy hat. Powerhouse drummer Gina sported a high-tech workout suit, and 'pixie' guitarist Jane wore a plaid suit with Doc Martens and a Mohawk. The girls tore into 'Turn To You' and then a raucous 'Vacation,' followed by 'Head Over Heels,' and a sweet  'Our Lips Are Sealed' (RIP Terry Hall, and the subject of SGS 024, linked here) and ended up with a triumphant 'We Got The Beat,' which resulted in an extended standing ovation. Finally, the HOF recognized the first US all-girl band to write and play their own songs and have big hits and record sales. Not to forget the Go- Go's influence on millions of young boys and girls that wanted to start a band.  
Angela Bassett, who played Tina Turner in the movie What's Love Got To Do With It , was there to induct Tina Turner. The tribute began with Keith Urban and H.E.R. who did 'It's Only Love,' originally recorded by Tina with Bryan Adams. Mickey Guyton appeared and sang 'What's Love Got To Do With It,'wearing a black leather dress and blue jean jacket.The winner tonight,however was Christina Agulierra, who smashed a version of' 'RiverDeep, Mountain High,' which I would argue is one of the best American singles ever made.  
Clarence Avent was given the Ahmet Ertegun Lifetime Achievement Award. Clarence was an African American manager who promoted black identity and culture and who watched out for his clients' money. He was known as 'The Godfather' in L.A. Sadly, you may have read that his house was recently broken into and his wife murdered.  Patti Smith: of all people Patti was there to induct Todd Rundgren. His mixture of skewed pop. power-pop and prog-rock was in evidence in the video clip, showing him playing early signature hits 'Open My Eyes' as well as 'Hello. It's Me' and a Utopia song. The Hall had a joke on Todd, playing a clip of him entering the Berklee College Hall of Fame in 1970, swearing he would never accept a Rock Hall Of Fame Induction. So off went the Todd segment with sad trombones. Next up, Gary Clark Jr. played a song by Charley Patton, the great bluesman. Clark killed it and provided a great tribute. Next up was Dave Chapell to induct Jay-Z. Dave insisted that Jay "Was Still Ours,' meaning an important part of black culture. This had me thinking that Rock and Roll was invented by black culture. When I think of Rock and Roll, I think of Chuck Berry and Little Richard. This year's awards made an effort to include African-American artists, so often ignored and excluded by the Hall Of Fame named for the genre they created.  
Jay-Z (Shawn Carter) has a legendary story, growing up and selling drugs in Brooklyn's Marcy Projects, he went pro with his rap game, started his own label,and proceeded to make a fortune. He is a symbol of success for Black America, and in his speech mentioned working for Obama during the last election. The guy has juice,as they say. Finally it was time for The Foo Fighters, inducted by Paul McCartney. Wait…What…Who? Yes., Macca was there and compared Nirvana to The Beatles and The Foo Fighters with Wings. A strange comparison for sure but the Foos got on stage and rocked it out. I don't really think this band is HOF material but it seems like someone is throwing Dave Grohl a bone. After a medley of their hits, the Foos played 'Get Back' with Paul and it was a truly excellent version  
So, this HOF has really straightened things up with plenty of girl power and African-American swagger. This was a great show with lots of fantastic performances and very little drama. It's already time for the next one. 
—-Steve McGowan