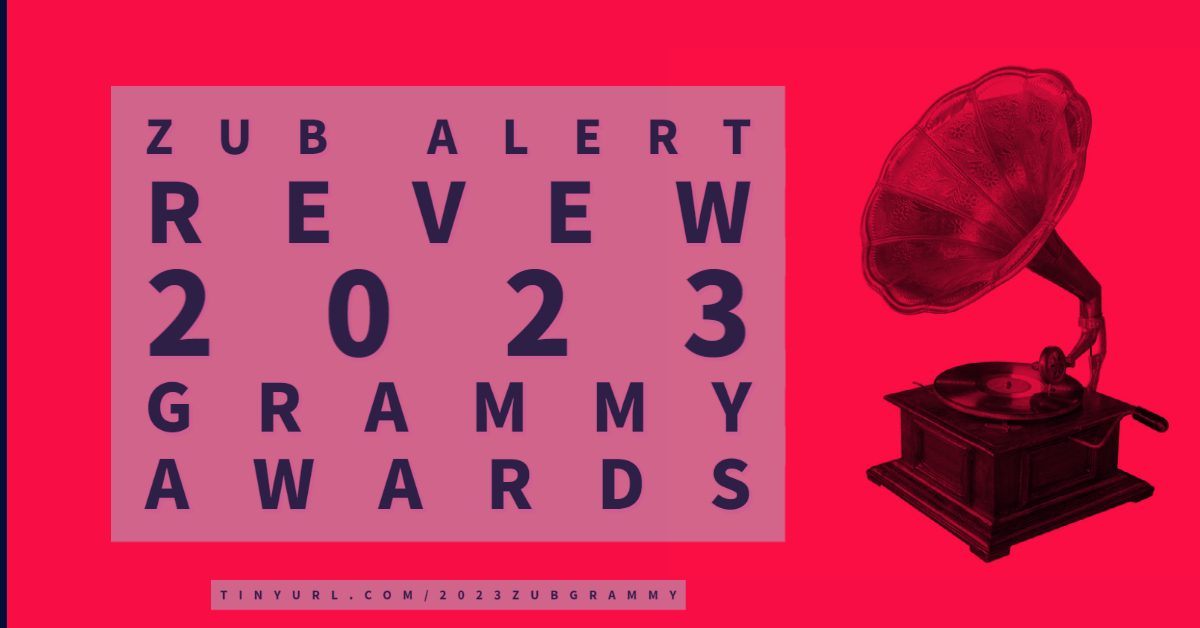 I usually pay no mind to the Grammys. To me, the Rock Hall of Fame is a much better, entertaining show. The Grammys are all about the music business, and by the business, of course I mean the industry. It's all about the radio-friendly unit shifters and artists the great unwashed love. This is the night the unknowable stars come down from Xanadu or Poochie's home planet or Valhalla, wherever they are from, and entertain us. How bad could it be?
Well, CBS got off to a good start by selecting Trevor Noah, former host of The Daily Show, to be the Grammy host. Trevor is so cute and funny, he's really irresistible (Adrienne calls him "my TV boyfriend," and I do admit half the time I look at him there are little red hearts surrounding his head on the screen). But I digress. Trevor intro'd the show and went straight to Bad Bunny, who led a Puerto Rican-style dance party through the aisles and on to the stage, singing/rapping exclusively en Español. The beat was fierce and the party was on. Trevor, now in the crowd, introduced Brandy Carlile via her wife and two children, who were adorable, and Brandy played 'Broken Horses,' the only performance of the night even close to being rock and roll. With two guitars/bass/drums/backup singers, the song was strangely reminiscent of Neil Young and Crazy Horse. I was pretty impressed with Brandy and sad that A and I missed her play live in Charlotte at the Willie Nelson show that Willie didn't play (that's another story).
Time to roll out the awards. J-Lo (Jenny From the Block) presented Best pop vocal LP which went to Harry Styles for 'Harry's House.' All through the show, they consulted a council of 'superfans,' who each tried to convince us of their choice for LP of the year, the contestants being Lizzo, ABBA (!?). Beyonce, Harry Styles, Bad Bunny, Kendrick Lamar, and Brandy Carlile. This was a good conceit to tie the fans together with their favorite artists. One of Harry Styles' fans was an older grandma type who just thought he was soooo cute and a 'nice boy.'
Viola Davis, having just won a grammy for a spoken word project and becoming an EGOT (Emmy-Grammy-Oscar-Tony) winner, presented Best R&B song which went to 'Cuff It' by Beyonce. An hour into the show, Beyonce wasn't there yet, so producer Nile Rogers accepted for her. The next presenter was Shania Twain, wearing a lurid red wig, sporting a creepy-yet-sexy clown hooker vibe. She gave the best country LP to Willie Nelson, who was not at this show either, but he beat the tar out of all the young pretenders. I hope he was trippin' balls in his bus.
Now was the time for … Billy Crystal! He intro'd a new award for Berry Gordy (head of Motown Records) and legendary Motown singer/songwriter Smokey Robinson. The Legend himself, Stevie Wonder, appeared to sing along with four young men who looked like the teen Temptations. They sang 'The Way You Do That Thing You Do,' and Smokey himself appeared and sang 'Tears Of A Clown,' Smokey appears ageless and his voice is still a national treasure. The party continued with Stevie singing 'Higher Ground' with half-man/half-bear Chris Stapleton, who added soulful vocals and some nice guitar licks. It was all very good fun, ending with Smokey presenting the award for best duo to Sam Smith and Kim Petras for 'Unholy.' Sam has changed from milquetoast gay singer to essentially to big binary DGAF superstar. Kim Petras is a stunning blonde who I fell in love with watching them on Saturday Night Live the other week. So imagine my surprise when she accepted the award, thanking the fellow transgender pioneers who broke the glass, especially the late Sophie. I was a little nervous but my love stood strong. You go, girl!
One of Lizzo's 'big girl' backup dancers gave her an emotional intro, and Lizzo did her song 'Special,' a gospel tinged banger that was powerful and steady. SZA presented best 'musica urbano' LP which went to Bad Bunny for his ''Un Verano Sin Ti'' LP. BB gave a heartfelt thanks, saying his music was "Love & Passion," and he spoke mainly in Spanish. Harry Styles played next, doing 'As It Was' on an elaborate rotating set, almost falling off the spinning wheel at one point. He was dressed like a Christmas tree covered in silver icicles, and the song reminded me of Ah-Ha (oh that 80s synth pop riff!) That's all I have to say about that. 
Hot Girl Grammys started with Cardi B presenting the best rap LP. She was stunning in a dress made out of diamond shaped mirror shards, and also Kendrick Lamar won for his 'Mr. Morale and the Big Steppers' LP. Kendrick was very gracious and grateful in his thanks. 
The 'In Memoriam' death roll started with Kasey Musgraves playing 'Coal Miner's Daughter' on Loretta Lynn's guitar (with her name inlaid in the fretboard). There was a long list this year, and the roll call ended with Sheryl Crow, Bonnie Raitt, and Mick Fleetwood (playing a small hand drum), doing a sweet tribute to Christine McVie (Fleetwood Mac) with her 'Songbird.' 
For some reason, Madonna appeared in full-on diva mode. The crowd was ignoring her. So she told them when and where to clap, giving Jeb Bush realness. She was as over it as I am over her. She did talk about "Provocative" artists and then introduced Sam Smith and Kim Petras.
Aaaaaannd, the orgy was ON. Their Caligula-like performance of 'Unholy' was off the charts. Sam wore huge red platform boots and skintight leather/vinyl red pants. They were our FedEx carrier tonight, as Sammy had a package for you, and they weren't shy about showing it off. All this was happening with plenty of half-naked dancers worshiping Sam. Meanwhile, In the back, Kim Petras was writhing in a cage, sporting a skintight red dress and thigh-high boots. This made me feel funny. Like I climbed the rope in gym class. Sam doffed a top hat with devil horns, and by the fade out I was imagining myself as the meat in a Kim/Sam sandwich.Their tune was pure, straight-up sleaze, and I loved every bit of it. While they mopped the stage, James Corden presented Best Electronic LP to … Beyonce (wha'?) Anyway Queen Bey brought her Grammy total to 32, the most of any artist ever. (Eclipsing the late Sir George Solti).
Mary J. Blige played 'Good Morning Gorgeous' with a cool set, string players playing strung up TV's. LL Cool J presented a new award, the Dr. Dre Impact Award, to who else, Dr. Dre. There was a nice video about his rap productions, his ownership of Beats, and his philanthropic work. Dre gave a gracious speech that segued into the celebration of the 50th anniversary of hip-hop. The Roots' Black Thought told us hip-hop started 50 years ago when DJ Cool Herc played a community center in Harlem, both rapping over records and 'scratching' records on the turntable. This particular tribute was curated by Questlove, and they jammed a lot of hip hop into a short time. Grandmaster Flash and Melle Mel and Scorpio of the Furious Five gave us The Message, Kings of Rock Reverend Run and DMC were, LL Cool J did some of 'Rock The Bells,' and Salt 'N Pepa gave the proceedings some girl power, Chuck D. and Flavor Flav represented for Public Enemy, Ice T reminded us he wasn't always po-po, and Queen Latifa pleaded for U.N.I.T.Y., Busta Rhymes came out and killed with his super-fast flow, Missy Elliot reigned, and the set wrapped up with Nelly and 'Hot In Herre.' It was a joyous celebration. Jay-Z was going crazy in the crowd, and a great time was had by all.
The Rock presented the best solo performance, which went to Adele for '30,' Adele was hilarious in her thanks, keeping it as real as ever. Country singer Luke Holmes was introduced by the bar owner of the venue where Luke cut his teeth, a club in Boone, NC. Luke came out and played 'Going, Going, Gone.' The best thing about his performance was his custom made Gibson J-200 guitar, in a beautiful blue color with his name on the fretboard. The song he was playing, however, was very formulaic and in that 'Country Pop' mode that has infected the radio. His band had three electric guitars, one acoustic, drums and bass, and a steel player just to play G, C, and D. 
Now I'm not much for body shaming anyone, but what is up with all these big guy country stars? Where we come from, a country singer lives on a steady diet of bacon, cigarettes, beer, whiskey, meth, and corn squeezins (moonshine).They are always slim and malnourished looking. Think of the prototype: Hank Williams. These big country stars make me nervous.
First Lady Dr. Jill Biden presented a new award, for songs that make a positive social impact. This went to Steven Hajipour, an Iranian dissident, for his song 'Baraye,'which deals with the current protests going on in Iran versus the Islamic government. Song of the Year was presented to Bonnie Raitt for 'Just Like That,' a beautiful ballad about a mother's loss of her son who had given another life via an organ transplant. Having received a life-saving transplant myself, this one hits very hard. Please check it out at 
https://www.youtube.com/watch?v=Skd0XR3twCA
. Bonnie was genuinely shocked about winning; up against Beyonce, Lizzo, Taylor Swift, and Adele, she choked back tears during her acceptance speech, making a point to mention John Prine. 
Chris Martin of Coldplay, wearing that stupid hackysack hat, presented Record of the Year, which went to 'About Damn Time' by Lizzo. Lizzo was as excited as a schoolgirl, thanking Beyonce and all her fans. They cut to the fans 'focus group' table, talking about Album of the Year. Then Steve Lacy played 'Bad Habit' with Thundercat, The song was breezy pop that reminded me a bit of early Rick James, and Thundercat slayed on a many, many stringed bass guitar.
Olivia Rodrigo, last year's winner, presented Best New Artist to Samara Joy, a young jazz singer who sounds a bit like Sarah Vaughn. I would have loved to hear her perform, but it was time for Album of the Year. Trevor brought up the grandma Harry Styles fan who read the card giving him the award for 'Harry's House.' She was as thrilled as he was. Harry gave a great acceptance, reminding people there is really no 'best' in music. The show was basically over but we still had to sit through an eight minute DJ Khalid song. I really don't get this guy, he appears to have NO ability or talent of any kind except for being a hype man. Anyway, out on the road in front of the arena, he had a band, and a table festooned with food and wine, Medieval Times style. Round the table were Lil Wayne (with auto tune), Rick Ross, John Legend (with piano), and, thankfully, Jay-Z. They were playing 'God Did,' which featured a strong verse from Wayne and an exceptional break from Jay-Z, but in general this song had no cool beats, no new samples, or any recognizable hooks. It was a piece of ready made dreck just like Luke Holmes' song. A total waste of time and talent. So mercifully, this year's Grammys were over.
Plus points for Trevor Noah, Brandy Carlisle, and Sam and Kim. Not every awards show makes me consider my sexuality, but this one especially did. The Motown and hip-hop tributes were stellar, and the Grammys get kudos for a much more inclusive show than the Rock Hall of Fame. They tried hard this year, and I really believe it paid off. Until next year, see ya all you Stars!
—---Steve McGowan