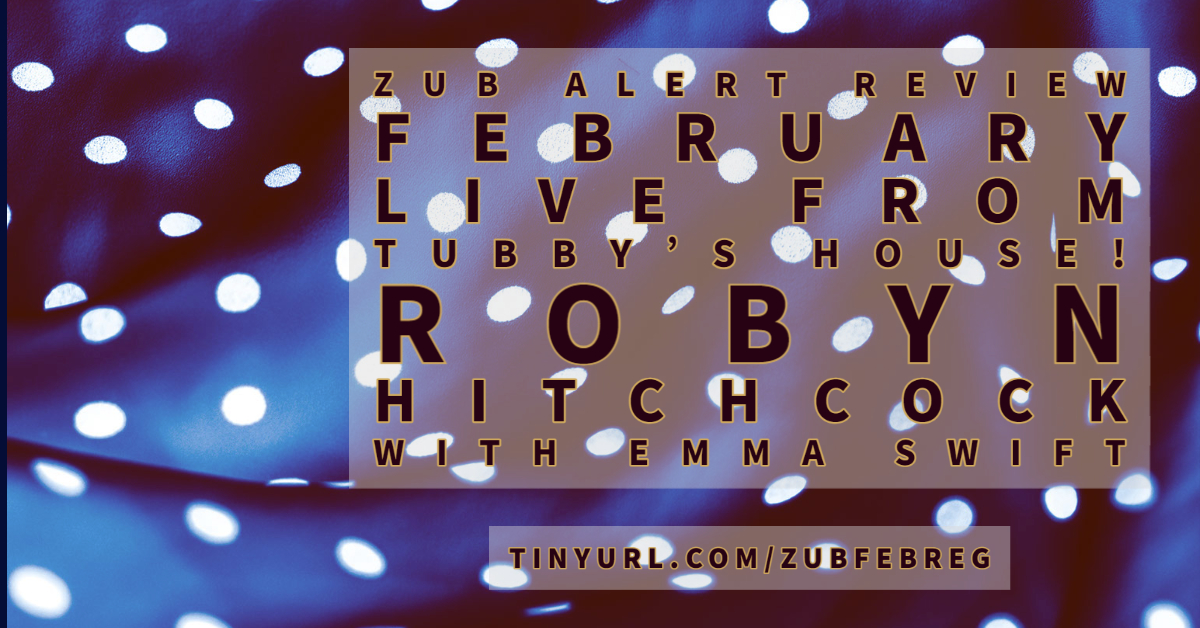 Robyn Hitchcock Live Stream From Tubby's House February 2023 
2/1/23  Robyn opened by playing a bit of an instrumental, then launched into an energetic 'Shuffle Man,' propulsive and fun, he tore through the subject track of his latest album, Shufflemania! He discussed that cats Ringo and Tubby were nowhere to be seen, then Emma (off camera) asked him to move his chair, for a better camera angle, then he played the funeral song 'When I Was Dead,' one of my favorite songs, featuring a strong vocal Next was 'One Day (It's Been Scheduled)' a poppy and pleasant new song. In Memoriam, next up was a David Crosby "twofer," a beautifully picked 'Everybody's Been Burned,' and an angsty 'Almost Cut My Hair,' sung in a high register. 
Emma Swift appeared and the duo thanked the Fancy Feast Fund contributors (tips designated for cat food), and after a chat started into 'Almost A Blonde,' a dark song with a descending chord pattern. Emma rejoined the party with Tubby, the one-eyed Scottish Fold, who promptly charged off camera. Em and Reg joked about Robyn's songs, and after a bit, played 'Socrates In Thin Air' from Shufflemania!, very upbeat and well done. Tubby was back for a minute and ran away again. Emma brought him back for some "eye contact" while Robyn played a sad 'Surfer Ghost,' very folky. From here. He played 'Ghost Ship.' Then 'Dark and Bones,' droney and very Velvets-like. This one attracted Tubby to the seat next to Robin. Mentioning Phil Manzanera's birthday, he played a beautiful 'More Than This,' saying goodbye at the end, he moved to his old 50's Kay guitar, with a twangy bridge that does sound like a sitar, and did his 'Raga-out' extended instrumental, said goodbye again, petted and picked up Tubby, and went off camera. This was another great Swiftcock livestream. Robyn never ceases to amaze with a huge quality of top-notch melodic, whimsical, surreal, heartfelt songs. Emma is the special vocal sauce, the spice in the curry. This is as well as handling sound, pacing, and wrangling cats and chat rooms. As with last week's show, they continue to get stronger each week.
02/08/23 Robyn was writing the set list as the show opened; Tubby was sitting next to him but quickly retreated. Reg, wearing his blue-with-white
polka dot shirt, started with a masterful 'Chinese Bones,' one of his prettiest and finest songs. Then was' Mr. Deadly' from Invisible Hitchcock. He then played another obscure song 'Demons and Fiends' from Spooked. Emma Swift appeared, looking fantastic in a pink sweater. They had a long convo, then started with 'Be Still,' Their voices, as always, sounding great together. Reg and Em discussed Zen, who was described as a good boy. Reg played a made-up faux song called 'Good Boy.' Then into The Soft Boys' (I want to be) An Anglepoise Lamp,' total power-pop heaven. Even a grooving Tubby jumped up on Emma's stool and scratched himself. Reg continued with a folky version of 'Underwater Moonlight' which was just glorious. He called it "One of my top redemption by drowning songs." Reg talked about his parents, and then played 'Driving Aloud (Radio Storm)' from Respect, Emma singing off camera. Em appeared again, saying she loved that song, and Em and Reg discussed Tubby, VR tech, the Groover chat, and ABBA. Then the duo did 'I Often Dream Of Trains,' Reg picked the song masterfully, and Emma provided harmonies to this beautiful song. 
The chat continued about Valentines, Em being born in a "puddle of doubt" and Reg born in a "puddle of doom." Then they did 'The Yip Song,' energetic and strong. Em departed, Robyn got some coffee, and played 'Sayonara, Judge' dutifully picked and sung. Next he played 'Wouldn't It Be Loverly' from My Fair Lady, then 'A Skull, A Suitcase, and a Long Red Bottle Of Wine,' a great song but Reg seemed a bit tentative on this one. He tuned down a bit and did a great version of 'Sinister But She Was Happy,' (Em singing off camera).Reg announced he would be on tour with a band especially on the US west coast. Em appeared again, they thanked the audience, and Reg did 'Sally Was A Legend" from Jewels For Sophia, and ended the show 'raga-ing out' on his Larrive Guitar. 
What A great show. Plenty of deep and obscure cuts, some great hits, My Fair Lady and Soft Boys surprises, and plenty of Tubby! What more could a Groover ask for? 
02/15/23 Robyn,wearing a very familiar blue with-white polka dot shirt, started off with a fast strummed version of The Beatles ''All My Lovin' right into 'Things We Said Today.' Explaining this was a 'romantic' set, He did 'My Wife And My Dead Wife,' one of his best songs. The lovely Emma Swift appeared with some smashing heart-shaped pink sunglasses and a pink and red/ black flowered top. The duo started with 'Birds In Perspex,' a rather sober and mellow version, had a convo about the Dmaj7 chord, and then played 'She Doesn't Exist' from 'Perspex Island' straight into 'Long Long Long' by The Beatles. Surprisingly, 'Idonia' from Luxor was next, a song I don't think I've ever heard him play. Next Fancy Feast thanks were given out, and Em left while Reg played 'Gene Hackman,' one of his funniest and strangest songs. Next was Glen Campbells' 'Wichita Lineman,' sung beautifully with a few clams during the solo. Em returned and they did 'Into The Arms Of Love,' from ,Respect. Em asked for 'Human Music' and Robyn played a beautiful version as Tubby sat next to him. Reg went into a 'Jaunty' version of 'Bass.' Perry the stuffed lobster was thrown at him, and he had a talk with Pezmeister, and asked about 'Swifto and Tubbs,' the cop duo. Emma stayed and they played 'Walk On By,' which had a big false start as they worked out the chords. 'Take two was much better, Emma sounded great, but they screwed up the ending, laughing about rehearsing these things. Next was 'The Man Who Loves The Rain' from 'Shufflemania!,' which was top-notch with a beautiful Hitchcock melody. Thanks again for the Fancy Feast fund donations, and discussion of Perry doing international pop songwriting. Emma Stayed and they did 'I Used To Say I Love You' from 'I Often Dream Of Trains,' Em sang beautifully. The duo had a long convo, then Em retreated, and Robyn did 'Lady Waters and the Hooded One.' This was a great ending to a different show with lots of deep cuts, tracks from Luxor, Perspex Island, Element of Light, and many cool covers (Beatles, Burt Bacharach). This was maybe my personal favorite of all three shows.
—Steve McGowan