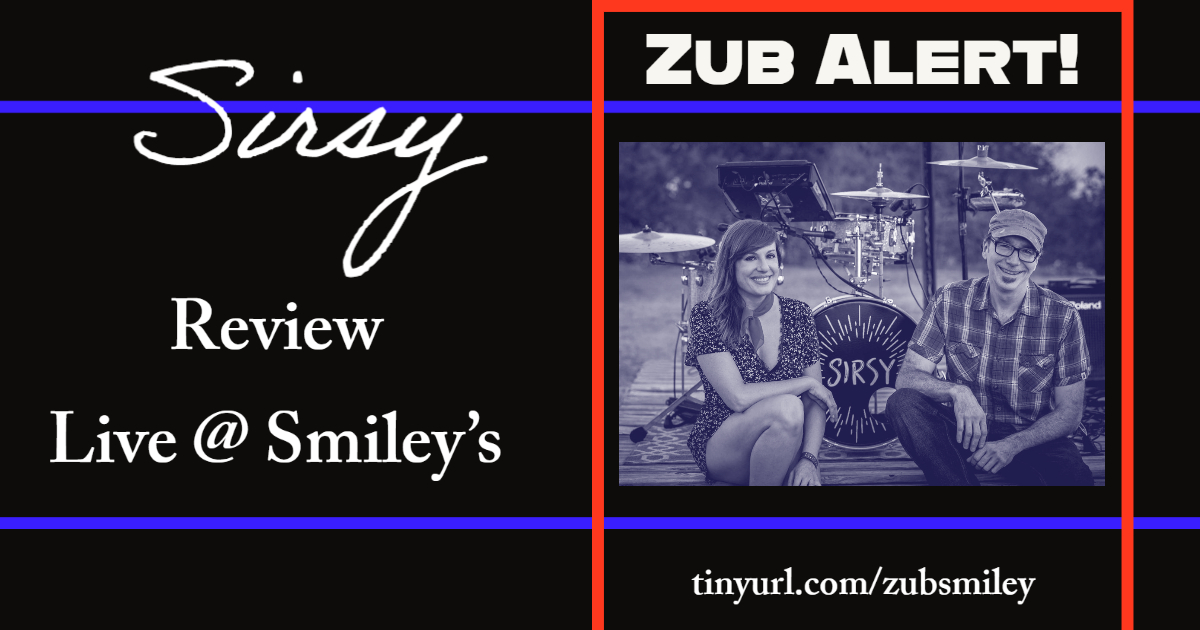 This was my first visit to Smiley's in Easley, and I was pleasantly surprised by this club. Holding a spot in the downtown area, the club was a standard rectangular box with a small triangular stage up front in the left corner front window. The premises were clean and tidy, the servers extremely fast and pleasant, and the QSC sound system was excellent. Sirsy are a band consisting of a married couple from upstate New York, Melanie Krahmer on drums, vocals, bass pads, and flute, among other things, while hubby Rich Libutti plays a battered Rickenbacker 330 guitar via a raft of pedals, also playing bass notes on a synth pedalboard. Rich's inventive playing combined with Melanie's powerhouse vocals give this little 2-piece band the power and finesse of a four piece combo. Their music is unabashedly original pop, built around themes of love and overcoming adversity. The band and their music are relentlessly positive, and a healthy change from most music today.
I've had the pleasure of doing sound for Sirsy many times, and I think of the duo as friends. I always try to catch them when they are in the area. Tonight's show in Easley was a perfect chance. Walking in the club, they had just started playing 'Like A Drum,' which is their version of 'We Will Rock You,' quite the declarative anthem, Mel singing "I Beat My Troubles Like A Drum." I made my way to the back of the bar to listen, and they played 'Soul Sucker,' a slinky song with Melanie playing flute, straight into 'Cannonball,' from Coming Into Frame with a funky riff and Mel's voice clear and loud, this one got the crowd moving. Next up was 'Lionheart' from the same CD, which had a Police-like feel in the verses. During the first set, on a Sunday early evening, the crowd was small, around thirty or so, but everyone was paying attention and grooving to the band. 'She's Coming Apart' was a great song with a killer chorus and Mel's catchy whistling. They followed with a cover of Brandi Carlisle's 'I'll Play for You' which Melanie killed on the vocals, truly outstanding. The band played a new song, 'Seven Seas,' a slow, wistful ballad with a great guitar riff from Rich. I even thought I saw him play a diminished chord! This was a good sign for future Sirsy music. 'Crazy' from Revolution was next, combining sexy vocals with a Led Zeppelin-ish stomp, followed by the super-pop of 'Astronauts,' featuring a wild solo from Rich using his turns-your-guitar-into-an-organ pedal. Next was a cover of Fleetwood Mac's 'Landslide,' Mel again killing it with her vocals, followed by 'Feeling Good' by Nina Simone, Melanie sweeping the floor with vocals that electrified the crowd. This young woman can sing. To end the first set, Mel moved upstage, just singing with Rich on guitar, belting out the anthem 'Brave And Kind,' and winning over the audience completely. 
Between sets, it was dark outside, and the club swelled with new people out to, uh, get drunk. The foursome next to me were slamming goldschlager shots like there was no tomorrow. When Sirsy took the stage the crowd was near one hundred. The second song of the set was 'Revolution' from the LP of the same name, one of their groove songs filled with tension, and got the crowd riled up. 'Mary Concetta' from the same LP, is a strong pop tune about Melanie's grandmother, with the added bonus of Melanie playing melodica, tough and sweet at the same time. Next up was 'Goner,' a classic pop construction about a girl who's hopelessly in love, with plenty of spaghetti western style guitar. 'Lot Of Love' was next, a sophisticated pop creation. By this time, the bar was full of drunks talking loudly over the band, especially the foursome in front of me and a large group in the way back of the club. Fortunately, they played another Fleetwood Mac cover, 'Go Your Own Way, which quieted everyone down.
They played 'Tourist,' from the Sketches & Ghosts single, a sinewy song with a 'Paint It, Black' feel, also one I've never heard them play live. This was followed by a great cover of Nancy Sinatra's 'These Boots Were Made For Walking' which went into 'The Twist,' 'Hound Dog,' then 'Whole Lotta Love.' This medley revved up the crowd considerably. Next was 'Hell No,' a rave-up with another Led Zep riff, then 'Death Of Me,' a triumph-over-a-man song with some nasty guitar from Rich Libutti. At the end of the set, Mel dedicated the last song to her sister, who lives in Spartanburg and was in the crowd. They played Gloria Gaynor's 'I Will Survive' for a great ending. The crowd was crazy and Sirsy made many new fans tonight.
Here's the thing; this is a very talented band that tours the U.S. relentlessly. You can find all their recorded music on all the streaming services, they are great about doing livestreams and are active on social media. They are definitely worth your time and effort to seek them out, stream their music, buy some cool merch, and go to their shows. This band is too good to miss. I implore you to check them out, you won't be sorry.
—----------Steve McGowan