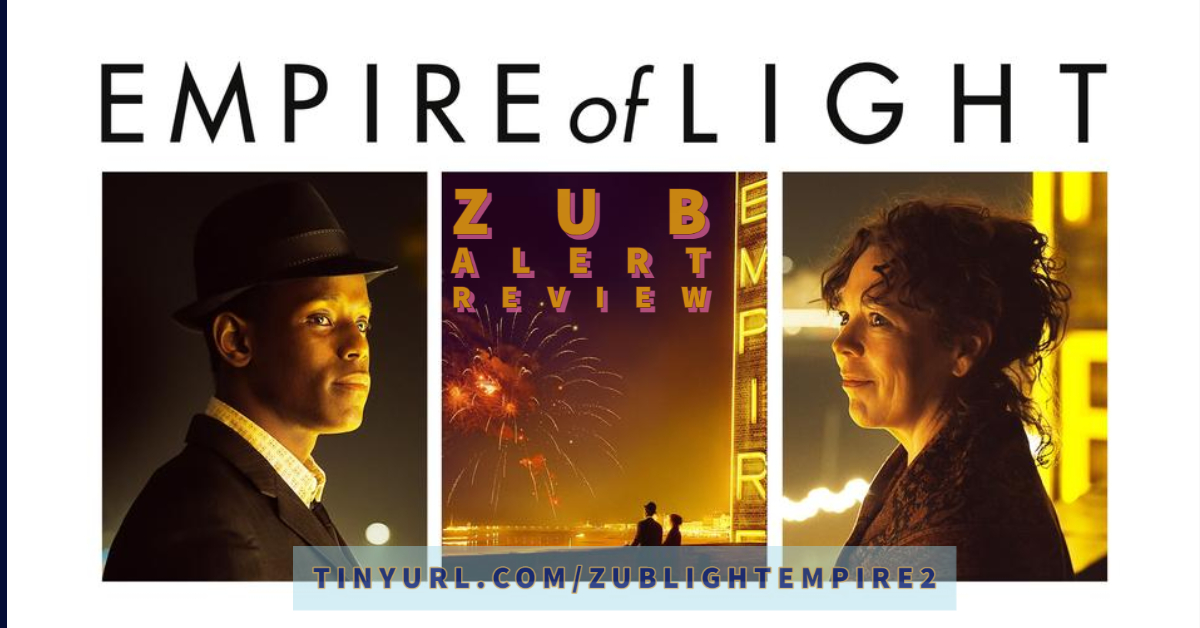 Empire of Light  on HBO
Director Sam Mendes is one of the best now working: starting with the amazing American Beauty in 1999, along the way directing two James Bond films, Skyfall and Spectre, as well as last year's World War I epic 1917. For Empire of Light he has teamed up with top cinematographer Roger Deakins, known for his work on the Coen Brothers' films Fargo, O Brother Where Art Thou, and Barton Fink. Deakins worked with Mendes on 1917, making the whole movie look like one continuous shot (and winning Deakins an Academy Award last year).
So, to Empire of Light.  The movie is set in the Empire Theater, a beautiful old art deco building that is starting to show its age, located in Margate, England on the Kentish coast. The wonderful Olivia Coleman (The Crown) is the duty manager at the cinema, pretty much handling the day to day affairs of the business. She is bipolar and has been taking lithium prescribed by her GP, and is having a very disturbing, quasi-consensual sexual relationship with her boss (Colin Firth, look elsewhere for Mr. Darcy).
Steven, a young Black British man, joins the employees at the cinema  and Hillary is smitten. She takes him upstairs to the unused top floor of the building "the pigeon coop." The two are together at New Year's Eve 1980; against a brilliantly shot scene of fireworks  over the seaside water and buildings, Hillary impulsively kisses Steven, and their cross-generational romance is on.
Hillary stops taking her lithium, Steven reveals himself as a 'rude boy' who loves 2-Tone (black and white) music like The Specials, The Beat, and Madness. As Hillary is with Steven, she sees more and more racism directed towards him (it is early 1981, time of Thatcher, Skinheads, and The National Front), she watches a customer at the cinema be racist to Steven, and three NF skinheads taunt him by acting like chimpanzees.
The couple take a trip to the beach to the soundtrack of The Specials' 'Do Nothing.' Hillary finds out Steven has had his heart broken by Ruby, a girl that works with his mother in the local hospital. When Steven asks Hillary about the men in her life, she gets very agitated and destroys a large sandcastle they were building, screaming "I will not create under supervision!"
Back at the cinema, a co-worker warns Steven about Hillary's mental health, explaining she was hospitalized last year for a breakdown. Boss Colin Firth tells the crew they will be getting a"regional premier" of the movie Chariots Of Fire, so the crew works hard to spruce up the place. Hillary, however, has cut off the boss from his deviant sex games and refuses to "pop-in" to his office anymore.
During the premiere, the boss gives a speech, then Hillary comes up uninvited and gives a speech of her own, quoting W.H. Auden. When the boss yells at her in the lobby, she confides their affair to the boss' wife in no uncertain terms. Retreating to her apartment with Steven, she is taken by mental health authorities and sectioned, or institutionalized. 
While Hillary is gone, Steven works with Norman (Toby Jones, see our Detectorists reviews at 
link
) to learn his job as a projectionist. Steven meets Ruby again and they start dating. Hillary returns to work, where Steven advises her to actually watch a film all the way through (which Hillary has never done). While the crew is having Hillary's welcome back party, they hear hundreds of vespas and scooters descending on Margate. Dozens of National Front thugs line up at the theater after seeing Steven; they smash the windows and come in and start a riot, Steven fights back but gets stomped and sent to hospital. Here Hillary meets Steven's mother. At first Hillary stays away, but with some sage advice from Norman she goes to see Steven, bringing him a copy of The Beat's Wha'Happen. Steven is delighted to see Hillary, and his mom tells Hillary she makes him happy. Overjoyed with this, Hillary goes to the cinema and asks Norman to show her a film, his choice. Norman shows her Being There with Peter Sellers.
When Steven returns, he tells Hillary he has taken her advice and will be returning to college out of town. Steven has a going-away dinner with his mother and Ruby but can't shake the thought of Hillary. On the way to the train he and Ruby run into Hillary on a park bench. Hillary gives him a book and breaks down and gives him a tearful, hugging goodbye. The book she gives him is High Windows, a poetry book by Philip Larkin, once described as poems that made "despair look beautiful."
This is a touching and affecting film. It made me cry. Olivia Colrman's performance as a woman at the end of middle-age is spectacular. Hillary is a smart, funny, attractive woman who quotes Tennyson, reads W.H. Auden, and plays records like Dylan's 'Look Ma (I'm Only Bleeding),'Joni Mitchell's 'You Turn Me On (I'm A Radio),' Cat Stevens, and The Specials. She's a character looking for love and who wants to be loved, not used. The sort of woman often overlooked in a world that remains obsessed with youth.
It is hard to say if it is only the specter of racism that gets in the way with her relationship with Steven; he is in love with her but afraid of what might happen to her as they move forward; they are both afraid of what society will think of them. 
Empire of Light does not offer easy answers, it does give you tremendous visuals, terrific acting, but a bit of a duff plot. You'll need to work out your own ending, but don't forget - "despair made beautiful."
—----Steve McGowan