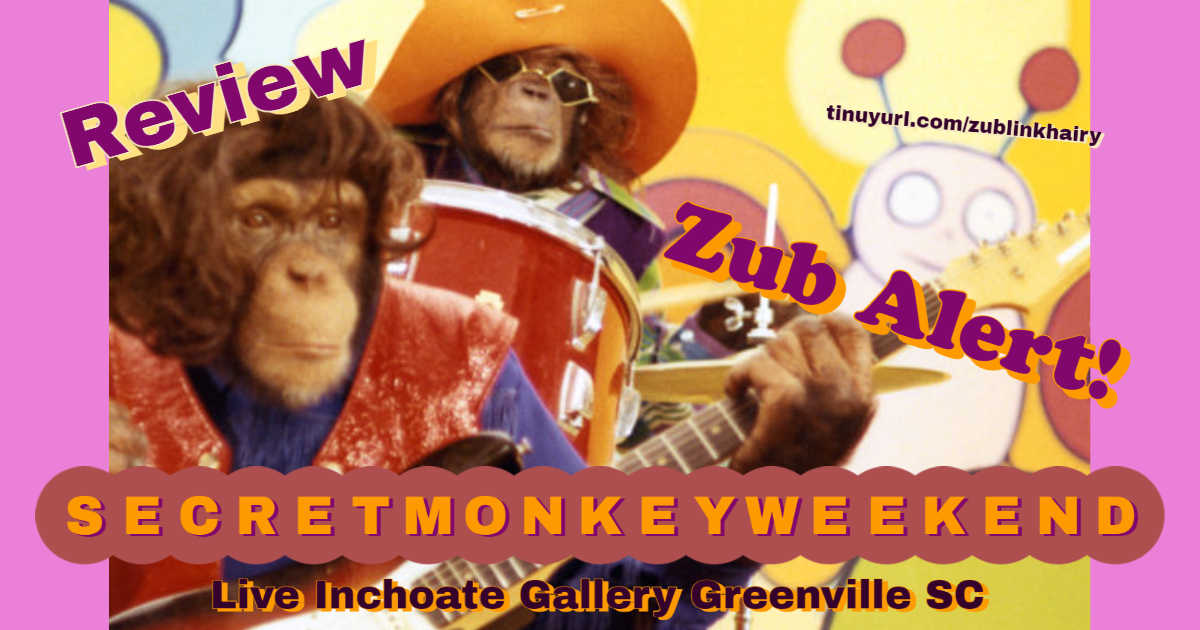 Secret Monkey Weekend are a unique band from Durham, NC  that I have been following for years. This family band is led by Dad Jefferson Holt, guitarist and singer, with his two stepdaughters, Lila (the youngest one) on drums and vocals, and Ella (the older one) on bass and vocals. Five years ago when I used to go to their shows, the sisters were, well, little girls. Now they are confident young women, but still the cutest band you'll ever see. Their music is Chuck Berry styled American pop, with songs about the family dog, cats, eating candy, and the like.
This particular Saturday The SMW brought me to Inchoate Art Gallery, deep in the West End Arts District off of Pendleton Street. Every time I am in this area I can't believe how well it has been revitalized. Back in the day, you would never go down this street this far unless you were scoring drugs. Now it is all gentrified, full of (non-shooting) galleries and cool eating destinations. Inchoate is in a brick building on Lois Avenue. The area where the band plays is at the front of the venue, so their equipment is blocking the front door. There was no sign telling you to go around to the back to get in, which was annoying. I arrived early and hung out on the back patio with the band and Mom Laura. We are old friends and it was great to catch up with them. The club/gallery was cozy, with a front bar area and a squarish room (all concrete and brick - a very loud room) where the bands play. There was a big hole in the roof where they recently had water damage, but everything was dry. The room had picnic tables with art books and pads and lots of pencils and crayons, which was nice (Ella and Lila spent pre-show time drawing pictures of cats). Plus, being an art gallery, the walls were covered with local art that was all for sale, giving the room a comforting feel. They had a good PA system, although there appeared to be only one monitor, and the gallery owner was also occasionally adjusting the PA, doing his best. They obviously needed a soundman.
There was a solo opener who was very Ed Sheeran-like, and Secret Monkey took the floor late, around 9:30 pm. They started with a Jefferson song, 'Half Moons,' a staple in their set. Then they played a song they said was the Harlem Globetrotters theme (the Globetrotters having just been in town). This song was a bit of a mess. Plus I always thought that the Globetrotters theme was 'Sweet Georgia Brown' by Django Reinhart, which they did not play. Next was a song about their calico cat 'Mimi,' which was cute and pleasant. 'All The Time In The World,' the title of their LP, was next, sung by drummer Lila, who was also bashing her drums on a steady beat. Another cat song, 'Merida,' was next, led by Ella's propulsive bass playing. Ella has become quite a strong bass player through the years, and she showed off her skills through the whole set. 'Honey Num' is a great earworm, sung by Lila and Jefferson, it's a catchy song with a great guitar riff. 'The Master' was a new song about the villain on Buffy The Vampire Slayer, rocking and sinister. The band sounded strong, but there weren't many people there, so they cut some songs and ended with their anthem 'Do The Secret Monkey,' complete with "monkey to the left, monkey to the right" choreography and Jefferson's take on the baby elephant walk in the solo. Super fun song! They ended up with an old song that went into 'Go Your Own Way' by Fleetwood Mac into some fun instrumentals.
It;'s great to see a band grow up and blossom like Secret Monkey Weekend. This family band continues to track their own path and remain true to their original sound. They are a truly original band, very cool and very fresh. I was glad to see them in Greenville and glad Thaddeus at Inchoate booked them. Cool venue and cool band. Please keep an eye out for these Secret Monkeys when they are around next time, and pick up their album!
—------Steve McGowan