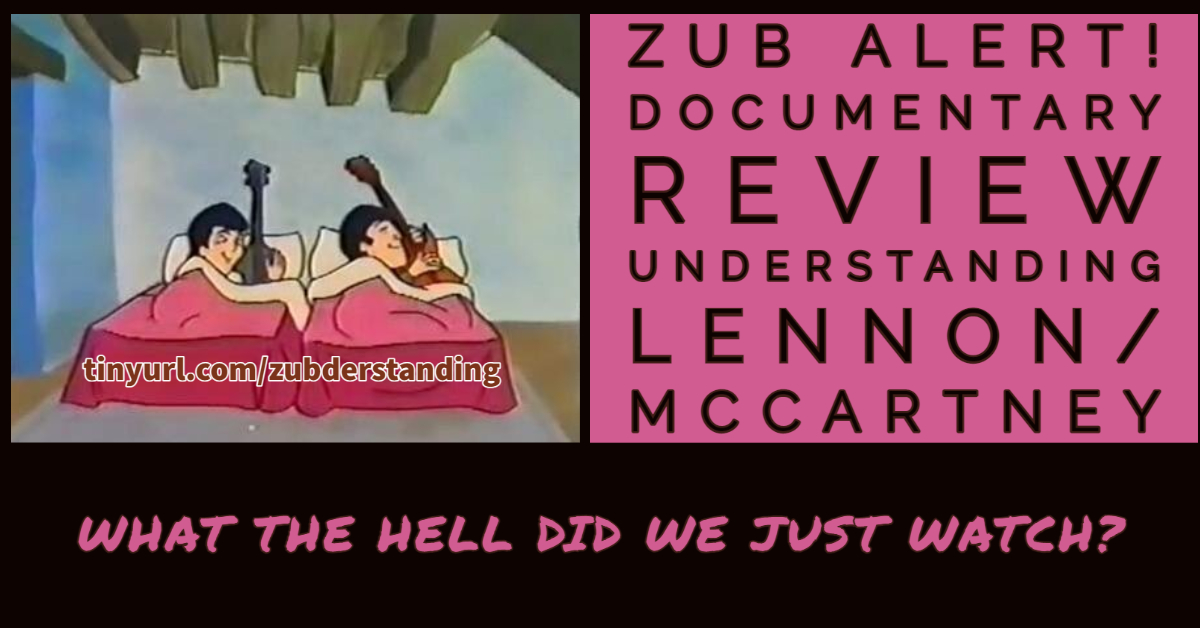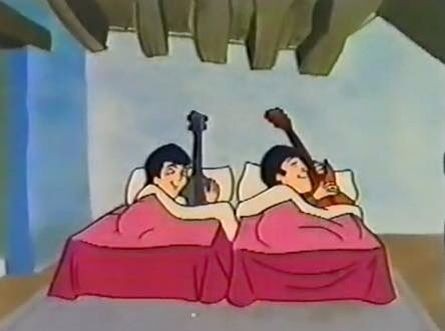 DOUBLE FANTASY         D
                                                                                                                                                                                                           Adrienne: I have had insomnia since I was an infant.  My latest sleep trick is falling asleep to YouTube videos on the iPad. While I usually fall asleep listening to English lessons, the algorithm somehow throws in an occasional curve ball. That is how I discovered Understanding Lennon/McCartney. (Link).
UL/M is a 5 part documentary, divided thusly:
| | | |
| --- | --- | --- |
| Volume 1 | Together | 2:30:41 |
| Volume 2 | The Break Up | 2:09:23 |
| Volume 3 | The Seventies | 1:51:40 |
| Volume 4 | Last Dance | 1:44:44 |
| Volume 5 | Never Apart | 2:36:57 |
I sent Steve the link after viewing Together. "I am not sure what I think, but I can't stop watching." So that's a 10+ hour commitment if you see it all the way through.
Reader, we saw it all the way through. 
Without giving too much away, we decided we'd have a general debrief. Steve, what the hell did we just see?
Steve: Without going into my usual detail, thus was a very lengthy documentary about John Lennon and Paul McCartney, their work together in The Beatles, the breakup of the Beatles, and their feuding and fighting through the 1970's and Paul's heartbreak and loss after John's murder after 1981 until the early 1990's. There is no information on who made this documentary or why they made it. There is no narration, just title cards to explain what is going on, but there is no doubt the person or people who put this together are super fans, having access to tons of interviews, outtakes, studio chatter, concert and television performances (especially mind blowing are John's original 'Real Love' and 'Free As A Bird' demos), and footage of McCartney and Wings absolutely killing 'Call Me Back Again' live) and tons of Beatles and Quarrymen songs. They often cover the use of the music by running it through a huge, distant-sounding reverb, but this documentary must have used tons of material without permission and I'm sure will be a target for lawsuits. But that is Adrienne's purview, not mine. Visually, there is a bit of a Ken Burns style, music running over montages of pictures and films, interspersed with live interview clips and performances. This gives the series a hypnotic, must-keep-watching feel. It's hard to explain but you can't take your eyes off of it. 
Adrienne, what was the point of all this?
Adrienne: I think they made it because they could. This documentary opus demonstrates the egalitarian promise of the internet. Breathless345 (as the author is identified) has assembled found pieces of Beatles interviews, video outtakes, and stills and combined them with contemporary non-Beatle footage to create an AV stream-of-consciousness tone poem. I don't know enough about video editing tools, but the layered montage/collage style of nearly the entire documentary is undoubtedly possible through the ready availability of tools to lay users outside of the fully equipped professional production company. What Pro-Tools has done for the remote, home recording of music appears to have a video analog. That combined with relatively easily accessed digitized source material makes it possible for a talented and ambitious individual (or small group) to produce, seemingly from nowhere, this gargantuan, complex piece.
The documentary makes time jumps backwards and forwards, but the distinct appearance of the subjects combined with the musical and title card cues makes this temporal cavorting pretty easy to follow. Overall, the effect is mesmerizing, hypnotic. I felt a bit like "Ringo" must have felt in "Help!" when he was commanded to "go to the window…." I was entranced! In Volume 5 when Nilsson talks of Lennon's writing being akin to Joycean stream-of-consciousness, I literally replied to the screen "that's exactly how I've been feeling about this programme mate!" (Yes--the British English spelling had penetrated my own thought bubble.)
On the legal aspects, I'd argue that this is a prime example of how the Fair Use Doctrine in copyright should work, allowing for a creative assemblage of pre-existing materials to present an historical narrative, a viewpoint. Although that Doctrine relies on a facts and circumstances test where general guidelines, rules of thumb are notoriously unreliable. Anyway, if that's of interest, see this link from Duke University's Center for the Public Domain, https://web.law.duke.edu/cspd/comics/
, where Fair Use is explained in comic book form (incidentally in the context of documentary filmmaking).
Finally, the question:what WAS the point of all of this? I think it is the conjunction of a number of purposes/causes: a calling card as to the maker's(s'?) skills (a portfolio), a compulsion to provide evidence as to their point of view (their hot take), and an opportunity to spend time with the Beatles and their circles in putting it all together. I think it is a passion project. As the creators of a commercial-free mountain of blog entries and over 100 podcasts ourselves, I sense a kindred soul. The internet and digitization meant this was possible to assemble and to distribute without a giant budget or commercial sponsorship.
Again, not wanting to spoil the party before I go, Steve, did any glaring anachronisms strike you?
Steve: Nothing factual really came up for dispute, although John Lennon is always an unreliable narrator. He, especially in the live interviews, is great at manipulating the story into making himself always look the best, even at the expense of others. I have spent some time on Breathless345's twitter page, and have come to realize his point of view is totally pro-McCartney. He links to an article from The Ruffian by Ian Leslie link that in turn references historian Erin Torkelson Weber's book The Beatles And The Historians: An Analysis of Writings About The Fab Four (which I just ordered). Weber's specialty is Beatles' historiography and the way in which stories about the band have been shaped over time. Here's what Leslie says about Weber's book:
She observes that our ideas of John and Paul were formed in the aftermath of the band's break-up and were shaped by members of a particular caste: young male rock critics. The men who edited and wrote for Rolling Stone and NME in the 1970s had a particular view of the world – a sense that the straight world was corrupt and dying about to be swept away by mind-expanding, rule-breaking radicalism. Lennon, with his soul-baring songs and shockingly experimental art was the true visionary of the Beatles. McCartney was the guy with the pretty face and pretty tunes - the salesman. Lennon called his former partner "a good PR man…He really does a job." As it turned out, McCartney did a terrible job on his own behalf. He gave few interviews around the time of the split (the NME took to calling him 'the hermit of St Johns Wood') and didn't talk much about The Beatles for years. This reticence came at a price. Lennon - hugely entertaining, highly opinionated - had the mic more or less to himself, and effectively shaped the story of The Beatles for decades to come. John portrayed himself as the creative life force of the band, with Paul as his musically accomplished but conservative and shallow sidekick. Lennon's interviews were riddled with contradictions, falsehoods and exaggerations, but he spoke with such verve that journalists took what he said as gospel - as Weber puts it, they mistook Lennon's emotional honesty for truthfulness. Critics and biographers took up Lennon's theme, and his tragic early death, in 1980, sealed the deal. In 1981, the band's biographer Philip Norman told the world, "John Lennon was The Beatles."
Here lies Breathless345's whole raison d'etre. He/They seem determined to change this media bias toward McCartney and the point of view is anti-Lennon. The series portrays Lennon as an insecure, emotionally needy person who could be very angry and mean to those he loved. Indeed Lennon always needed a running partner, whether it was Paul, then Yoko, then May Pang, and Yoko again after the 'Lost Weekend.' He goes to great length to portray John's view of Paul almost as a lover, and there are tons of homo-erotic implications implied. 
Paul, generally, is shown as the hard driving yet unlimitedly talented worker, deeply hurt by John's departure, but unafraid to soldier on on his own. McCartney didn't want to talk about The Beatles; he wanted to let his music do the talking. Lennon, however, couldn't shut up about The Beatles as his own musical output (after the masterpiece John Lennon/Plastic Ono Band) was slow and shallow (remember Sometime In New York with Elephant's Memory? No? Neither do I).To me, this is the point of the documentary. We see Lennon as a very insecure, competitive artist who is lazy and drug addicted, McCartney as a clear-eyed worker bee who brings Wings to mega success (remember Band On The Run, Venus And Mars, Wings At The Speed Of Sound, or Wings Over America (3LP's!) what about Band On the Run?) Everyone had Band On The Run, and all these LP's were on major rotation in my LP collection when I was a teen.
So, this seems a valid if heavy-handed point of view, certainly cutting against the grain of popular criticism. The other thing this documentary reveals is who was the boss of the Beatles. As Ringo said once: "It was John's band, it was always John's band." The documentary goes back to the famous 1956 meeting of John, already the leader of the Quarrymen, and the young Paul McCartney, who impresses John with his version of Eddie Cochran's 'Twenty Flight Rock' and even tunes John's guitar(!) John recalls wondering if Paul was 'too good' to have in the band, thinking "he's as good as me," but John asks Paul to join the band anyway. George comes in as a friend of Paul's, and Ringo, from Rory Storm and The Hurricanes, is brought in last to replace Pete Best. Three-quarters of the band were the result of that meeting, making adding Paul the lynchpin. John had to realize how much Paul had done to shape "his" band.
Still, Lennon was the leader of the band until the Strawberry Fields period, when his song contributions dropped and he gave up as McCartney's output increased in volume and quality. Lennon despaired he couldn't compete, and after Brian Epstein's death, became lethargic and unable to make decisions. This led to Paul, the first mate, taking over the ship through Sgt. Pepper, Magical Mystery Tour, and the Get Back/Let It Be LP, movie, and live concert package. The other three had lost the will to be a band, but Paul kept them together, on a schedule, and productive. He was the only one with the ideas. Unfortunately, it was still John's band, Yoko was next to him in the studio every day, and John continued to abdicate his responsibilities as he became a junkie. But The Beatles were never Paul's band, as much as he may have wanted.
Adrienne, what is your take on my take, am I even close?
Adrienne: Steve, I am not sure if we are close to solving the riddle of UL/M but unsurprisingly, we are close in many of our impressions. I jotted down the note for myself before I started the first entry, "Unreliable narrators: Paulie, John, AND Breathless345." That's not necessarily a condemnation, but a reminder that people tell our own stories as suits us in the time in place, emphasizing, de-emphasizing, concealing, revealing and PRETENDING to reveal information as it serves our purposes. Viewpoint isn't a sin. I think one of the UL/M trailers claims the evidence is just presented in the doc and the impressions are left to the viewer, but the deck is stacked as you state. I am not sure that I'd go as far as calling it anti-Lennon, since there is fair critique, but it certainly is Team Paulie.
McCartney love has had a renaissance of late, and just as the cool kids in the 70's saw John as a rebel saint and Paul as a sell-out, Paul is getting re-recognized as a musical genius and not just as the writer of facile pop ditties. The pendulum do swing, don't it? I think Peter Jackson's Get Back documentary scenes of Paul's spinning "Get Back" from nothing in real time were epiphanic for viewers. What a gift that project is.
This dialectic--Paulism or Johnism, just as IN the Beatles, oversimplifies the complex relationship and ignores the role of the other members. Poor George--taken for granted again. Oh well, I'll not run down that path, since this is a documentary about understanding J and P and not The Beatles.
So to sum up, I think you make some great points and I look forward to hearing more about the Weber book and call dibs on borrowing it! I guess a bottom line question is did you learn anything or gain any insight from this Berlin Alexanderplatz of Beatles documentaries, Steve? (Fassbinder's movie is EVEN longer though!)
Steve: It was an exhausting journey through the 10 hours-or-so of this series, but it was also wonderful and evocative. Having read so many books about the Beatles, I didn't hear anything truly new. Many of the insights are from what was not mentioned. There's not much talk of Pete Best, of Hamburg and The Cavern, the twin crucibles that forged the band, or of Brian Epstein. India and the White Album periods are given short shrift, while Allen Klein and the breakup machinations are looked at in detail. I would hold on to my belief the doc is anti-Lennon, as Yoko is portrayed as an self-involved grifter who never shuts up, and there is a twenty minute or so sequence of Lennon interviews where he uses the words 'fag' or 'fags' about fifty times. To our culture, this is not a word to be used, but for a British man born in the North of England in the1940's, this would be common parlance in the 1970's (he also uses the word 'homosexual' quite a bit). As Adrienne points out, the deck is stacked against John in the doc's Point of View. I learned John and Paul truly loved each other and that both were genuinely hurt by their breakup, and both diminished by the loss of their partnership. But I think I already knew that. There is a lot of granular detail about the dissolution of their partnership and the ill will and paranoia that followed both men, maybe more than I would have cared to know. Adrienne, is it time for you to sum this up or are there more points to consider?
Adrienne: The documentary's self-described brief was understanding John and Paul not them all, not the band, so I can forgive some time jumps and sketchy periods. The POV stacks the deck that John had confused and intense feelings for Paul he was unsure he could contain, express, or command, and that ultimately it was romantic love and obsession. The doc also implies John's devotion and Paul's flirtation with that love was the creative fuel that drove their partnership. Paul's use of his charm/looks as a tool paired with his clever gifts most certainly worked to bond John to him. Mimi spotted Paul's manipulative nature from his first visits to their home. I think she also was worried about the bond (and adulation) John had made with this new friend. Paul is both a pretty and a witty person and there is no doubt he could use those advantages to get what he wanted. That is not to vilify Paul, who doubtless found his soulmate in John as well, someone who was clever as he but who had managed to form a band at a time they both were lost, lonely, and longing to play. I think the depth of that simpatico, when it was felt, evaded labels.
As for John's use of the "f" word, I think breathless345 includes these passages to show John's self-loathing, bullshit macho personna (diplomate, Macho School of Pretense, summa cum laude). Internalized homophobia is a well-known phenomenon of the coming out process and self-discovery; my perception was these clips were shown to build the case of John's own conflict with and deflection of attraction, underscoring the doc's POV.  
While it is almost certainly true that these two could not get enough of each other from 1957 to 1965 or so, I think categorizing that union as John loved Paul and Paul let him oversimplifies history. I am not sure that is breathless345's contention, but that it is probably the reductionist view many (I was going to say "the casual viewer" but do they exist for a 10+ hour experience?) would carry away from the doc. And as a summary, that's my self-described brief met. They were a team. Theirs was a marriage of true minds until it wasn't. Our dual review of detectorists discusses male friendship (link)
and there is no doubt the Nerk Twins were bonded is something more close than "friendship." Labels? I promise I won't end by saying "All You Need Is Love."
Understanding Lennon/McCartney is immersive. The use of period quotidian footage of people dancing, walking, just being in the time frame paired with the distant soundtrack of Beatles together and solo or other contemporary songs had a dream-inducing impact on me. It felt like being in the mind of the doc makers, following their stream-of-thought. Mostly, it was spot on. The inclusion of Rumours era Fleetwood Mac jarred me (as in all contexts) but was perhaps included here as an allusion that warring exes can go on to perform together again? So we can stop it here, if you like Steve, dock the aircraft-carrier of a discussion, perhaps closer, perhaps not, to knowing what the hell we just watched.
--Steve McGowan and Adrienne Meddock