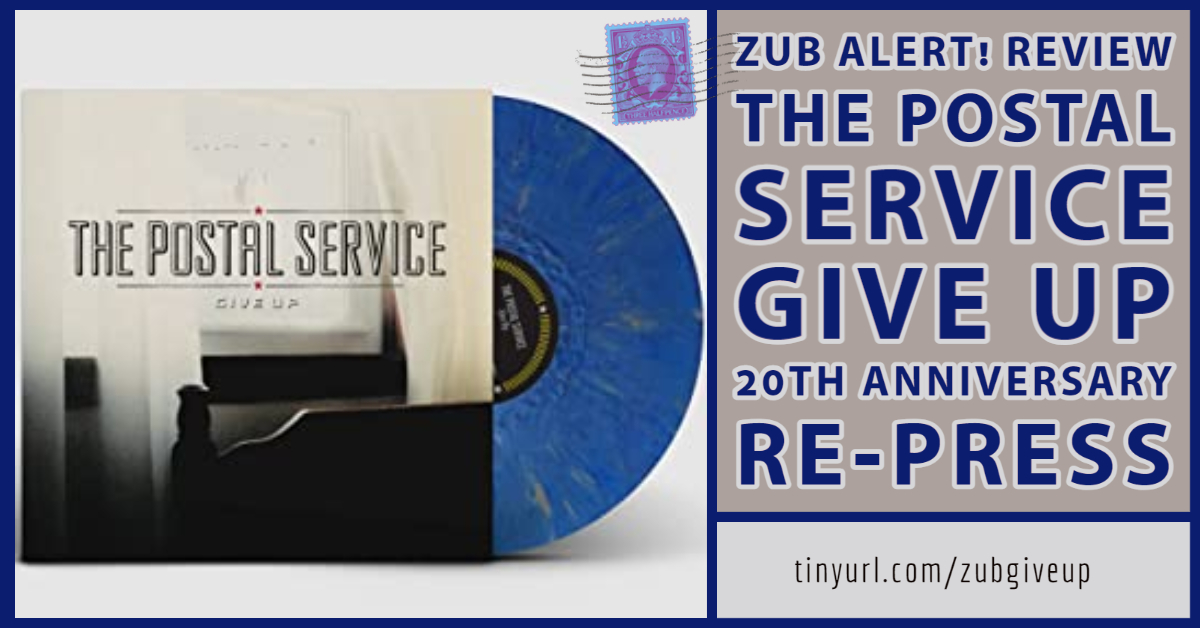 It is hard for me to believe that this record, released in 2003, is twenty years old. It seems like yesterday when the Postal Service's Give Up was released, but time moves inexorably faster when you're older, I suppose. 
I've always been a fan of the synth duo, which I define as a band containing a keyboardist/programmer and a singer. Some of my favorite records have been made by synth duos,Soft Cell and Yaz/Yazoo come to mind. OMD. Soft Cell combined a punk approach to keyboard with sleazy and sad tales of life in seamy London melded with Marc Almond's elastic, soaring voice. Yaz/Yazoo meshed Vince Clarke's irresistible, gleaming melodies with Alison Moyet's powerful blues vocals, spinning classic tales of love and loss. OMD, able to trade vocal leads on their wistful, atmospheric tunes, often as a duo. We love them so much there's a Singles Going Steady podcast featuring each:
Soft Cell:
link
('Tainted Love/Where Did Our Love Go')
Yaz/Yazoo:
link
('Nobody's Diary')
OMD:
link
('Souvenir')
This brings us to the Postal Service, a synth duo of sorts with keyboardist/programmer Jimmy Tamborello (from Dntel) and singer/guitarist Ben Gibbard (from Death Cab For Cutie), setting up a classic synth duo format, but then adding the extra spice of Jenny Lewis (Rilo Kiley) on backing vocals, making for a "super-sized" synth pop duo of three. These folks are all from the Seattle area, working individually on each track and sending each other tapes to be edited and added to, they created this little gem of a record. Naturally they released the LP on Sub Pop records, and Give Up became Sub Pop's second highest selling LP after Nirvana's Bleach.
The overall sound of the duo is led by Gibbard's smooth, high vocals which are heartfelt and distinct, combined with some heartbreak lyrics, all built around mostly simple, catchy as hell three chord songs filled with enough beeps and boops to divert your attention. Tamborello must be congratulated for his excellent use of drum patterns, samples, and fills throughout the record. 
Give Up opens with a devastating one-two pop punch, starting with 'The District Sleeps Alone Tonight,' super pop with three repeating chords and filled with violin and pizzicato samples, drum filigree all over, and Gibbard singing heartbroken lyrics like "I am finally seeing/I was the one worth leaving." It's a beautiful, fantastical earworm kicked over by the next track 'Such Great Heights', more standard sounding synth pop with a killer melody from Gibbard, using two tracks to overlap his vocals in the verses, and adding a tiny guitar solo that's just perfect. 'Sleeping In' references the Kennedy assassination and global warming, wrapped around a light tune with peppy drums and a glorious vocal. 'Nothing Better' is a song about a broken heart, full of icy keyboard tones, Gibbard's vocals interrupted by
Jen Woods' vocals (from Seattle band Tattle Tale and an indie solo artist), as the two square off during the song.
'Recycled Air' has a bit of a Beach Boys feel, with another simple guitar solo. 'Clark Gable' is a tale of looking for love "like in the movies." With a high bpm, loud brassy samples in the choruses, and Gibbard's melodic vocal, aided by Jenny Lewis' backing, this is a sly piece of super pop. 'We Will Become Silhouettes' opens with strange, stuttered guitar samples, powered by Gibbard's plaintive vocal singing in the choruses: "We will become silhouettes/When our bodies finally go." This is a surprisingly heart wrenching song for synth pop.
Things veer into Soft Cell territory with 'This Place Is A Prison.' It's a dark, funereal song with bleak creaking samples and accordion accompanying Gibbard's whispered vocal until strong drums come in, accentuating the fear and desperation of the song. 'Brand 'New Colony' opens with an 8-bit Pacman-like intro, with a hopeful tale of breaking free. There is another super violin sample break followed by 12-string guitar and harmonized vocals. Pop just doesn't get any better than this. The ending track, 'Natural Anthem,' is an amazing moody instrumental, bringing me to think of The Beatles' 'Tomorrow Never Knows' or something from PiL's Metal Box. There's all kinds of drone and noise over a simple chord, and the bass drops out every eight bars or so, then right at the end, Gibbard's vocal comes in and everything calms down. It's a spectacular ending to this amazing record.
To sum it up, Give Up is an absolute gem of a record. 20 years later it is as fresh and powerful as the day it was released. It is essential synth pop more in the Yaz/Yazoo or OMD mode than Soft Cell. I highly recommend this LP. Plus the vinyl is available in an ultra cool blue-silver variant. It's funny how time fixes your memories. I remember giving this CD to my sister as a present, funnily enough. We have been estranged for years (another story for a different review). And I haven't seen or spoken to her since then. I wonder if she ever listened to it. Give Up. indeed.
—--Stephen McGowan