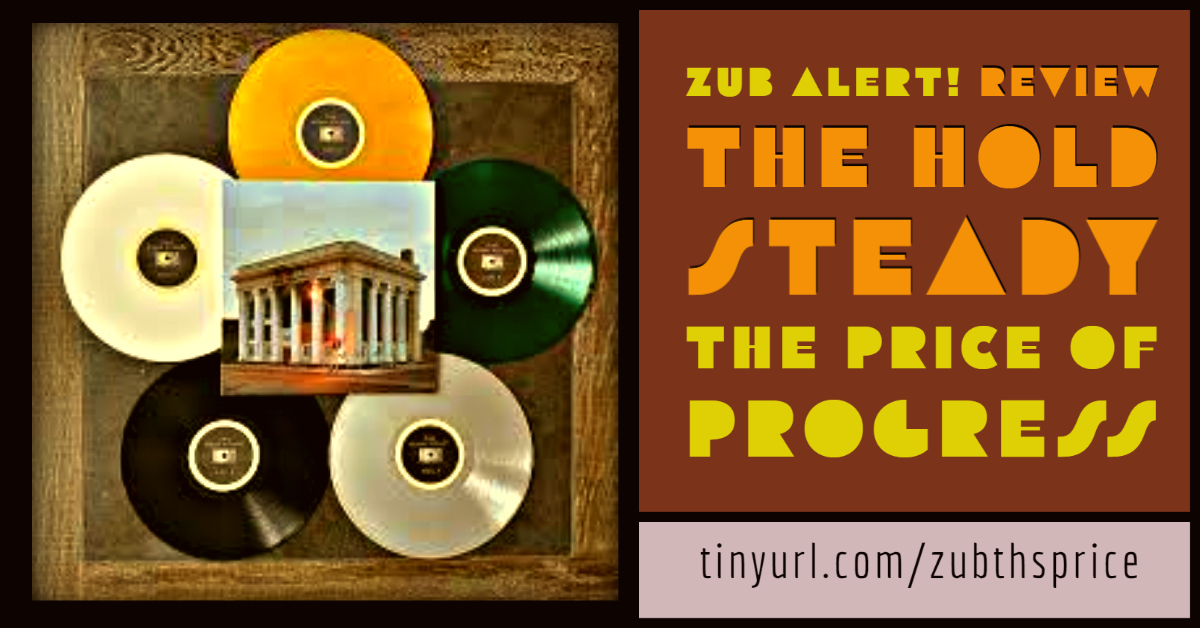 The Hold Steady return for their ninth studio LP as they reach their 20th anniversary as a band. They describe this LP as "ten narrative songs about people trying to survive in this modern age," and I would agree that's a pretty apt description. The Brooklyn-by-way-of-Minneapolis band continues to broaden and further their musical approach, all driven by speaker/singer Craig Finn's wry lyrics about partiers, bartenders, stoners, and other lovable losers.
Opener 'Grand Junction', as my pal Randy put it, ''has a straight melodic rip from Billy Joel's 'Piano Man.'" Except this one has lyrics about a road trip exclaiming "we do what we do to survive." 'Sideways Skull' has rocking muted guitars pushing a tale of a rock obsessed female with lyrics like:
She bites down on the capsule
and the blood comes from her mouth
It's hard to play rock in a halfway house 
I bet it'd be better if we weren't such burnouts
A beat up post and a glam-rock top hat
isn't gonna make any difference
It never works when no one listens
With Thin Lizzy touches and female backing vocals, this one is a Hold Steady gem.
"Carlos Is Crying' is about a friend whose sister left town with a "dickhead." There is a very cool slide part at the end that makes the song. "Understudies' is a meditative song about actors featuring a full string section(!) that works really well. It is a very sophisticated song for THS. 'Sixers' is about a girl with ADD. This one has a glockenspiel and the Horn Steady horns. 'The Birdwatchers' is a song about meeting up with a dealer, again featuring horns and a vibraphone. The breakdown in the song has a modern jazz feel before the epic guitar solo comes in. 'City At Eleven' is about a degenerate gambler who is in trouble, featuring electric piano and plenty of guitar riffage. 'Perdido' is another roadtrip/breakup song, a pretty riff coupled with desperate lyrics. 'Distortions Of Faith' is another slow ballad, with brushes on the drums, real piano, and clear, jazzy guitars, it is an evocative and cinematic sound. 'Flyover Halftime' is the epic closing song with great words from Finn:
We got up to the parking lot a couple hours early
To check up on the enemy/make sure we were fortified
Everybody saw them at the matchup in the trenches
the clash of the defenses
Somebody's gotta make a stop
We were drinking from a cooler from the hatchback of a Honda
He had to borrow from his brother
cause his truck was in the shop
Cause you're gonna go rabid
if you keep get bitten by the rat race
You'll be fighting and sniping at the factions 
within the same fanbase
We all ordered gin to salute, 
when the hornets hit the flyover halftime
But his eyes got so wild/and I could tell by his smile
he was planning a stunt
For the timeline
The song, a great rocker, goes on to describe the big stunt ("there's a fan on the field") plotted above. It's a bit of a throwback to old THS and a ton of fun.
I've always loved The Hold Steady. Each LP is like a Christmas present for me. On The Price Of Progress they somehow continue to explore and expand  on their sound. These songs, led by master lyricist Craig Finn, are a bit less rocking and more personal. The use of a real string section, vibraphone, and the horns really accented some of the songs. Keyboardist Franz Nicolay shines on this record, as do the interconnected guitars of Steve Selvidge and Tad Kubler. And let's not forget the Hold Steady rhythm section, Galen Polivka on bass and Bobby Drake on drums, one of the best in rock. It is great to hear a band stretch and defy expectations, and, ahem, mature a bit. Do yourself a favor and make the trek to see them live or catch a livestream. It never works when no one listens.
—---Stephen McGowan