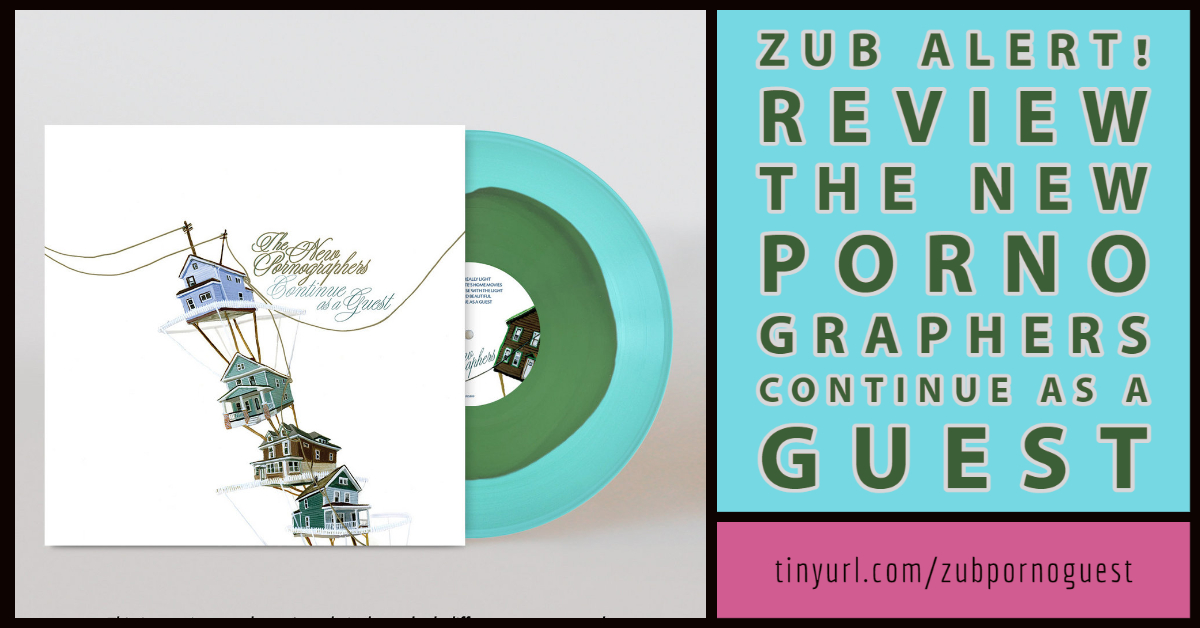 The Canadian pop titans known as The New Pornographers are back with Continue As A Guest, their Ninth studio LP. Recorded during the pandemic, leader AC (Carl) Newman is fully in charge of the songwriting duties, with singer Neko Case not contributing any material and the band's George Harrison, Dan Bejar, off with his band Destroyer full time. With the collective/supergroup members stepping forward and receding or departing as their other passions demand, this time it's all Carl's show on Guest, and he has conjured ten subtle pop gems that reference the isolation of the pandemic and the preeminence of the internet.
The opening track, 'Really Really Light,' featuring Neko and Carl backing Kathryn Calder, is a peppy mid-tempo tune with bubbly synth and acoustic guitar. 'Pontius Pilates' Home Movies' has a much darker feel, with a brooding, driving bass line and a jazzy sax opening and solo from Zach Djankian. 'Cat And Mouse With The Light' is a keyboard driven song featuring Neko Case's lovely vocals, also featuring multi-tracked saxophones. It's a slow paced slow burner. 'Last And Beautiful' has a repeating chord that changes pitch, with a chorus of "I don't want to go by myself, come with me,' ' It's another New Pornos pop gem that will stick in your head forever.  On 'Continue As A Guest' Carl sounds exactly like Scott Miller from Game Theory/The Loud Family, and the melody and lyrics on this one matches any great Scott Miller song. Our Game Theory Postscript: Across The Barrier of Sound review link is here. The song has a strong sax part that reminds me of Wings, along with a lonely sounding steel guitar. It's quite impressive. 'Bottle Episodes' uses tremolo laden guitar for a straight ahead pop exercise, nothing too flashy but something The Pornos can turn into magic, using the sax for a 'Listen To What The Man Said' style solo, and using mellotrons at the end. There's an 8-bit intro on the keys for 'Marie And The Undersea' that reminds me of the Postal Service, as Neko sings, we hear drumsticks, sax, a Rickenbacker 12-string, and plenty of acoustic guitar into a keyboard breakdown that is followed by a cool sax solo. Neko's voice absolutely kills on this one. 'Angelcover' has a slightly disco feel with great piano. It has a Bowie Sound And Vision feel, very sophisticated. "Firework In The Falling Snow,' written by Carl and Sadie Dupuis, is an upbeat song with depressing lyrics, arpeggiated keyboards, and blocks of sax. 'Wish Automatic Suite,' the LP's closer, is downbeat, but picks up after the intro into an ending twist.
The New Pornographers are a fantastic band. Continue As A Guest  is really the new New Pornographers, with Carl Newman in firm control over songs and production. Most of the old traits are there; excellent songwriting and lyrics that work on many levels, the astounding vocals of Neko Case and Kathryn Calder, inventive and challenging arrangements. This new band is embracing a more muted, mature pop, adding unexpected elements like saxophones, false endings, and the like.
Continue As A Guest is not the shiny beasts of pop like Brill Bruisers or Whiteout Conditions were, it brings a toned down approach to their normal manic pop thrill. I can't say that there's anything wrong with that. Continue As A Guest is a terrific record, working on many levels. It's like a fine watch, take it apart and admire the inner workings, carefully crafted by AC Newman. It's a beautiful pop machine.
—-----Stephen McGowan