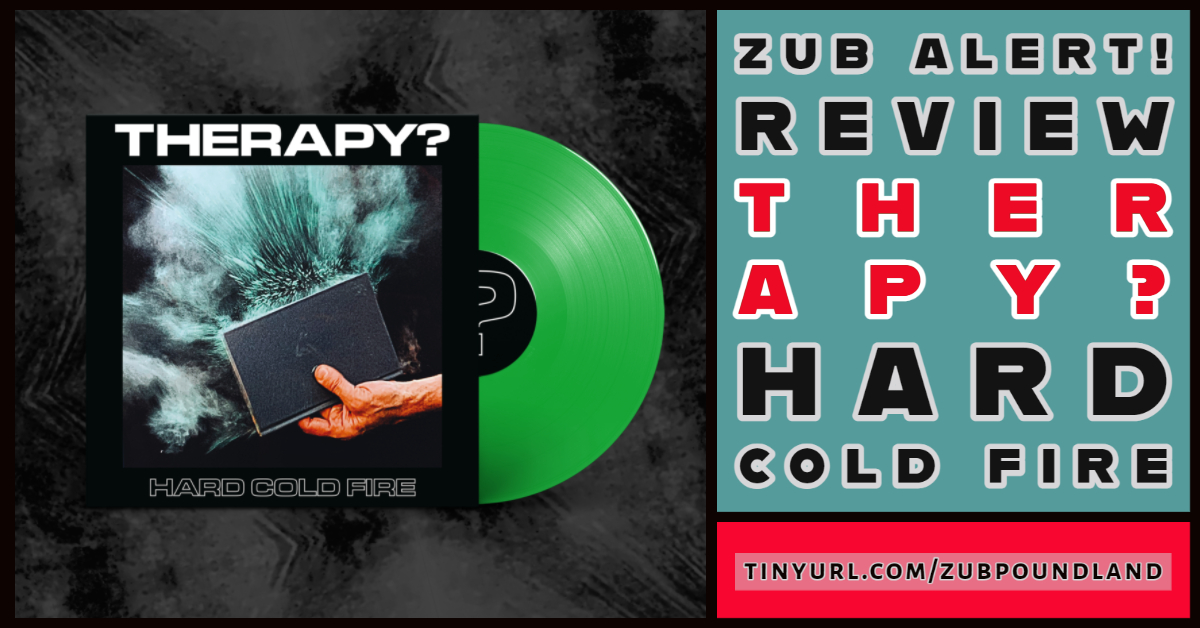 What if I told you about a great rock band from the East coast of Northern Ireland? A high-energy, power trio that drew from influences like The Jesus Lizard, Big Black, Husker Du, and Joy Division. If you know me, you'd probably think I was describing my own band. But of course I'm not. I'm talking about the Irish trio Therapy?, a band formed in 1989 and sounding as good as it ever has on the new (and their 16th LP!) called Hard Cold Fire. Therapy?, led by singer/guitarist Andy Cairns, are one of those bands that lives to play European gigs and festivals. They never even bother to tour the USA. I was very lucky to see them live in Atlanta once in 1993 and I became a lifelong fan since then.
Therapy? Has a sound cloaked in alternative metal. The guitars are heavy, but the rhythm section of Michael McKeegan (Bass) and Neil Cooper (Drums) are fluid and nimble, giving the band a pop undertow that is infectious. Cairn's vocals are light and melodic, so the overall feel of the band is very Husker Du (New Day Rising-era), or like The Neighborhoods Emergo-era records (speaking of great power trios). Hard Cold Fire was produced by Chris Sheldon and the record sounds great. The multi-tracked guitars fill the mix with a great low sound, there is plenty of feedback, and the drums jump out of the mix. 
The LP starts with 'They Shoot The Terrible Master' ("In the head, in the head, in the head") a mosh pit rager with tuned down guitar and flat out drumming. It's a great start followed by the slower, more melodic 'Woe,' with a melodic bridge. 'Joy' is a tuned-down, Metallica-ish riff welded to a pure pop chorus the type of thing Therapy? do best. 'Bewildered Herd' is a more metal workout with Cooper killing it on the drums. There's an arty spoken word bit followed by a not metal guitar solo (Cairns is a rhythm player).' Two Wounded Animals' is all muted guitars over a great pop melody.
"To Disappear' has a drums-falling-down -the -stairs intro, flanged guitar and rattling bass as Cairns sings about vanishing. 'Mongrel' has a typical metal chord attack again bolstered by a great chorus:
I'm leaving/Not saying goodbye
I like darkness/And darkness likes me back
As usual, the pop side of Therapy? Wins over the metal side, and that's a good thing. "Poundland Of Hope And Glory' is the LP's strongest track, a rager informed by Cairns watching the BBC Proms (an annual classical concert series) and hearing patriotic sing-along ''Land of Hope And Glory.'  Stir in a reference to Poundland, a kind of Brit Big Lots, and acid begins to drip. (Link: 
https://www.poundland.co.uk/
)  
After an 'Iron Man' style intro, the opening lyric of 'Poundland" is:
The narrative/Is built on blood and death
The legacy/Chokes on it's last breath
It's not Jerusalem/Jerusalem's a city in the Middle East
Jerusalem/Is just another myth
You're hanging on/To your porcine crusade
To escape from/Your reality of drab decay
It's not Jerusalem/Jerusalem's a city in the Middle East
Jeursalem/Is Just another myth
This track started out as a hard take on how people lose themselves in narratives to the point that the myth takes on greater importance than the fact," vocalist/guitarist Andy Cairns exclaims. "Just like the old adage about the liar repeating the lie so much that they eventually believe it themselves, the culture around us is bursting with fairy stories we tell ourselves. Metaphor and hagiography surround us, but in a post-truth world, the Walter Mitty character is no longer a harmless fantasist but an incendiary zealot using misinformation and chaos to achieve their goals." Cairns continues, adding "It's easy to smirk at middle class parents whose Harry Potter loving kids are sent to private school because of the Hogwarts style uniforms, and easy to eye roll at adults who actually play Quidditch, a fictional sport from a novel written for children, but it's not so easy to stomach the less savoury reinvention of colonialism as a lost paradise to which we should return."
'Ugly' is an epic with a great keyboard riff and a bit of a Stooges feel. End Track 'Days Kollaps' is a slower, almost ballad-like tune.
There you have it. I feel like I've let you in on a secret. Therapy? = great band.  
Hard Cold Fire = great record. "Poundland Of Hope and Glory' = Song Of The Year (So Far). Keep rockin'.
—-----StephenMcGowan
Therapy?-Poundland Of Hope And Glory (Official promo video)