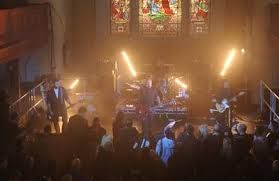 May 18, 1980, was a terrible day: the day young Ian Curtis, frontman and lyricist for Manchester, England's Joy Division, took his own life. Thus began the 'myth' of Joy Division (see our Unknown Pleasures reissue review tinyurl.com/zubunknown, our Joy Division podcast is at tinyurl.com/zubjoy, and our review of Jon Savage's fine book about the band is at tinyurl.com/zubsearing) as viewed through the prism of a tragic suicide. 
Forty years later, Peter Hook, bassist for Joy Division and estranged member of New Order, offered this stream from Macclesfield, England's Christ Church, of his band, The Light, playing every Joy Division song. This show was captured in 2015 on the 35th anniversary of Ian's passing. 
Before I discuss the show, I want to talk about my experience seeing Peter Hook and the Light. I was lucky to see them at The Orange Peel in Asheville NC in 2017, they were doing the Substance tour, playing one set of Joy Division material and one of New Order. I must admit I attended the show with some trepidation, but Hook and his small band (drums, keys, guitar, Hook on lead bass, and Hook's son on second bass) really delivered. The lesser-known Joy Division material they played was outstanding, and there was a lot of love and respect for the songs and the audience. This was unlike the very confrontational, jagged New Order show we saw in 1983 at the 688 in Atlanta (tinyurl.com/zubceremony). The Light show was definitely a celebration of the music and I left impressed with Peter Hook and his band. 
So, rewind to 2015 and the show that was just released. It was obviously a more introspective affair, in an old church with a beautiful stained glass backdrop. Hooky said there were 500 tickets sold and over 10,000 requests. The band performed every Joy Division song. The set was 47 songs long, and the stream is almost four hours. I don't know how they did it, but they paced the show well. Hooky had a handwritten book of lyrics he occasionally consulted, and as the band tore through the early, pre-Unknown Pleasures catalog. 'Novelty' and 'Digital' were exceptional. Next, playing Unknown in order, I was struck by the heaviness of 'Day Of The Lords,' coming off like a sludgy Stooges track. Singer Rowetta Idam (known for her work with Happy Mondays) took the lead vocals on 'Insight,' and 'New Dawn Fades' and infused these tracks with a beautiful soulfulness. 
Hooky sang lead on the other songs, and his voice was quite a good approximation of Ian's, his bass playing (along with his son, Jack Bates) off the charts. They blew it out with a stunning version of 'She's Lost Control,' a little more keyboard-oriented (keys from Andy Poole) than the original but stunning nonetheless. 'Interzone' was totally frantic punk rock. As they approached playing the second Joy Division record, Closer (released after Ian's death, a collection of songs Joy Division never played live), there was a masterful version of 'Dead Souls,' one of Joy Division's finest songs. Rowetta returned to wipe the floor with the funeral-like 'Atmosphere,' and I saw some in the crowd crying.  
Now into Closer, 'Atrocity Exhibition' featured some truly nasty guitar from David Potts, spitting out barbed-wire riffs from his Fender Telecaster. Rowetta returned to sing 'Colony,' which gave the song a bit of Northern Soul spring. The final quarter of the set had the band playing singles and B-sides such as a kick-ass 'Ice Age,' a triumphant 'Transmission,' and a cathartic 'Love Will Tear Us Apart,' the whole crowd singing every word. Hooky ended the marathon with 'Ceremony,' dedicating it to "Stephen and Barney," his estranged bandmates from Joy Division/New Order and the final song was B-Side 'In A Lonely Place.' 
Peter Hook is to be commended for playing a moving tribute. Donations were taken for epilepsy, a condition Ian suffered from. This was a genuinely touching tribute. It was an almost superhuman band effort, but it was exceptionally well done. I love this band, Joy Division, very much and it was fantastic to hear all the material performed live. 
---Steve McGowan
Thanks for dropping by. This blog is part of zubrecords.com, an indie label run by people who make and love music! Check out Alert for blogs on music, films, books, and more! Our podcast, Singles Going Steady, is on all major podcatchers and at tinyurl.com/SGSPodcast Lots of cool things to read and listen to at zubrecords.com