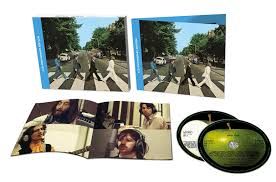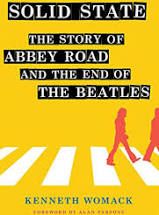 I'm a stone cold Beatles freak and have read way, way too many books about this band. Kenneth Womack, a dean of English at Monmouth University, has written an excellent book about the making of Abbey Road. It seem as if Mark Lewisohn (author of The Beatles: Recording Sessions and a book I have read five or six times) has somehow been supplanted as the 'official' Beatles historian. Instead of Lewishon, Womack writes the liner notes for the Abbey Road remaster. 
Before we get to Womack's Solid State: Abbey Road and the End of The Beatles, let's discuss the Abbey Road Super Deluxe Edition. Although Let It Be was released after Abbey Road, it was recorded well before Abbey Road, as part of the soundtrack for the aborted movie, Get Back. The Beatles were very unhappy with the Get Back sessions, and together they decided to go out with a 'proper' LP, using producer George Martin and generally 'behaving' themselves, so that confusing timeline is the origin of Abbey Road. 
The remaster of Abbey Road, released in September 2019, is  amazing. Sir George's son Giles Martin helmed the remixing and remastering. By this point in The Beatles recording career, technology had improved dramatically. Abbey Road  was the first Beatles LP to be recorded on eight-track (instead of four, or in the case of the earliest records, two tracks) and featured the new EMI TG12345 console, a 'solid state' design as opposed to the REDD consoles that were tube (or as the British say, 'valve') driven. The new console gave the engineers more control and a brighter, punchier sound, as compared to the warmer, less precise 'valve' tones. This technology has held up well for the remixes and remastering, which is stellar. The bass sounds fantastic, you can hear little bits of reverb on the vocals, and instruments like Billy Preston's organ on 'I Want You (She's So Heavy)' sound fresh and new. 
The delicate, beautiful, 'Here Comes The Sun' really shines with the remaster, the 12-string acoustic shimmering and the bass and drums holding a more muscular bottom than I remembered. 'Because' is another highlight, with the layered vocals and harpsichord, then Moog synthesizer. It gives the Beach Boys a run for their money. The highlight and centerpiece of Abbey Road, of course, is the medley The Beatles called 'The Long One.' Starting with 'You Never Give Me Your Money,' and ending with 'Her Majesty,' the nine song pieces (three by Lennon, six by McCartney) never sounded better, from the sped up 'tack' piano in 'You Never Give Me Your Money,' to the obviously Fender amped guitar in 'Sun King.' Paul McCartney's voice on 'Golden Slumbers' is perfection, especially when added to George Martin's regal orchestration. Ringo's drums on 'The End' sound almost three dimensional, and the three different guitar solos (from George, Paul, and John) really stand out. 
The Super Deluxe Edition contains three CD's, the remixed, remastered original LP and two discs of outtakes and different studio versions. These for me are the real diamonds, a window into how the Beatles' creative process worked. There's an early take of 'I Want You (She's So Heavy)' at Trident studios, with the Beatles getting requests from the neighbors to 'turn it down.' The "last chance to be loud" version is a great, loose jam led by the greatest voice in rock: John Lennon. Halfway in - Billy Preston takes over and burns down this take on his Hammond Organ. There's McCartney's impossibly effortless acoustic demo of 'Goodbye,' a song he gave to Mary Hopkin (an Apple Records artist), that sounds like it came off of his solo McCartney record. George Harrison gets a ragged demo of 'Something' (just vocal, guitar and piano) that points toward what the finished song would become. John and Paul are making 'The Ballad Of John and Yoko,' on their own (John, vocal and guitar; Paul, drums) and John tells Paul "you've got to go faster, Ringo," to which Paul says "OK George." Most interestingly, there is an early paste-up of 'The Long One' medley, with 'Her Majesty' in between 'Mean Mr. Mustard' and 'Polyethene Pam.' It's odd to hear. Don't they know the iconic order? We really are present at the inception. 
Then there's Kenneth Womack's Solid State. It's very well written and covers a strange period in Beatle history. Womack has written Sound Pictures about the life of producer Sir George Martin (Beatles and otherwise), and brought a unique perspective into the Beatles' activities. This period was when all the Beatles knew the band was coming to an end. John was fighting heroin addiction, and his heart was truly now with Yoko Ono. He didn't need the band anymore. George was full of frustration at not getting his songs on Beatle records, and as All Things Must Pass would show, was ready to move on. Even Ringo had ideas for solo records, although he was the happy worker of The Beatles. Paul still thought he could keep the band together. But it really wasn't his band. He seemed to have forgotten that.  
Add in a John and Yoko car accident, major squabbles over management, and John and Paul fighting (unsuccessfully) to buy their song catalog, and there was way more than enough tension in the band. As Womack explains, however, the Fabs were very disappointed with the Get Back sessions, and they seemed to want to go out on top. They decided to be civil to each other and let George Martin produce, not to let the chaos of The White Album seep in. As such, each member brought in finished songs with clear ideas on how they should sound. This is one reason why there are not so many outtakes from Abbey Road. Womack talks a lot about studio technology in Solid State, the new console and the eight-track getting many pages. There is a surprising amount devoted to the (then new) Moog synthesizer, a new, large, and expensive toy. George Harrison was fascinated by the Moog and had one delivered to the UK along with the machine's 'handler.' It would see a lot of work on Abbey Road, from 'Maxwell's Silver Hammer' and 'Here Comes The Sun' to 'Because' and the annoying filtering noises on 'I Want You (She's So Heavy).' Both George and Paul became quite proficient at using the Moog, although it had a keyboard, they both used the 'slide strip' (where you just move your finger along a strip to hit the pitch you want) to make the notes.  
Womack also discusses the competitive nature of the sessions. George Harrison came in with arguably the two strongest songs, 'Something' and 'Here Comes The Sun,' that made John and Paul really step up their game. John came through with 'Come Together' and Paul with the 'You Never Give Me Your Money' medley. Womack approaches a lot of the sessions via George Martin, who kept the ideas straight, the instruments in tune, and provided the magnificent orchestrations. There's a lot going on in the book, and if you are a Beatles head you need to read it. 
When I think of Abbey Road a lot of things come to mind. I realize for a lot of people this is their favorite Beatles record, and I can see why. It's the Beatles at their meticulous, exacting, calculating best. This is one of the reasons I'm not such a big fan of Abbey Road. It almost seems too calculated. The idea of it creeps me out, but when I listen to the record it's always good (well, most of it). I'm surprised it doesn't get flagged more on all the things the Beatles stole. There's Chuck Berry in 'Come Together,' the generic 50's Fats Domino sound of 'Oh Darling,' The Moonlight Sonata played backwards on 'Because,' and the whole idea of 'The Long One' medley taken straight from The Who's Tommy. I also can't believe Lennon didn't get sued over 'Sun King,' which is a straight rip of Fleetwood Mac's 'Albatross.' 
That being said, Abbey Road is a great record to go out on, except for maybe 'Maxwell's Silver Hammer.' 'I Want You (She's So Heavy)' is a proto metal song and one of my favorite Lennon tunes. McCartney is really in command, and George Harrison is undeniable. The execution outstrips the concept, I suppose. It's a great reissue. There is a great book. It's The Beatles! 
----Steve McGowan
Thanks for dropping by. This blog is part of zubrecords.com, an indie label run by people who make and love music! Check out Alert for blogs on music, films, books, and more! Our podcast, Singles Going Steady, is on all major podcatchers and at tinyurl.com/SGSPodcast Lots of cool things to read and listen to at zubrecords.com