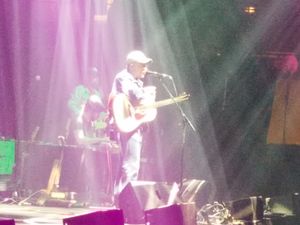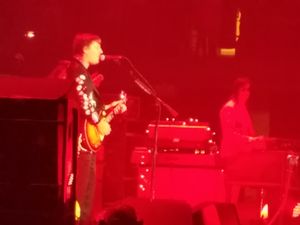 This was a night of discovery. Once again, due to my pal Russell, I was inserted into a musical scene that is not my own. Usually when I write about a band, I know them pretty much back to front. These two acts were almost new to me, and the night unfolded as a wondrous surprise. The so-called US Cellular Center (or now the Harrah's Cherokee Center) are just fancy names for the ancient Asheville Civic Center (opened 1974), which might as well be a sibling to the now-destroyed Greenville Memorial Auditorium, just about the same size with a 7600 seat capacity. On the way in, Russell told me a story of his parents taking him to this venue when he was seven to see the Kiss Love Gun tour. Not only a great story, it explained a lot about Russell. As we dodged the endless $10 craft beer vendors and made it to our seats, I realized Russell had scored some great tickets. The seats were almost directly to the left of the stage, the same height as the elevated stage, so turning your head right showed the entire venue. It was kind of like being on stage. A little bit of sight blockage, but not too bad, and outstanding sound. 
On the dot at 7:30 the lights were out and Tyler Childers and his band took the stage. The first thing I noticed was the weird-ass backdrop, a huge painting of wildflowers in a meadow with a barn on the left, a trailer on the right, and a goat in the foreground in the middle. The treeline in the back was dotted with clouds and the sun on the left and the moon on the right. I was puzzled, to say the least. Especially when during one song they put the spotlight just on the goat. Tyler was dressed all in denim and a ball cap, and reminded me a little visually of Jimmie Rogers, 'The Singing Brakeman.' Tyler is from Kentucky, and his music is very Appalachian, it's not honky-tonk, not countrypolitan, but much more hardscrabble, lots of acoustic guitar, not so much steel or Telecasters, and likely to have banjos, mandolins, and/or fiddle. It's very authentic, especially when paired with his unique, effortless voice that sounds like Loretta Lynn's kid brother. I was impressed by his lack of artifice and the genuine aspect to his music. His band (keys, bass, drums, steel/lead guitar, and lead/banjo/fiddle  guy along with Tyler's acoustic) were crack and on top of it. The drums especially sounded superb for such a big room. 
As an aside, here is a good article about Tyler from Rolling Stone: 
Tyler Childers mostly played tunes from his two Sturgill Simpson produced LP's, Purgatory and Country Squire. He is a crack songwriter who's been compared to John Prine (see link above). The fourth song, 'Feathered Indians,' had a lyric that knocked me out: 
Lookin' over West Virginia 
Smoking Spirits on the roof 
She asked ain't anybody told ya 
That them things are bad for you 
I said many folks have warned me 
There's been several people try 
But up till now, there ain't been nothing 
That I couldn't leave behind 
He followed this with 'Whitehouse Road,' another Purgatory track about invincibility and self destruction. The sold out crowd at the venue ate it up. The 20 and 30 something couples swilling those craft beers were singing every word. Tyler is no secret to these folks, he's a big star and they treated him as such. 'Bus Route' is one of those perfect, coming of age stories that I'm surprised hasn't been snapped up by some mega-star like Tim McGraw. Full of fiddle and his terrific vocal, it's a song that looks back to and forward from Country music, whatever that is now. I say that because artists like Tyler Childers are remaking Country in their own image, not just, as Sturgill might say, "playing dress up and singing the old songs." Tyler brings an authority and reality to his music that transcends the old songs.  'House Fire'' from Country Squire was another standout, sounding like  a classic bluegrass burner. They played 16 songs, well over an hour, ending up with Charlie Daniels Band's 'Trudy.' The band left the stage and Tyler finished up solo with a haunting  'Nose To The Grindstone,' a companion piece to Darrell Scott's elegiac 'You'll Never Leave Harlan Alive.' As with the former, 'Grindstone' deals with the life in a coal mining town: 
Daddy worked like a mule mining pike county coal. 
He messed up his back he couldn't work anymore. 
He said one of these days you'll get out of these hills. 
Keep your nose on the grind stone and out of the pills. 
See the ways of this world just to bring you to tears. 
Keep the lord in your heart you'll have nothing to fear. 
The crowd was in Tyler's pocket. The scary thing was that he commanded the stage. It was not in any way too big for him. I can see this young man going very, very far. He played an astounding set in Asheville. 
Adrienne and I saw Sturgill Simpson in Charlotte, the weekend we  (A & I) met after some 25 years of no contact (so, that was nice) at the ill-fated Willie Nelson Outlaw Fest featuring Willie, Brandi Carlisle, Sturgill and Elvis Costello. The only artist to actually play that night was Sturgill. I remember enjoying his set, but thinking he couldn't decide if he wanted to be a Country or a Jam Band artist. I think the true answer, having seen him again, is neither. Sturgill is one of those guys who is a real contrarian. I was going to write something along the lines of "Sturgill Simpson DGAF," but that's not true. Sturgill Simpson will not put up with your, or anyone else's, bullshit. I really think you should read this interview from Uproxx to get a taste of what I'm talking about: 
This guy is not playing the music industry game. I love him for that.  
It was about 9:30 pm when Sturgill and his crack band took the stage. They were all wearing Nudie style suits, band in red, Sturgill in black. He announced: "Anyone need an asshole, because we're about to rip you a new one." Yikes! Sturgill revved up his Gibson Les Paul and they played his new LP, Sound and Fury, all of it. In order. All ten songs. Sturgill had three HiWatt Amplifiers (think Marshall, but louder and cleaner, as used by Peter Townsend of The Who), reminding us Sound and Fury is not country, and it's not jam. It's a fever dream cross-pollination of 70's rock and maybe something like The Cars. It's unique and powered by Sturgill's amazing guitar playing. This was evident in 'Remember To Breathe' and 'Sing Along,' where he was blasting notes like Eric Clapton in his prime (think 1968) , but still avoiding the blooze lead cliches. The man is an original on the guitar, and on every song he sounded like two (or three) guitarists at the same time.  Bobby Emmett, the sunglassed keyboard man, got mad props for his all-analog setup: a Hammond Organ, a battered clavinet, a Wurlitzer piano, a spectacular sounding mini-Moog, and a real honest-to-God Mellotron, the kind with the tape loops built in. He was a critical part of the sound, especially on the new material. Bass man Chuck Bartels and drummer Miles Miller were also outstanding. 
Watching Sturgill, I can't help but think of Josh Homme, from Queens Of The Stone Age, another guy who does whatever he wants while being a one of a kind songwriter, guitarist, and singer. Sound and Fury especially has a bit of the QOTSA Songs For The Deaf in its DNA. To continue on how excellent a guitarist Sturgill is, here's some inside guitarist baseball for you. Most guitarists are Fender Stratocater guys (Hendrix, Clapton, Gilmour) or Gibson Les Paul guys (Slash, Billy Gibbons, Frampton). These guitars have serious differences in sound and playability. Well, Sturgill is one of the very few out there that plays both guitars, and plays them well.  He exchanged his Les Paul for a 1954 Fender Stratocaster (first year they were produced) and smoked on that as well. These guitars are worth anywhere from $30,000 to $225,000 to guitar collectors (not because they sound that great, because they are very scarce and historic). Sturgill made his sound right. 
Before the last song of the Sound and Fury set, Sturgill told the crowd, "we'll do one more, then play some stuff for you Yeti Coolers." Ouch. In my section, a lot of those Tyler Childers couples had already left, although there was a good crowd cheering the rocking Sturgill on still. He then played some great material from A Sailor's Guide To Earth. The one-two punch of the beautiful 'Oh Sarah' was followed by the melancholic 'Breakers Roar.' On these songs the fire of his guitar work was replaced by his undeniable voice: Sturgill Simpson has one of the most affecting voices in music today. His Kentucky grit runs through the most amazing vocal tones, the man doesn't sing rhythm and blues, he is a true soul singer. 'Brace For Impact' came on all Rolling Stones swagger, with a definite seventies feel.  His astounding cover of When In Rome's 'The Promise' still comes across as a classic soul song. It brought a tear to my eye. Ending up with 'Turtles All The Way Down' from Metamodern Sounds In Country Music, a song that reminds me a bit of Nillson and Glen Campbell, then William Bell's 'You Don't Miss Your Water,' Sturgill again burned down the house with this soul classic. He noted "A lot of you Yeti Coolers have found the door" before closing out with a blown out 'Call To Arms.' 
It's hard, three pages in, for me to express what I saw and heard. Sturgill Simpson is a unique talent who won't play the game and refuses to be pigeonholed. He's not Country, he's not Rock, he's not Psychedelic. He doesn't need a producer. He doesn't need your approval. He is a true artist trying to make his music and avoiding the normal traps associated with big-level music (Grammys, touring, drug abuse, lack of family life). He's not going to "play dress up and do the old songs." 
It makes me wonder when an artist is moving faster than his audience can keep up. That is a rare thing. Russell heard a patron in the Men's room complaining about Sturgill's "new shit." I've heard similar things at QOTSA shows. Sturgill is restless, he knows he's good. He is good. He's way ahead of us. This makes me think of Bob Dylan, who was always, and still is, restless, unconcerned about giving his audience the same old thing, and searching for something new. I'm not going to say Sturgill Simpson is the new Dylan. But on this night in Asheville, he could have been. Only time will tell, but Mr. Simpson, I'm in your corner. 
----Steve McGowan.
Thanks for dropping by. This blog is part of zubrecords.com, an indie label run by people who make and love music! Check out Alert for blogs on music, films, books, and more! Our podcast, Singles Going Steady, is on all major podcatchers and at tinyurl.com/SGSPodcast Lots of cool things to read and listen to at zubrecords.com