THE BEATLES: (2018 Remaster)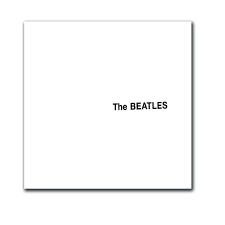 When Adrienne and I decided to restart Zub Records, we envisioned the Singles Going Steady Podcast as a way to share what we considered cool music with our friends. I personally listened to a lot of music podcasts and generally was underwhelmed. Everyone has an opinion, but the way it is delivered can be annoying. A and I agreed that out Podcast would be more like us talking with you about music, not telling, just talking. We really are interested in building a like - minded community of music lovers. 
So what's all this got to do with The Beatles, you're asking. It's funny to me because I want to write today about the new 50th Anniversary reissue of what has come to be known as The White Album. This is my first blog about an album, a double LP at that,and I must tell you that I humbly believe that this is the best rock record probably ever made. That's a big and a bold statement. I think The Beatles is basically the complete blueprint for all modern rock and roll. 
The thirty songs on the two LP's encompass everything from beautiful balladry ("I Will," ""Julia"), out and out weirdness ("Glass Onion," "Wild Honey Pie"), weird-ass storytelling ("Rocky Racoon," "The Continuing Story Of Bungalow Bill"), John Lennon at his craziest ("Happiness Is A Warm Gun," "Everybody's Got Something To Hide Except Me And My Monkey"), Paul McCartney at his most McCartneyist ("Martha My Dear," "Honey Pie"), scorching rockers ("Yer Blues," "Helter Skelter") and straight out classic songs for the ages ("Dear Prudence," "Mother Nature's Son," "Blackbird," "While My Guitar Gently Weeps," "Revolution 1"). 
Completed in 1968 following the death of their manager Brian Epstein and after a stay at the Maharishi's compound in Rishikesh, India, The Beatles, especially John, Paul and George returned with dozens of new songs.  It's true that this record is the sound of the band falling apart, with the other three members being essentially sidemen for the chief songwriter. Tensions were high during the extended recording sessions, and at some point each member of the Beatles truly believed  the other three wanted them out. Indeed, Ringo and George both quit the band for short periods. George in particular was chafing under John and Paul, his many new compositions being passed over. He would get his revenge soon enough with the triple solo LP All Things Must Pass. 
One of the jokes Adrienne and I have about different recording formats (remember, we've had LP's, Cassettes, 8-Tracks, CD's, DAT's, MP3's, FLAC, etc etc. in our lifetime) is "How many times am I going to have to buy The White Album? Well, I must say, this new reissue is a must have. It has been remixed by George Martin's son, Giles, and improved considerably. The extended version's SIX CD's are comprised of the first two discs with the original double LP, with four discs containing the amazing 'Esher' four-track demos that have long been bootlegged, and many, many actual studio outtakes, excerpts of a few that were available on Vol. 3 of the Beatles Anthology series. This is a great way to understand their studio process. "Helter Skelter," for example, is shown as a 12 plus minute dirge before being honed into the proto-metal monster it became. If you are a Beatles freak like me, this is a must have. If you aren't, I truly encourage you to give it a listen. You can hear the influence of The White Album in almost every kind of music since.    
So how many times are you going to have to buy The White Album? You MUST get it THIS time. It is the Rosetta Stone for decoding modern rock. 
Here is a link to a great story by Colin Fleming about Lennon's song "Yer Blues."  He specifically mentions Lennon trolling Clapton, but I also believe Lennon's targets were the whole British blues revival, including Peter Green's Fleetwood Mac. 
Here is a link to The Beatles official site and The White Album page.