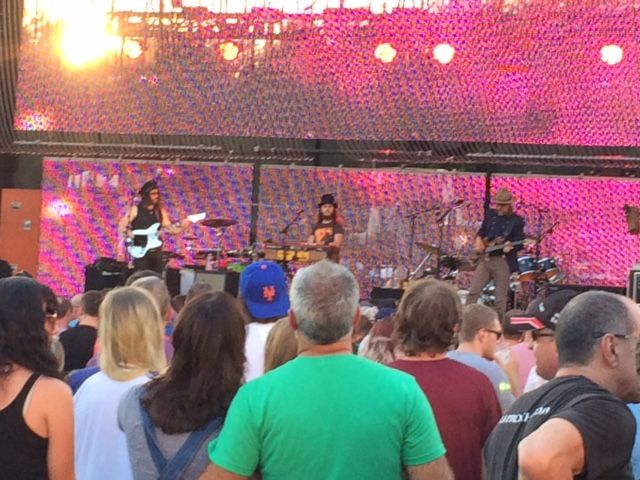 Okay, being such a massive Beatles fan, getting to see Sean Lennon was a real treat. Let's look at the facts: 
Paul McCartney still tours (he's great) and I've seen him a couple of times. 
Poor John Lennon has been dead since 1980. 
George Harrison has left us in 2001. 
Ringo still tours and was just in Durham, but he's...Ringo. 
So, as Adrienne said, going to this show was like getting to see .5 of a Beatle. The Claypool Lennon Delirium is Les Claypool (of Primus) and Sean Lennon. The two of them decided to create a band that would play 60's style prog-rock and psychedelia. The new LP (created just by the two of them) is called South Of Reality and is a true psychedelic pastiche, imagine XTC as the Dukes Of Stratospheare, with a more jam-band take, and with a LENNON singing. When I heard this song, 'Blood And Rockets…' I knew I wanted to see this band: 
So, it turns out, while I was in Durham, the Claypool Lennon Delirium were in Raleigh, playing with The Flaming Lips. It's the last show of the package tour, and we decided to go at the last minute. Surprisingly there were plenty of good seats available. Unlike the White Oak in Greensboro, the check in and security took seconds, the seats were great, and the sound was pretty good (more about that later). 
The Delirium are a four piece, with Paul Baldi on drums, Money Mark (keys/synths with the Beastie Boys and Beck -- see Adrienne's blog on his Moogfest appearances, tinyurl.com/zubmoog2) on keys, Les Claypool on bass and vocals, and Sean Lennon on guitar and vocals. The set leaned heavily on South Of Reality material, early highlights being 'Cricket Chronicles Revisited…' with a faux Indian feel, and 'Little Fishes,' which has a 'Norwegian Wood' style riff. Getting to hear Claypool play bass was a real treat - he is truly a master and had the best bass sound I've ever heard at an outdoor show. One caveat to this; his bass was so loud and prominent in the mix it overpowered everything, including the drums. Claypool sang well and the band avoided needless jam-band doodly doo (they stuck to the songs).  Drummer Baldi was solid and quite unflashy, but again, you could not hear him very well. Money Mark was killer on the keys, with his beard, long hair, and top hat he suspiciously looked like he could be in .38 Special, but his mostly Moog synth playing was outstanding, reminiscent of a weirder Keith Emerson or Rick Wakeman. He was a real highlight of the band. Stranger even was Sean Lennon; the voice, oh my gosh, THE VOICE. So much like his dad, it was frightening. Plus, he is quite the lead guitarist. This Lennon could shred!  
When they started in on the above-mentioned 'Blood And Rockets…' I honestly think I had an out of body experience. The song is like all of John Lennon's tunes on Sgt. Pepper's, with maybe a few McCartney riffs packed in there as well. Truly amazing. There were some great takes on 'Easily Charmed By Fools' and 'Boriska,' this band really had it going on. As they launched into the next song I was about to say to Adrienne that this tune reminded me of King Crimson. Then I realized they were playing a cover of 'In The Court Of The Crimson King.' Magnificent!  Very soon afterward as the sun disappeared, Claypool started a familiar sounding drone on the bass. The Claypool Lennon Delirium did a cover of The Beatles' 'Tomorrow Never Knows' with Sean Lennon singing and wailing on backward guitar. This is something I never thought I would hear. They weren't done, as they did an inspired cover of Pink Floyd's 'Astronomy Domine' as a closer. 
I was recently at the George Clinton/P-Funk show, where the MC said "welcome to the universe of George Clinton." This is the same, other dimension, feeling I get with The Claypool Lennon Delirium. They have their own universe, they do their own thing, and they do it very, very well. Sean Lennon is not his dad, he's really trying to be himself, and I get the impression that Les Claypool is a bit of a mentor for him. Together they create a very cool psychedelic musical universe of their own, but one that acknowledges and celebrates their forebears, literal and musical, that combined in the Big Bang from which they emerged. 
---Steve McGowan