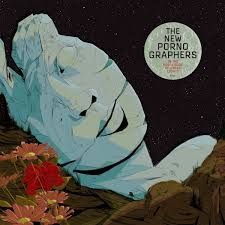 As you might know, I am a pretty serious record collector. Any band that I like from my youth, I usually have all of their records. I was thinking about the New Pornographers, Carl Newman's Vancouver 'supergroup,' and I realized that I have all of their records. So you'd be right in imagining that this review of In The Morse Code Of Brake Lights, their brand new LP, would be pretty positive.  
This record has a lot of themes: cars, 'things falling,' things falling apart. It's a pop fantasy with a serious sadness underneath. With the recent albums Brill Bruisers and Whiteout Conditions, the Pornos have been moving toward a much more keyboard-based sound, and this is also true of Morse Code. Carl Newman, the main songwriter and vocalist, has tweeted extensively of his love for The Cars (RIP Ric Ocasek) and in places you can really hear that influence on this record. 
Morse Code opens with 'You'll Need A New Backseat Driver,' the amazing vocals of Neko Case filling the verses and astounding choruses. The drums don't come in until a good third of the song is over, very cleverly put together is this one. We're off to a good start. 'The Surprise Knock' uses sampled voices much like a Loud Family record. It's a very upbeat song with Carl Newman giving his all, singing cheery lyrics about paranoia, C4 explosives, and war while Joe Seiders tears it up on the drums.  
'Falling Down The Stairs Of Your Smile' has a killer slinky bass line, not sure if it is bassist John Collins or done on a keyboard. The choruses with Neko and Kathryn Calder have that classic pop bliss the New Pornos are known for. It's a total earworm. 'Colossus Of Rhodes' has a full-bore production, with orchestral string flourishes, chugging sequenced synths, tons of vocals, and guitar you can really hear along with train-chugging drums. It's almost too much, right on the edge of excess without going over. 
'Higher Beams' sounds like it has a string quartet, and is a slower jam sung by Newman, tracing an immigrant's thoughts: 
Deep in the culture of fear, we all hate living here 
But you know when you can't afford to leave? 
So you stay in the lines, navigate the land mines 
Should have gone for the guided tour 
Got lost, I could see what we've crossed. I knew the cost 
In the higher beams, that temporarily blind 
That change your mind 
'Opening Ceremony' is filled with ghostly keys and has a great Newman melody. It is restrained, poppy, and very pretty. 'One Kind Of Solomon' is a pop fever dream, sounding a bit like an older Pornos track, frantic and jammed full of lyrics: 
Solomon had his following 
They had been calling him by so many names that he lost track of all of them 
 Famous for nearly killing the kid and expecting 
That his blind faith was as honorable as the next thing 
He prayed for happy landing 
Solomon knew astronomy 
Didn't take Ptolemy to say "The Pharisees got nothing on me" 
Sooner or later you see that side of the cannon 
As you look up from the jar you had your hand in 
The LP closes with 'Leather On The Seat,' another  everyhing-plus-the-kitchen-sink production. Neko's amazing vocal holds it together, and it's a majestic ending to another great Pornos album. 
No one sounds like The New Pornographers. They've consistently produced a steady stream of amazing, clever, intelligent pop records. Morse Code is no different. I have some minor quibbles about the  production, which can border on overwrought, but it is a great record. I can't wait to see them again. 
---Steve McGowan