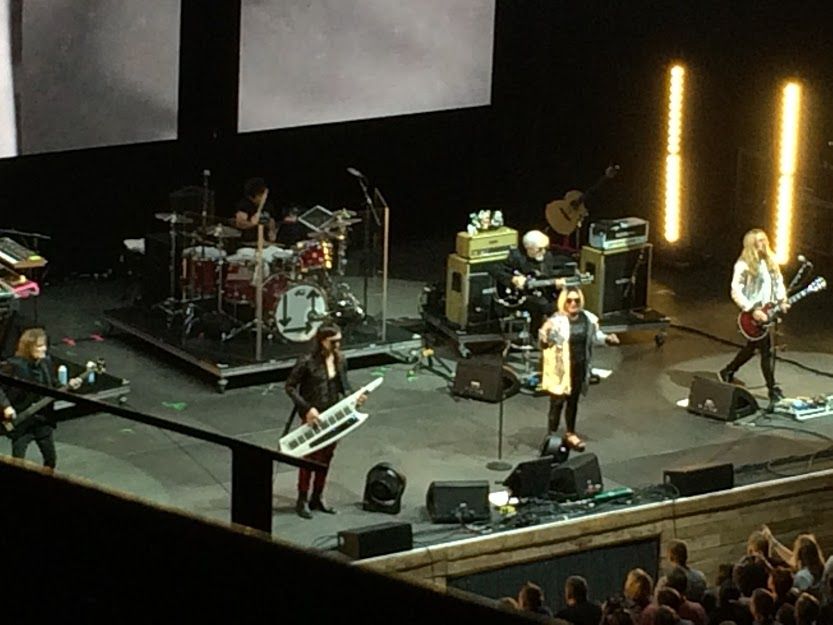 Just to start off, I need to tell you about The Anthem. The venue, part of the same entertainment company as the 9:30 Club,  opened last year and is right on The Wharf, just downstream from the Jefferson Memorial on the Potomac in SW Washington, D.C. It overlooks the waterfront in a very ritzy new development full of restaurants, shops, and mixed use living. The area is newly vivacious and the venue is one of the nicest I've ever been to. The space holds about 5000 people, has a big floor area and three floors of balconies. We were on the third floor, but we could see and hear everything. The Anthem is impressive and I have to gush: comfortable, uncrowded seats, high tech stage, good sight lines, and great sound. There is easy access to bars, food, and really nice, roomy restrooms. Adrienne reports it is the only busy public space she's been where there was not a massive line out the ladies' room door. It is very well considered and appointed, a real dream of a venue. All I can tell you is that if you can see a show The Anthem, do. Be prepared to be a little disappointed in all other clubs--this is the pinnacle. 
So the performers had quite the setting to rise to. I had some trepidation as Blondie took the stage. Internet reviews had been saying 74 year old Deborah Harry's voice was weak and frail, but as they ripped into 'One Way Or Another,' I could hear this was DEFINITELY not the case. Debbie was in fine form and good voice, and looking fabulous as usual, prowling the stage like a cat throughout the show. Guitarist Chis Stein, silver-haired at 69, played perched on a stool but ripped some amazing solos when needed.  The second song, 'Hanging On The Telephone,' had TWO false starts in a row. The band was completely unfazed and finally drummer Clem Burke ignited the song. 
Seeing Clem, Debbie, and Chris was an extra treat for me. Despite all of the shows I've been to, I had never seen Blondie before. I have seen Clem play in Athens with Iggy Pop, but that was decades ago. 66 year old Clem Burke is a force of nature on the drums, playing like he was 16 years old. He is a complete master, a joy to watch, and truly the beating heart of Blondie. They did a stellar version of 'Maria,' with Debbie's vocals and the killer melody making it like a lost classic girl-group song. There was a rock steady version of 'Rapture,' where guitarist Tommy Kessler ripped some metal-edged soloing, and Debbie flowed her rap flawlessly. 
But they are not resting on their ample and well earned laurels. Blondie caught us off guard with a version of Lil Nas X's 'Old Town Road,' much to the crowd's amazement. (tinyurl.com/zubfrye for a discussion of Li'l Nas X and the country charts controversy). This was followed by a very atmospheric, ambient 'Fade Away And Radiate,' then a triumphant version of 'The Tide Is High,' with the whole crowd singing along with Debbie to Clem's latin-reggae drumming and keyboardist Matt Katz-Bohen's mariachi horns, all held down by super-solid bassist Leigh Foxx. They ended up the set with a muscular 'Atomic,' and a wonderful version of 'Heart Of Glass,' Debbie's vocal right on and keyboardist Katz-Bohen coming forward with the world's biggest keytar I've ever seen. They slyly slipped some of Donna Summer's  'I Feel Love' in at the end. Just wonderful. 
For the encore, Blondie ripped one from the prior day's headlines. They projected the ersatz Presidential Seal with the two-headed Eagle, hammer and sickle, and talons clutching golf clubs and cash, while doing a perfect rendition of Matt Munro's 'From Russia With Love.' The crowd just went completely crazy. Blondie's finale was a beautiful 'Dreaming,' showing off Clem Burke's errorless powerhouse drumming. It's amazing how many boundaries this so-called punk and new-wave band have broken. They conquered disco, and explored reggae and Latin, prog-rock ambience, early hip hop, rockabilly, and just good old rock. Blondie is a pop omnivore and encompasses all of this and more. A truly great show. 
  Blondie 'Dreaming' at The Anthem from You Tube
As we waited for Elvis and The Imposters to go on. I noticed some issue on stage. To get into some guitar geek stuff, Elvis plays through THREE guitar amplifiers. You need a splitter box to go from one guitar input into three amps. And before his guitar signal even gets to the amps, he has a (pretty big) pedal board at his feet. These stomp-boxes might be used for reverb, delay, and other distortion effects. So, they rolled out Elvis' amps on a platform, but his tech was obviously having a problem with the pedal board. They futzed around for about fifteen minutes, then took the pedal board off stage, then brought it back on, still not working. When they finally started the show about 20 minutes late, the pedal board was STILL not working, and was off stage, no doubt receiving the guitar tech version of CPR. Elvis simply plugged his Fender Jazzmaster straight into the three amps (no pedals) and they were off. I was imagining him throwing a tantrum but he was fine.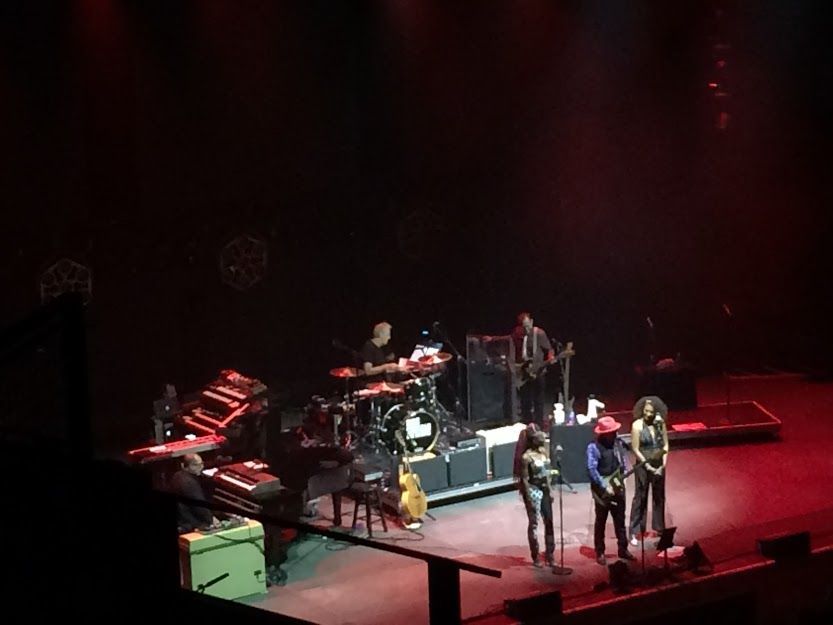 They kicked off with early notables: 'Pump It Up,' then 'Mystery Dance,' then 'Less Than Zero.' The band was hot and Elvis sounded great. Again, I've been reading a lot of grousing on the Internet about the set lists for these Blondie shows being 'uninspired.' I'm not even sure what I want to  say about that. Elvis has well over twenty LP's, so you might not get to hear your favorite Elvis tune. Having seen E.C. over fifty times, I could do without hearing 'Alison' again, but it's always a privilege to see the man and his band. I've seen him pissed off, but never, ever going through the motions. There was a stirring version of 'Clubland,' a rocking 'Accidents Will Happen,' and a super cool "Green Shirt,' on which 'The Professor,' keyboardist Steve Nieve, really sounded great. 
Elvis mentioned that the setlist had gone out the window, and tore into 'Waiting For The End Of The World' followed by a wonderful 'Beyond Belief,' both songs sent to the stratosphere by backing vocalists Kitten Kuroi and Brianna Lee. These two singers have been mainstays on the last few tours, and they are sparkling highlights on the show. They were both stellar throughout. 
Elvis played one 'new' song, 'A Face In The Crowd,' on the piano. This has been played on the last couple of tours I've seen, but this was the first time the whole band played on the tune. While the poor guitar tech brought out the (still not working) pedalboard after 45 minutes offstage, Elvis waved him off and explained they would get back to the '"New Wave Hits" after this one, and he said he is working on a Broadway show based on the 1957 movie and story of Lonesome Rhodes This was followed by 'American Gangster Time,' a song from Momofuko that E.C. only plays in D.C. I wonder why... "Burnt Sugar Is So Bitter' was the only song from Look Now played, followed by a surprisingly great 'So Like Candy' from Mighty Like A Rose, adding snippets of Linda Ronstadt's 'You're No Good' at the end.  Then there were rollicking versions of Get Happy's 'I Can't Stand Up For Falling Down' and 'High Fidelity,' both nailed by bassist Davey Farager and the amazing drums of Pete Thomas (this whole night was a drum clinic). The set ended with 'Everyday I Write The Book' and 'Alison,' the ladies tearing it up on the vocals as Elvis started to get a little hoarse.  
The encore was all-Nick Lowe material, a bashing version of 'Heart Of The City' followed by a heart-rending '(What's So Funny Bout) Peace, Love And Understanding.' This was set to images of Elvis' relatives from the Great War (see tinyurl.com/zubpoppies for review of WWI documentary They Shall Not Grow Old), as well as images of some boys KIA, and had a pretty strong political bent. The crowd loved it, it was a marvelous show, always great to see a performer and band at the top of their  game. Elvis is still King. 
  Elvis and The Imposters (What's So Funny Bout) Peace Love and Understanding at The Anthem
-----Steve McGowan