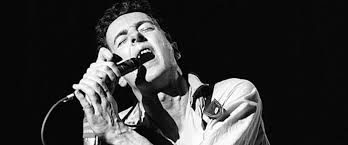 Raise a toast to St. Joe Strummer 
I think he might've been our only decent teacher 
Getting older makes it harder to remember we are our only saviors 
----The Hold Steady, 'Constructive Summer.' 
Sixty eight years after he was born, and eighteen years since he died. It is still hard to get around the fact that Joe Strummer, a legendary figure in punk and rock music, isn't with us. I always felt that The Clash were the punk band that mattered the most to Americans. As a college kid, you would see copies of London Calling in various dorm rooms, along with the obligatory Springsteen and Bob Marley records. The Clash were savvy enough to bring a real rock show, and they were undeniably passionate about their music. Seeing them open for The Who at Shea Stadium seemed like a thing that would happen to them. The later period Clash embraced and established 'World Music,' as they expanded their scope into real reggae, jazz, R&B, and lots of british folk music, whilst championing the new rap and hip-hop sounds. Joe Strummer and Mick Jones were at the forefront of all this. 
Which brings us to A Song For Joe, a multi-band tribute to Joe's music spearheaded by NYC rocker Jessie Malin, with proceeds going to Save Our Stages (www.saveourstages.com). Dozens of artists contributed, and this is a great watch if not a bit of a mixed bag. The pacing of the stream is a bit set off at the beginning, with new uncovered footage of Joe and The Mesceleros live in 2001 in England at Brixton Academy. They rip through The Equals' 'Police On My Back' and Joe is mesmerizing. I would have thought they might have saved this clip until the end, as this is the best thing on the stream. 
There is plenty of great stuff on this steam besides Joe himself. SoCal ska band The Interrupters does a fantastic version of 'Get Down Moses' by Joe and The Mesceleros from the Streetcore LP. This band is tight and all over the song, just drums, bass, guitar, keys and a great lead singer, Aimee Interrupter. Jeff Tweedy channels Woody Guthrie on an acoustic 'Death Or Glory,' he definitely gets it. Tom Morello goes full on folkie (with harmonica!) for a slow, sly version of 'Bankrobber.' Very unexpected. Craig Finn and Tad Kubler (from the Hold Steady) do a fantastic version of 'Washington Bullets' from Sandinista!  They make it sound like a classic Hold Steady tune, and when Finn sang the 'Constructive Summer' lyric about Saint Joe Strummer at the end, I honestly shed a tear. 
Jesse Dayton did a very hot rockabilly version of 'Janie Jones' (just guitar and snare) that was extremely well done. He is a real up and comer. 'London Calling' was represented by the very talented Butch Walker, singing strong and giving a great take for this Clash classic. Folkie-punk Frank Turner did a strong version of 'White Man In Hammersmith Palais,' a very British song about racism that is not easy to pull off. Turner killed it. Dave Hause, another folk-punk guy, played a 12-string acoustic version of 'Coma Girl,' also from Streetcore, and one of Joe's best songs. Hause did the song justice. 
In the middle of the pack, we have Jesse Malin doing 'Johnny Appleseed' backed by a full band and with horns. He has a lot of passion but I'm not sure if this was the right song for him. Hinds, a very cute four girl Spanish group, did a lighthearted version of 'Spanish Bombs,' which was really sweet and funny. Joe Ely, who toured with The Clash, did a workmanlike version of The Bobby Fuller Four's 'I Fought The Law,' a Clash staple.  Brian Fallon did 'Long Shadow,' a song Joe wrote for Johnny Cash. Fallon's version was dark and apocalyptic and right on point. The Dropkick Murphys (some of them, anyway) ran an energetic, sloppy, oh-so-punk version of 'Tommy Gun.' Lucinda Williams(!) and her band did 'Straight To Hell' from Combat Rock. Lucinda came off as a wizened veteran who completely channeled Strummer.  
There were a few low points, and some of them were really low. Cherry Glazerr doing 'Charlie Don't Surf' was a disaster. Nikolai Fracture from the Strokes did a never ending ukulele version of 'Police And Thieves' that was just terrible. Surprisingly, my man-crush Josh Homme and Troy Van Leeweun from Queens Of The Stone Age did 'Train In Vain (Stand By Me),' which was questionable at best. From what I understand, this song was almost completely a Mick Jones composition, so I was confused, to say the least. Josh Klinghofer did a very mediocre version of 'Rudy Can't Fail.' For me, the absolute worst was Eugene Hutz (from Gogol Bordello) singing his own song about the night he met Joe. It was a tuneless mess. YMMV, as always, but the hearts in the right place were not salve for my ears. 
After covering the good, the middle, and the bad. There was one more mind-blowing sequence. Bob Weir (Grateful Dead) recounted meeting Joe after a gig. They went up on the roof and got wasted, stayed up all night, and Weir said Joe asked him all about Pigpen. Then Weir played 'Death Or Glory.'  It wasn't bad, the whole thing was just weird and surreal. 
A Song For Joe is still streaming and you should catch it. I do miss Joe and his music, he was a great teacher and a true one-of-a-kind.  
Raise a toast! 
---Steve McGowan 
Thanks for dropping by. This blog is part of zubrecords.com, an indie label run by people who make and love music! Check out Alert for blogs on music, films, books, and more! Our podcast, Singles Going Steady, is on all major podcatchers and at tinyurl.com/SGSPodcast Lots of cool things to read and listen to at zubrecords.com