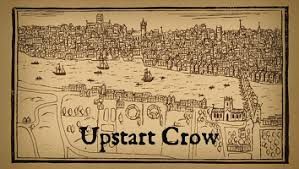 Ben Elton is the author behind three seasons of one of the most inventive and emotionally compelling comedies, BBC's Black Adder. Historical accuracy interlaced with hilarious and well-crafted anachronisms, the series finale is one of the most effective ever. I won't spoil it for you if you have not yet had that experience. Ben Elton may be most familiar to Alert readers as Lord Mintcake on University Challenge on the "Bambi" episode of The Young Ones, which he also co-wrote. He was one of the posh kids along with Emma Thompson, Stephen Fry, and Hugh Laurie on the Footlights College team. Nice company, as you can see: The Young Ones H/Q....On University Challenge 
So when the BritBox streaming service came my way this Christmas, I jumped to see what I had been missing. BBC's Upstart Crow? What's that? David Mitchell (Peep Show, That Mitchell & Webb Look) appeared to be playing at being Will Shakespeare in the promo thumbnail. This could go either way. What's with the name? I have learned to be cautious: while I love him as the fiendishly clever Edmund Blackadder, Rowan Atkinson is known mostly as the decidedly opposite Mr. Bean, a character and show up with which I will not put. (Read in a posh bird voice, please).Likewise, is this Upstart Crow a collapse into lowest-common-denominator comedy or a continuation of Mitchell's past fine work? When the opening credits listed series creator/writer Ben Elton, my cheeks and jaw unclenched. This might be in my particular comedy bailiwick. 
The show was created as part of the British national 400th anniversary observance of the Bard' death. So here's the set up:: Will splits his time between a rented room in London, where he is close to the Red Lion Theatre, home to Burbidge's troupe that regularly presents his plays; the Red Lion itself, for rehearsals and performances; his multi-generational home in Stratford-Upon-Avon; and in the office of his nemesis, a rival playwright and Elizabethan striver, who as Master of Revels, must license all performances. The nemesis, Robert Greene, historically proclaimed Shakespeare an "upstart crow," a climber who thieved much of his work from colleagues, like a crow stealing trinkets. What an upstart! 
In Stratford, Will lives with his parents, a bitchington of a sullen teen daughter, his young twins, and his wife Anne. His father is constantly demanding that Will secure a Shakespeare family coat of arms, which are granted by the Heraldry office, manned by nemesis Robert Greene, of course. There are plenty of opportunities for Will's London world to come to Stratford, mixing with the extended family. 
In the London lodgings, Will keeps company with Ned Bottom, his servant, and Kate, the landlady's daughter. Kate wants to be an actor, a career which is forbidden to women by law. She reads and speaks several languages and, like a literate Lucy, is constantly scheming to appear in one of Mr. Shakespeare's shows. Ned doesn't read, but he is no fool. He is always on hand to debunk Will's dubious claims to creating neologisms and pithy sayings. 
The theatre company of three features a lead who also manages the company, a man renowned for playing women, and a juvenile actor who parodies Ricky Gervais, and does so well. Somehow it all works.  
The show balances high and low adeptly. Will is a self-involved, self-proclaimed genius. The gentlemen in Will's orbit are Christopher "Kit" Marlowe and Robert Greene. Marlowe is always looking for a Will cast-off play he can present as his own, and is a bit of a gadabout. Greene you know. As Cambridge graduates, they often must perform tasks for the Crown, as learned gentlemen would. Spies, inquisitors: gentlemen always have tasks to perform at the bidding of the Her Majesty. 
In later seasons, a London pub became a set piece. The landlady, Lucy, is formerly enslaved African who bought her freedom by selling a diamond ring she cut straight off her captor, appendage and all. She is quick to remind us no, it was not worn around a finger. 
As with all sitcoms, there are catchphrases, but these are all based in character and are pretty funny. There are runners, like Will recounting to his family his awful stagecoach commute from the city to Stratford. Will calls nothing by its name; all things are described with obtuse and pun-ridden metaphors, usually in multiple ways. The characters all make seemingly prescient comments that could describe current events. And of course there are quotes from the plays and sonnets. Events usually give background to the plays we know, fabulized. Clever word play sits beside goofy situations. 
One of the silliest and most fun features is coined faux anachronistic blue language:  Assington, Boobington, Bitchington (which I slipped in above), Ballingbrooks (what a gentleman has in his puffling pants), Crappage, Bumshank, and more. It's great fun and quite silly. They only occasionally dip into the doths and -eth suffixes, using them sparingly like a rare spice. Assington Richard Greene, as befits his bullying, supercilious ways, has a habit of speaking in asides to the audience (reminding us that, as is the custom, he cannot be seen by the others during these speecheths), wherein he pronounces each letter in "ion" endings and "ed" endings as "Ed." The actor, Mark Heap, portray-ed Brian the artist on 'Space-ed,' a great Edgar Wright-Simon Pegg series from the early aughts. I had a suspis-ee-on I had seen him before. 
The credits and scene titles are styled as Elizabethan woodcuts, primitively animated. The XTC fan in me squeals with delight each time these appear, reminiscent of some of their finest record sleeves. 
I am no Shakespeare expert. One of the most unbearable people I encountered in my drama days was a high school girl who pretentiously auditioned with Puck's epilogue from Midsummer Night's Dream, after first explaining it to us in demeaning detail, assuming we'd never "get" it. Ever since then, I brace myself for the twee, Anglophilic, smug pseudo intellectuals who wrap themselves in Willie Shakes' works. Upstart Crow, I'm glad to report, is probably not for them. It is too irreverent with its subject, too loose with history, and has way too much fun weaving life events and friends' and families' suggestions into the fabric of Will's canon. Even the hormonally plagued teen daughter has great ideas!
Will you like it? It is clever, fun, the opposite of hagiography, and NOT a slow builder. You'll know sometime during the first episode if it works for you. If you are not familiar with Shakespeare's works, I don't think you'll need cheat notes or a narrator to get you through. If you know a little, you'll just be a beat earlier on the set ups.  
So I guess it is time for a little forced Shakespeare paraphrasing: this sitcom's the thing, wherein they'll catch the laughter of the audience. Or not. Do give it a try if you like your comedy sharp, smart, and silly all at one. 
-Adrienne Meddock