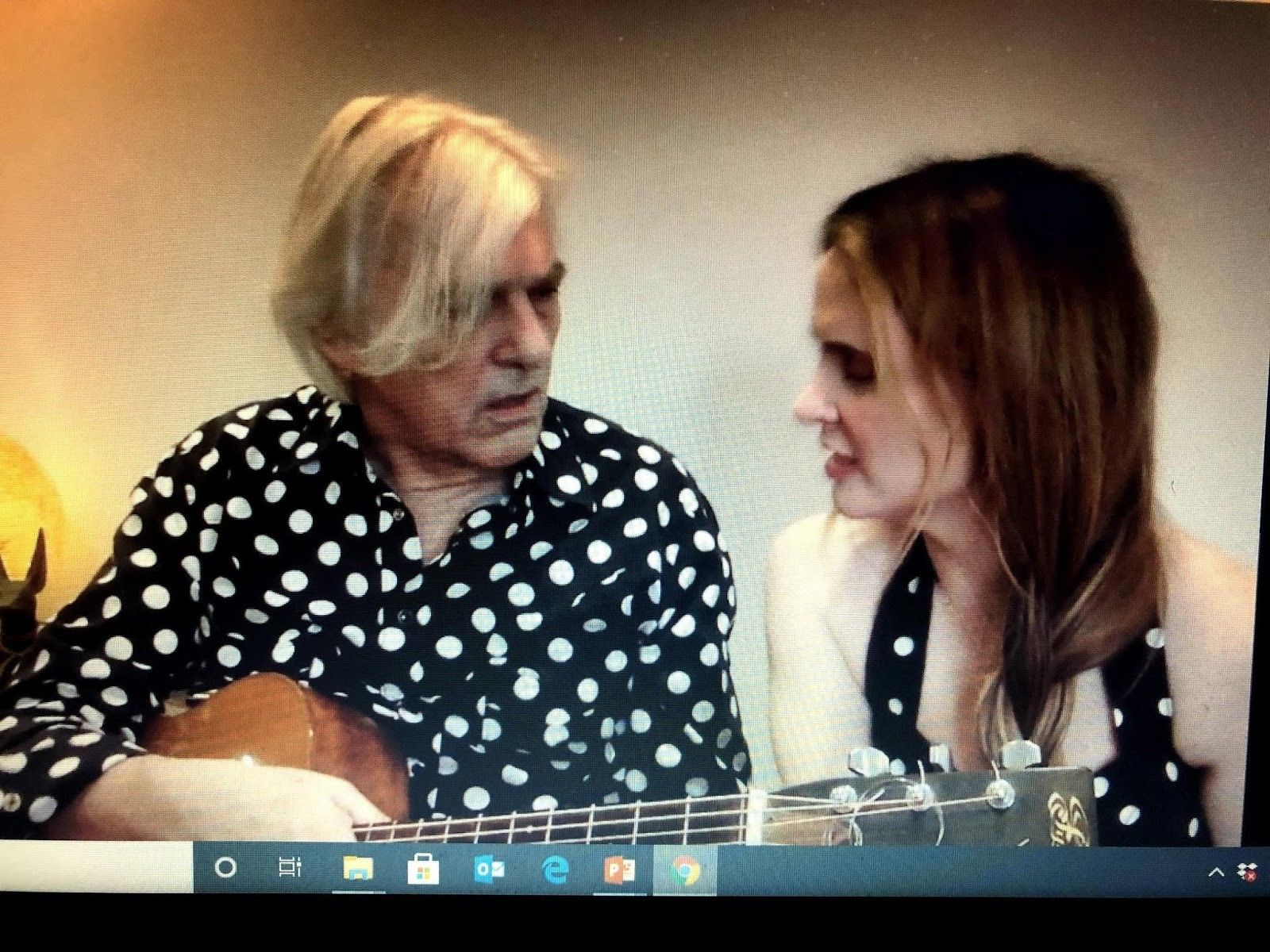 Lo-res Image of Reg & Em, Sweet Home Quarantine 
So we are a bit late in sharing our thoughts on the marvelous Sweet Home Quarantine shows with Robyn Hitchcock and Emma Swift. Here are accounts of the February SHQ shows. 
Wednesday SHQ 2/3  
I have been a loyal Wednesday (and occasionally Friday) Groover for the extraordinary series of home concerts from the Nashville home of Robyn Hitchcock, Emma Swift, Scottish Folds Tubby and Ringo, and their Furry Cabal of stuffed animals. While usually Steve writes these reviews, I've been tagged in to relay my impression of tonight's intimate concert from the Swiftcock Sweet Home Quarantine. While Steve is detailed and methodical, I tend to be more big picture than play-by-play. So here goes; I'll probably swing to the latter. 
The night began with a Groover favorite, 'The Cheese Alarm,' Robyn's guitar ringing (like said cheese alarm) crisp and bright. The Edge (stuffed monkey) provided the name of the next requester for 'Chinese Water Python,' played as a beautiful instrumental with medieval musical forebears (at least as I heard it). A very lively 'Point It At Gran' followed. Robyn spoke with a mixture of sadness and straightforwardness of reaching for memories that only your departed parents could share and confirm. 
Emma entered in a black and white polka dot halter top, bringing Reg a white on black polka dot cuppa to coordinate with his white dot on black shirt. She joined him on 'Fifty Two Stations,' her inventive harmonies bringing much to the arrangement.   
Studio C was quite warm tonight, and they apologized to the snowbound Groovers, who were not similarly situated. They bantered about perms, and the smell of perms. They launched into 'Somewhere Apart.' Emma sang one of her new songs, 'Impossible Air.' She is undertaking the song-a-week challenge in 2021, so perhaps we'll hear a new Swift composition on the regular. 
Robyn sang a silly song on the necropolis theme as the banter had taken a turn towards the goofy macabre. Emma left to find power for the laptop, while Robyn sang a song in honor of Arthur Kane's birthday, the lovely elegiac 'N.Y. Doll.'  
Emma returned with Ringo Morrissey Stardust, their gloomier cat with 'Year-round Affective Disorder.' Robyn and Em launched into 'Upgrade Me,' one of the great Patreon tracks from 2020. Reg announced mid-song "there he is!" as other cat Tubby wandered into the room. Tubbins remained elusive though, uncaptured. Having spent the last two days stalking my feline overlords BB then Banana to capture them for their annual well-kitty visits, these feline disappearing arts are well known to me.  
RH announces, "it's Graham Nash's birthday, so let's play another one of my songs…" They then rated the members of CSNY in various categories (nicest, best moustache) before playing 'Chinese Bones,' a song he'd have liked to have CSNY perform. I can hear it. I also heard Simon and Garfunkel, of all groups, doing a pretty good version in my imagination (not the similarly dubbed nighthawks from detectorists, as discussed in each of our reviews of that perfect series at tinyurl.com/zubtreasure). 
Emma grabbed a cheat sheet for the real Graham Nash song, from the 1971 Deja Vu album that Reg said was "the badge of all Groovers" of that time. Emma sang lead on 'Our House.' This is one of those AOR FM staples to which I am fairly immune, its charm lost to me, having become twee and mundane through overplay and over-familiarity. They managed to make it sound fresh. They joked about Young leaving the Stills-Young band, mid-tour, via telegram. Emma said she'd need to send a fax from the office in these quarantine days, to Robyn in another room of the house. They laughed, but guys, your Groovers like our little Wednesday Family Fun Nights. I'm requesting Al Green, stat, to keep us together! 
--Adrienne Meddock, Substitute Groover 
Wednesday 2/10 SHQ 
Steve called me yesterday that he'd be missing this week's session and making sure I'd guest again, so I will see if I can juggle banter and song description a little more adeptly this week. This week's Sweet Home Quarantined has been billed as an acknowledgement of Valentine's Day (you noticed I didn't say "celebration"), that will no doubt feature Groovers' requests for Robyn's dismalian view of love and relationships setting the tone for the night. So on to "Valentine's and Anti-Valentine's" songs. 
Robyn opens the show playing Yolanda's request, a song he claims he has not played in "29 years," 'Ultra Unbelievable Love.'  He plays an insistent, chugging accompaniment on acoustic. He segues to Keith's request, repeating the line from the prior tune, "there are no jokes in the Bible, Keith," and it's the brilliant "My Wife and My Dead Wife," an ebullient take on Blithe Spirit. This is a fun and confident version, with subtle and limber passages alongside louder peaks. The word "chiaroscuro" flashes across my lips, but I think that might sound pretentious; however, there are shades from dark to light, love to menace. 
'Fly Me To The Moon,' a request from a few weeks back has now been worked up, Robyn giving it an almost classical guitar feel. He remarks, "it's beautiful, but very watery, liquid, there are no barbs…" He calls it a song from his parents' time. 
Then it's time for a "Groover's" interpretation of love, courtesy of Bob, one of Robyn's musical saints, and "Spanish Harlem Incident." Both Robyn and Emma inhabit these Dylan songs, finding elbow room for their own expression. (See tinyurl.com/zubblonde on Emma's lovely album of Dylan covers). 
Then it's an "on brand" RH song, with its hallmark "dismalia," 'Comme Toujours,' the French splattered song from The Man Upstairs. It is damned perfect, of course. Robyn shows his higher register is still very much in play. 
Emma enters with Scottish Fold "Ringy," the more easily bribed of their feline cohort. Emma jokes about a Robyn Sinatra covers album. "Will it be Fly Me to The Moon' and 12 others or twelve versions of 'Fly Me to the Moon'? Robyn scoffs, saying he much prefers "Anarchy in the UK'' and knocks out a lovely, slinky coffeehouse version worthy of Jacques Brel. Yes please, we all say.  
The pair play RH's 'Death & Love' and then retell the story of being fined on a ferry in Venice on the way to the train station, a recurring staple tale for SHQ. 122 Euro fine, I believe. Emma then tells us Perry & The Edge are a couple and Bowie wrote 'Heroes' for them. 
Emma introduces a song from Tapestry by request, "Will You Still Love Me Tomorrow." I saw Emma earlier responding to the tweet request, lauding the mature 70s version on Carole King's Tapestry (today is the landmark album's 50th birthday). She compared it to the 60s girl group version of the Goffin/King composition by The Shirelles. Emma gives it a third spin, and treats it almost as a torch song. 
Robyn says YES in answer to the title question. They are so lovely together. There is banter about sparrows who don't do their homework being stared down by professors with bad breath. The magical realism of the Swiftcock home. 
This introduced RH's solo 'All I Wanna Do Is Fall in Love.' RH then played "One of my 3 cheerful songs" by request  for "Mr and Mrs Velvis," who had it played at their wedding. 'I'm in Love with A Beautiful Girl.' 
Emma returned with "the great Valentine story no one wanted to hear," that of the Edge and Perry. They riffed on movie remakes the duo might be right for, and evidently Robyn thought Billy Joel was the star of "When Harry Met Sally."  Emma changed gears,"going from the inane to the dismal' they played the Roland S. Howard song, 'Shivers," one sung by Nick Cave in their band, The Birthday Party. This is the work of "a late, great" fellow Aussie songwriter whom Emma feels was a kindred spirit.  
Next up was 'Glass Hotel,' which I don't think we've heard recently but was a frequent feature in early SHQ shows. Robyn is really thrashing, then intricately picking in an always-right acoustic version of a song that feels like home for us now because of the SHQ-created connection. 
Emma waxes about a hotel on the French beach, where Robyn plays 'Comme Toujours' and hands her an eclair. Robyn says he'd prefer to bring her an accordion. Then it is a musing on instruments they like and don't like and then Robyn invents a scene with Tim, the Aussie middle school crush that Emma wistfully recalls played the sax. Robyn states curtly that he remembers very well about Tim. Our Quarantine parents playfully spar. 
Then it is on to the pros and cons of 'Careless Whisper.' Emma loves it, and sings a little. Robyn admits his commercial instincts are nothing compared to George Michael and that even Andrew Ridgely at HIS side would not have made 'Brenda's Iron Sledge' crack the public consciousness. For me, "guilty feet have got no rhythm" is one of the goofiest lines in pop culture, whether you love or hate 'Careless Whisper.' 
Then it is on to their lovely version of 'The Ghost In You.' Emma's inventive harmonies along with Robyn's Hitchcockian interpretation make this version quite lovely. I had to cut out early, so tonight's wrap up is a mystery! 
--Adrienne Meddock, Grooving for two, grooving for you 
Wednesday 2/17 SHQ 
Guest Groover again, for another RH requests Sweet Home Quarantine show with our heroes Robyn, Emma, Tubby, Ringo, and the furry cabal. These Wednesday evenings are a real lifeline to me in this endless, trying isolation that is Covid Days. Well, pip, pip, let's look lively and start the grooving! 
It is 'Serpent At The Gates of Wisdom,' with a nice spoken word discourse about Yahweh being expelled from the Garden, back when he was known as Steve. In and out of the usual lyrics, RH sings a line about "Space Oddity on the phone," since someone's phone played a bit in the background during the performance. Quick one he is. 
'Let Me Put It Next to You' follows by request. RH claims when they played it in the Soft Boys, there were so many people playing it was hard to tell what the last chord was…. 
Next up, since Limbaugh was in the news today, was the song RH wrote with him in mind, moss elixir's 'Devil's Radio.' The lyrics were updated for the occasion, "Limbaugh, now he's finally in limbo…" A quick chat with Perry the Lobster led into You & Oblivion's "Surgery," by request. Robyn is having fun with these songs tonight. 
Emma joined with Tubs and announced Robyn got his first Covid injection, an occasion for which he'd washed his hair, which was in floppy splendor tonight. They mused on Guy Pearce, Pricilla, Queen of the Desert, and launched into 'You Got A Sweet Mouth on You Baby,' from Jewels for Sophia. Very nice with Em's harmonies. Oblivion, they tell us, is always with us, a bit like the Holy Spirit. 
On to RH + Venus 3 territory, with 'Up to Our Nex' from Goodnight Oslo. Robyn does a great drum break with hand motions and beat box vocals, and it is all upbeat. Emma passed along queries from the comments about why the "nex" spelling and there is no answer but a digression on Bluetooth and the man RH met in London with a perfectly round head who was a Turkish Capricorn born on Christmas. Somehow, I think that summed up RH's interaction with Bluetooth technology. 
Emma left for a task and Robyn solo is in great voice with an insistent, driving guitar on 'Keep Finding Me,' the Luxor tune. Robyn laments not having a fader and says Perry will get one and operate it. 
Emma returns, and we now know her task: a backing track is playing and breaks into an ambitious 'Wuthering Heights' in the original super-high Kate Bush key. I never cottoned to Kate, but Em's enthusiasm makes this fun. 
The duo play their Dylan duet, 'Just Like A Woman.' Their voices are perfectly suited for the song and for the arrangement. I can appreciate their love of the song, but that love is not contagious as far as I am concerned. As a little kid, I found these lyrics demeaning (and I WAS a little girl at the time) and I appreciate their interpretation but the JLAW mental block I have is deep and wide and tall. 
Emma leaves Robyn to play 'Arms of Love,' an always welcome tune, Emma and Perry returned for the requested 'Flesh Cartoons," which has a few stutters, but it is great anyway. 
'Mad Shelly's Letterbox' followed, highlighting inventive harmonies™ by Em, and that's it for Grooving this Wednesday. Next Wednesday we are promised a George Harrison birthday celebration and I think that is a guaranteed treat. 
--Adrienne Meddock, whose letterbox is full of extended warranty offers  
Wednesday 2/24: George Harrison Birthday Celebrated 
What a night to be late! When I joined, Em and Robyn were in conversation about a less than optimal gluten-free donut. Robyn did not enjoy it, but as the conversation turned to movie Bonds RH conjectured that Roger Moore might like the donut, on whatever plane he is currently on. They wonder: what of Sean Connery? Emma shared a sweet memory of her dad making cinnamon donuts for her and her then boyfriend Paul's visit. 
The George commemoration resumed with Emma singing 'Something;' it's very lovely and sentimental, not a trace of Victorian squids. Robyn's acoustic is very bright tonight, and a nice contrast to Emma's ethereal vocals on the Harrison highwater mark with The Beatles. Well, one of them. I'm a bit of a 'Taxman' or 'Here Comes the Sun' fan, the latter I sang to myself delivering Chicago Sun-Times and Tribunes at dawn, back when tweens did such things. 
Emma tells us Abbey Road was her first Beatles record (on CD, natch!). Emma tells us she has changed her favorite Beatle to John, part of her marriage's contractual obligation to Reg. The reason the cat is named Ringo is that John seemed somehow inappropriate. Robyn says the surviving two are looking well, living for those who have passed on. 
'If I Needed Someone' is next by very popular demand, and we get a wonderful, melodic Swiftcockian take. This led to a discussion of their respective sources of nihilism. Robyn launched into 'Gimme Love' but only lasted a few bars before declaring it "too Zen." 
Robyn then performed 'Old Brown Shoe,' a song I always found disjointed and jagged, a bit unformed. Robyn brought cohesion to the entropy that always struck me in the Let it Be version. Harrison's clever lyrics became unburied. It occurs to me I've never heard a Beatles "naked" version of 'Old Brown Shoe.' I've given myself homework. 
Announcing that RH found himself at the crossroads of Dylan and The Beatles, he could always "count on George to dissolve into a bowl of rose leaves." This was by way of introduction to a song from the Living in the Material World LP. Afraid of it being too pretty, RH asked to "imagine Lou Reed singing it." It's "The Lord Loves the One," with Robyn occasionally replacing "Lord" with "Law," a change he thought was permitted, as it was closer to George's intentions. 
Emma took this opportunity to terrorize Robyn with Starship's "We Built This City," I have a handwritten note of Robyn's reply that I can only hope is accurate: "like sunlight to an aubergine," which is probably 50% accurate and one hell of an image. 
We move on, having witnessed "one of the most inane introductions to one of George's saddest songs" 'All Things Must Pass.' Emma sings a sweet and sad and poignant version, redolent with grief, regret, acceptance, and aching. RH recalls seeing Let It Be session footage with a version of 'All Things,' The Beatles playing it "with all the enthusiasm of a George song." Ah, to be the third best songwriter in a band that reigns in the pantheon of greats. 
It is then time for us all to pick our Wilbury names. Reg and Em are Ghastly and Shiny? Well moonlight strikes and I am turned into an aubergine and must sign off. 
-Adrienne Meddock, aka Thumper Wilbury
Thanks for dropping by. This blog is part of zubrecords.com, an indie label run by people who make and love music! Check out Alert for blogs on music, films, books, and more! Our podcast, Singles Going Steady, is on all major podcatchers and at tinyurl.com/SGSPodcast Lots of cool things to read and listen to at zubrecords.com