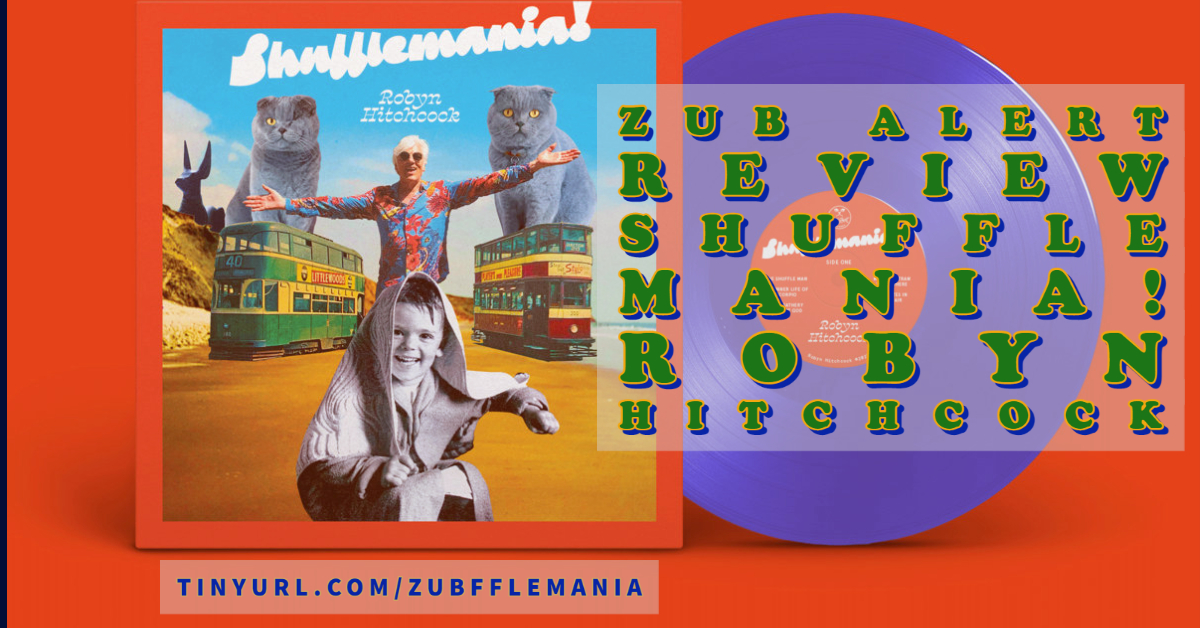 Just like you may properly send a thank you note for a wedding gift up to a year after receipt, this review slides well into the first year of the release of Shufflemania! 
It's been a while since Robyn Hitchcock has released a new record, since the excellent Robyn Hitchcock in April 2017 on Yep Roc Records. Robyn and his partner, producer, muse, and label head Emma Swift (also an excellent singer-songwriter in her own right) released Shufflemania!  In October 2022 on Emma's Tiny Ghost Records. The ten songs on this LP are not as cohesive as Robyn Hitchcock, but the Swiftcock team has relied on some friends in their Nashville home to put most of the record together, as well as Robyn doing his vocals at Abbey Road Studios in London. They also enlisted help from Johnny Marr, Kimberley Rew (from The Soft Boys), and our pal Sean Ono Lennon, as well as some of the Wilco crew and Dr. Dog's Drummer. Produced by Robyn and Emma, the record is a breath of fresh air.
Opener 'The Shuffle Man' has a real Lonnie Donegan British Skiffle feel, with lots of guitars led by an acoustic, it's a dark, heavy pop with Robyn's voice in the back of the mix. 'The Inner Life Of Scorpio' is Robyn in his Bryan Ferry, Avalon-period. Slow and dreamy, Emma's backing vocals are strong, and this one has Johnny Marr all over it on acoustic guitar. 'The Feathered Serpent God' has a Coral (electric)sitar and spaghetti western guitar notes over a slow, light song. The overall feel is of  60's psychedelic pop, with Robyn name dropping Perry the stuffed lobster (star of the Swiftcock weekly livestream shows), describing him as "normcore.' Tons of reverb and the electric sitar solo bring the end of the track.
'Midnight Tram To Nowhere' is faux-blues with blues harp, pleasant with the drums coming in at the end. 'Socrates in Thin Air' is a standard Hitchcockian tale about  Socrates. Filled with many guitars and piano, and Emma's great backing vocals, the vibe is one not unlike a George Harrison song. "Noirer Than Noir' is dark, kind of bossa-nova like, with lots of keys, almost a Jaques Brel feel. Robyn Hitchcock is Alive and Well and living in Perry's orbit. 'The Man Who LovesThe Rain' is another Hitchcock classic, taking its title from a Raymond Chandler book, it wields an unforgettable melody, easily the strongest song on the LP, it has an arpeggiated guitar approach just like 'Raymond Chandler Evening.' Robyn and Emma harmonize beautifully. Another Hitch home run of a song. 
'The Sir Tommy Shovell' is a story about an imaginary pub Robyn wishes was nearby. It's a real knees-up rocker with a driving beat and a 60's feel, except with lyrics about "drinking responsibly." The Raging Muse' is a very Soft-Boys sounding tune, much like 'Old Pervert.' It's full of angular guitar rips and odd rhythms, with strange chorused piano, as Robyn goes on about fish (what else). Sean Ono Lennon is on this one. 'One Day(It's Been Scheduled)' is Robyn in John Lennon  mode, a pretty piano ballad with Beach Boys harmonies. It's a great song and a great way to end the record.
Overall, I'm a huge fan of Robyn (and Emma) and I love this record. He's such an inventive songwriter and lyricist and a master of melody. My grumbles with this record are honestly with the production. Robyn's vocals are not as prominent in the mix as they should be, and everything is drenched in reverb and echo. Combine this with all the midrange guitars and it can be a bit of a sonic morass. I started listening to the LP on my small Alesis computer monitors and it sounded awful, so bad I switched over to my bigger JBL studio monitors, where it sounded much better. It's a small grumble because when the songs are this good, you just want to hear them fully. While I applaud their DIY pandemic ingenuity in weaving together far-flung friends, I'd love to hear a mix by an outside producer.
—-----Stephen McGowan