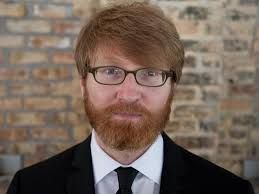 This is an old book, copyright 2005. I found a copy at a thrift store in Durham, NC. I had read Klosterman's Fargo Rock City years back, I knew he was a great writer that worked within the rock critic mode (he wrote for Spin magazine in its heyday) and expanded and usually improved on the form. 
The conceit of the book is that Chuck, on assignment from Spin, rents a car (a Ford Taurus he calls the "tauntaun") and travels the USA looking for places famous rock stars have died. This is a strange, weird journey that is ultimately about Chuck and his life. He hangs out in the ruins of the club in Rhode Island where Great White caused a tragic fire. Within a few minutes, he is doing cocaine off a pickup truck hood with some new friends. 
He goes to Georgia to see where the Allman Brothers motorcycle accidents happened, but there is really nothing there. A trip to Mississippi to see what is left of the Lynyrd Skynyrd plane crash leaves him 50 yards away, in a deep swamp full of poisonous snakes. He never sees the remnants. Wisconsin has a plaque marking the spot where Buddy Holly, Richie Valens, and the Big Bopper died in a plane crash. It's a tiny, hard to find plaque in the middle of a cornfield. 
The story quickly becomes a meditation on death and love. Klosterman's travels are punctuated with amazing ruminations on popular rock culture, as when he spends a few pages comparing and contrasting Foghat's 'Slow Ride' with Edgar Winter's 'Free Ride.' He nails the essence of Led Zeppelin fandom, patiently explaining that at some time in their lives, an American straight white male finds Zeppelin to be their favorite band, usually just for a short time. 
By the time he gets to Seattle to see Layne Staley's nondescript condo and Kurt Cobain's plowed over greenhouse, the book is truly about Chuck. It is full of reminiscing about the three or four most important relationships he's ever had. He doesn't seem to understand women particularly well, but he is keenly self-aware. The crowning part of the book is a lengthy comparison of the four Kiss members' (Paul, Gene, Ace, and Peter) solo LPs and how they exactly relate to his female relationships. I know it sounds ridiculous but Klosterman is a writer of such quality that he makes it work. 
Add to this a Kafka quoting Cracker Barrel waitress in North Carolina, high schoolers in Montana asking him for weed, and a bizarre scene in Minneapolis involving a sultry rock chick that jumps on a roof in high heels, and you have more than enough elements for an epic tale. The dated parts of the book include Chuck describing the new-fangled GPS system in the "tauntaun," among other things.  
This is a great read, and Klosterman is one of those rock critic authors that really gets it. I found this book extremely entertaining and devoured it. I am late to the game here, but glad I played. Recommended. 
----Steve McGowan  
Thanks for dropping by. This blog is part of zubrecords.com, an indie label run by people who make and love music! Check out Alert for blogs on music, films, books, and more! Our podcast, Singles Going Steady, is on all major podcatchers and at tinyurl.com/SGSPodcast Lots of cool things to read and listen to at zubrecords.com