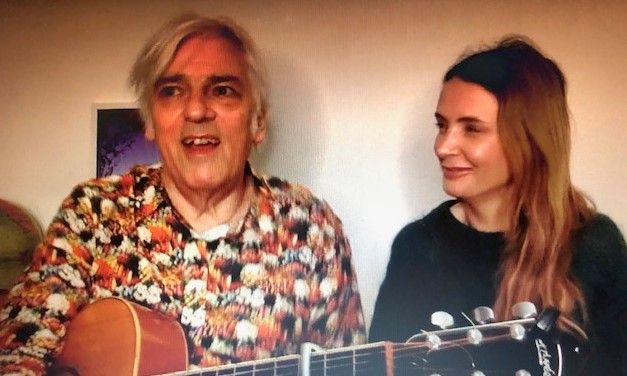 5-5-21 RH BY Request
Robyn Hitchcock is sweaty with the new May heat. Declaring he's in a "clammy paradise,"  because he took a couple of "Nixon pills"  and he's come up with some new compound from Tubby and Ringo rubbing against his skin.  Barb's request kicks off the show, 'Acid Bird' from Black Snake Diamond Role. Robyn is  soldiering on in the clammy weather. (To read about sweaty Nixon, see here) There's some light blinking too; Tubby quickly ran off unhappy with the strobe effect. 
The next request is also from Black Snake Diamond Role. Chris requested 'Out of the Picture' and the Groovers went wild in the comments on StageIt, tipping 10 notes by the dozens, and praising Chris for his taste.  Meanwhile back in Studio C Ringo the Scottish Fold (not the steady back beat of the Beatles) is stuck in the window treatments somewhere slightly off camera as Emma is attempting to disengage him.  Ah, success  is Emma appears with the rescued Ringo. his collar having been caught in the curtains. 
Next up Robin explains is an English song written in Scotland he carries it with him like a cloud wherever he goes 'Dismal City' from Tromso, Kaptien, recorded with the Venus 3. and I'm loving that  the songs and requests span his oeuvre.  The end of this song is pure, concentrated Reg. 
Next is discussion of circular breathing of monks on Monk Mountain as originally envisioned by Lennon.  RH speaks of the globules that spawned him. "Dismalia is everywhere" explaining that this song is from LA, but its "not LA's fault!" 'Vegetation and Dimes' from Perspex Island is played for Matt's birthday. There's a "slight shift in the spectrum of the universe," says RH as Emma joins the room. The discussion goes to Barbie things from her youth. Since neither of them drive, a dream car is of little interest to them. 
They sing 'Mexican God' from Jewels for Sophia. They ponder scenes of the great rockers, belting out songs together in one mic, sharing halitosis. I'll be looking at the classic performance films in a new light. 
'Time Coast' from Robyn Hitchcock is up next, with its special tuning. Next up is 'The Man in Me,' a special request for Emma to sing one of her Dylan interpretations.  Emma tells us she is particular about certain things for no apparent reason, but it pays off here. 
I have no attribution for this great line I jotted down, sans context, which I suspect began with R and concluded with E: "Do you have a lizard in your Rolls Royce or are you just pleased to see me?" 
Cinco de Mayo is noted by Bob Dylan's 'Isis' (I married Isis on the 5th day of May…). We've heard this on a previous SHQ and it is perfect for the day. Another repeat I'm glad to hear is 'N.Y. Doll' followed by the "reliably snappy" ``Queen of Eyes,' which always is wonderful with Emma's vocal backing. 
Emma tells us she's heard the song before meeting RH and thought he was a really "Zen guy. I like it when you pretend to be philosophical." And we end with 'Be Still' from Love From London. Perry gives us a wave goodbye with his pincers! 
--Adrienne Meddock, O, Mighty Isis, lift me now with wings that fly 
5-12-2021 
Hello fellow Groovers and soon to be Groovers! Tonight's show opened with a birthday request,'I Got the Hots for You' (Soft Boys), one reaching back so far that Robyn stumbled on a lyric or two, making himself laugh. Still sounded great and we are all allowing each other a little room for pandemic brain. 
Kitty Ringo entered with Emma -- there'd been some rustling in the background -- and the Groovers in the comments feared that Ringy had been wrapped in the window treatments again. Emma assured us all was fine. Next up, 'Creeped Out' from Spooked. 
"Out come the NIxons," explained Reg, wiping down his sweaty brow. He assured us he'll do the same when we see him in person somewhere down the line. 
He played for us "country-style" 'Uncorrected Personality Traits,' solo accompanied by chugging guitar. It was pretty cool considering how the glorious harmonies by the Egyptians or Emma are such hallmarks of the song. "Imagine hearing Johnny Cash singing Lou Reed," he tells us. 
The appropriate Mothers' Day request was made by Orrin--'Insect Mother.' RH beautifully accompanies himself, picking the notes.  
Max's request was "truly dismal," and RH asked Emma to "put a little icing on the tombstone." 'Wax Doll' from Queen Elvis was lyrically beautiful and the song's structure nearly suite-like, so give me this dismalia any day. 
Robyn defined the Home Counties as those close to London: bourgie, suburban, supposed to be safe. Emma explains she will be beaming Wednesday's show to us from her homeland. I have jotted down "Garfield manifested in fat Ringo kitty." I hope I was not slagging off Ringy but this was actually part of the banter. 
RH and Em perform 'Oh, Yoko," as a beautiful duet. RH reminisces about seeing Yoko and Sean performing together. Steve and I saw Sean not so long ago in The Claypool Lennon Delirium (read the review Sean hated at tinyurl.com/zubdelirium) and wish Yoko could have sat in on a tune or two then. 
Emma and Reg banter, noting that they "married each other for our private hells. Try to figure out what our private hells are from Twitter and chat to make our lives a little better." Emma decided that Ringo needed to be "exiled" to another room, leaving RH to sigh, "a judiciary after my own heart." 
Emma returns and the two perform a little faster and more upbeat 'Mad Shelley's Letterbox." The harmonies are stellar as per usual and we even got a "free mistake" as Robyn points out of the stray high note stuck somewhere. 
Ross requested Emma's 'No Happy Endings,' and it is lovely. 
There are a few glitches tonight as the wifi has been in heavy use making arrangements for Emma's upcoming Australian tour. 
Ruth's request 'Alright, Yeah' solicits Robyn regretting having never been on The Muppet Show. He believes some of his own movements would support the muppets' performing style. I can see that. It's time to play the music. 
To celebrate his birthday, we get Donovan's 'Mellow Yellow,' with a nice spoken word breakdown from Reg remarking on D's 75th birthday. It's this sort of gem the muppets missed out on. 
Emma and the "Earl of Tubbance" return for 'One Long Pair of Eyes,' and the discussion following has Emma cautioning Reg "leave the facts to me, guv. I'll do the administrivia." Robyn notes that SHQ is fueled by "chaos and cheese," which really ought to be the Tiny Ghost slogan. 
The show ended with 'Ride,' and I'm off amid the chaos to find some cheese! 
--Adrienne Meddock, quoter of two 70's TV shows  
5-19-21 A Bob Dylan Celebration 
In honor of the man's 80th, RH has a Dylan-focused show for us. We set the SHQ machine for 1965, and we get a downright peppy 'If You Gotta Go, Go Now (Or Else You Gotta Stay All NIght)' to set the tone for a joyous occasion. Next up, RH channels in turn his inner Lennon as well as Bob. Quite nice: 'I Threw It All Away.' 
On May 5 we got 'Isis,' with its mention of the date and it is back this week. For a Bob song I didn't know before, it is now a favorite. Emma, still in Australia, is lending sound advice on the sound in the comments and actually fixes an issue from afar. Go Em! Competence is on display as Marcus is updating the Robyn Base/AskingTree in real time. Andy Washington is a yeoman substitute sound reinforcement at the SHQ locus in quo.
Tubby, a Bob fan, wanders in, and does not brook with being picked up by RH. Robyn comments, "sometimes I think that's my attitude to show business, the whole hundreds of years I've been in it." I find that people's personalities are either cat-like or dog-like (I am sure this is a commonly observed notion). RH: cat-like persona confirmed, as if we did not already know that.
'Not Dark Yet' followed by 'Lo and Behold!' from the Basement Tapes. Robyn is really making a meal of this song. I noted RH was having "fun with Bob having fun." 
The cat removal device--the harmonica--comes out, and we know the cats may freak and remove themselves from Studio C. (My own old feline gal, possibly a little deaf as well as ignoring any discussions I try to initiate, is looking concerned at the sound, but quickly settles in). 
After the harp break in 'She Belongs to Me' RH asks Andy "is he alright?" Can't have the Earl of Tubbence in distress. All is well, but my younger cat enters and is looking all around the room looking for the distressed creature crying out. We have a 50% disapproval rating for harp Chez Nous. 
'If Not for You' is played by request for Clark's 30th anniversary, very nice rendition and sentiment. 
Back to the Basement Tapes for a Rick Danko tune. 'This Wheel's On Fire' as the AbFab theme was always nails on a chalkboard to me (sorry fellow Adrian, Edmonson). Robyn savors the lyrics and doesn't overemphasize the chorus. I never thought I'd dig the song, but RH is a convincer. 
Andy reports the cats have settled in to sleep next to him, so they have conquered their harp fears for the moment. Next up is a song Robyn and Em have worked up, and he promises it will sound fantastic solo: 'Sweetheart Like You.' The Groovers in the StageIt chat tell Emma "we can hear you singing along in our minds!' Me too! 
Robyn is really flexing his range on these songs. Sounds great, but might be a bit warm in Studio C. "Wipe away those Nixons, HItchcock!" he admonishes himself. 
RH risks a little mouth harp for 'It Takes a Lot to Laugh, It Takes a Train to Cry.' Gotta have harp for a train song. Andy reports afterwards that the Folds slept through the harmonica outbreak. Good kitties. Maybe a little separation ache for the travelling Emma is keeping them close. 
'The Ballad of Frankie Lee and Judas Priest' follows. The whole show has been stellar--not many individual observations by me. RH pays homage to a hero while making these songs his own. It's a nice trick! 
Before playing the last song, RH commented "so many pilots in the cockpit, better than the other way round." Can't argue with that. I think it was remarking on the multi-part production for this SHQ.  
The final song was 'Bob Dylan's Dream,' based upon a Martin Carthy song. He and Bob played folk spots in the UK together in the 60s. (Influential on contemporary folkies, Carthy's arrangement of 'Scarborough Fair' was pinched by Simon and Garfunkel). Emma spoke to us live from her true quarantine home--a hotel in Sydney. After some technical wrangling, we got a pre-recorded version of 'Visions of Johanna" from the Crypt in London. It's a very nice space with fancy mics that the Groovers are oohing over in the comments. 
Happy Birthday Bob! 
--Adrienne Meddock, Just Like A Woman 
5-26-21 SHQ Live on Tape! RH Songs by Request Recorded at The Crypt, London 
Robyn welcomes us and tells us there was a serpent at the beginning of it all, the primordial snake. That snake? 'Serpent at the Gates of Wisdom.' Big reverb on the vocals, and the sound is great. Plus we're getting actual multi-camera work. This is big time! The fragility of the softer vocals comes through very well. 
RH is in the StageIt comments with us Groovers since this is pre-recorded and his hands are free! He's watching at home with Tubs. He asks "is the snake a souped-up cinema attendant, guarding the gates?" Snake eggs lead to frog eggs…. 
'Globe of Frogs' is next. Robyn invokes Mrs. Watson, his primary teacher at Coleridge School up the road. He's not sure if it was her he was singing to. 
'Lizard Song' continues the scaly creature triptych. Robyn tells us "I wrote that and the 70s were safely at an end." Now we know who to thank. 
Emma appeared, and a discussion of their slightly-less mad old lady haircuts are the topic. This leads to a discussion of The Sundays' Harriet Wheeler's fabulous hair. Robyn tells us he wrote the next song on a train from Boston to New York. Emma joins him on 'Agony of Pleasure.' Robyn's high range is solid tonight and I get a definite Amtrak vibe. 
Next is 'Ole! Tarantula,' which Robyn tells us "is a metaphor, duh." Robyn brags to Emma "I did a Dave Rawlings then." Em: "what and play guitar as well?!?" 
The menagerie theme continues with 'Birdshead' and 'The Leopard,' which was written in North London. Robyn tells us it is hard to sing with volume or projection. Sounds fine, Guv. 
'Bass' is next, yay! What a fun song, with the sonorous low "bass" chorus, the fish/vocal range pun is in its highest and best iteration. 
In leading into 'Madonna of the Wasps,' they discuss Neko Case covering the song. They riff a bit and we end up with Emma's suggestion of a Tiny Ghost Records project, Dylan Sings Madonna. The Groovers are behind you! Make mine blue marbled vinyl! 
--Adrienne Meddock, Awaiting 'Tangled Up in True Blue'