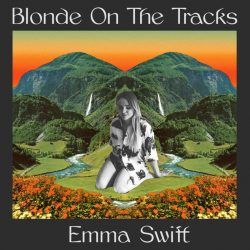 There's something about great art that makes you think and re-evaluate your positions. When listening to Emma Swift's new all Bob Dylan covers record, Blonde On The Tracks (which is as fine a record as I've heard this year, but more on that later), I went to my default position on Bob Dylan. That position is that I've never been a big fan of Dylan and he never really meant much to me, the old punk rocker. 
But as I thought about Dylan, I did start to realize he has made a big difference in my musical life. I've never owned many Dylan records, I do have Blonde On Blonde and a Greatest Hits, I believe. I'm pretty familiar with Highway 61 Revisited, Planet Waves, and some of The Basement Tapes. One of the first songs The Beef People learned was 'Subterranean Homesick Blues,' which we chose literally because we could rev it up and it was, like most of our early songs, mostly two chords. 
I'm no Dylanologist, but from reading lots of rock books, (none specifically about Dylan) know his earlier story better than I thought. The young folkie from Minnesota that worshipped Woody Guthrie, spent time in New York City in the early 1960's with Ramblin' Jack Eliott and Dave Van Ronk (think the Coen Brothers movie Inside Llewyn Davis), and became a king of the Greenwich Village folk scene. Dylan's songwriting became less introspective and more political and he quickly became 'the voice of his generation.' 
Watching the Pennebaker Dylan documentary Don't Look Back ("Who threw the glass?"), shot during a 1965 tour of Britain, brings this all home. Rail-thin, leather jacket, shades, skinny black jeans, and jewfro, Dylan is quite possibly the coolest guy that ever walked the planet. In the ultimate scene for me, backstage hanging out, Donovan Leitch plays 'To Sing For You,' then Dylan grabs the guitar and kills 'It's All Over Now, Baby Blue.' The look on poor Donovan's face is priceless, an apostle awestruck in front of the messiah. 
In 1965, Dylan 'goes electric,' a folk apostate renouncing the faith in the mother church, playing very loudly with his band at the 1966 Newport Folk Festival. He is continually changing, evolving, and deceptive about his intentions. He is the master of creating his own mythical image. 
When I think about Dylan's influence, he is sort of the Old Testament of rock, a huge figure to later prophet John Lennon and The Beatles ('You've Got To Hide Your Love Away'). Pretty much giving The Byrds a career ('Mr. Tambourine Man'), and inventing The Band, a group beloved by all the pub rockers and pre-punk people I love (think Elvis Costello and Nick Lowe). Dylan's influence runs far and wide, from Johnny Cash to Joni Mitchell to Neil Young to Townes Van Zandt, and even to Lou Reed, The Velvets, PJ Harvey, Hendrix, XTC, and The Specials. There is very little music he hasn't influenced. 
Some of the best Dylan songs have been performed and interpreted by other artists (The Byrds brought him a new audience with their 'folk-rock' version of 'Mr. Tambourine Man' and Jimi Hendrix with his mind-blowing psychedelic rock take on 'All Along The Watchtower' come to mind), and in that spirit of remake/remodel we can finally talk about Emma Swift and Blonde On The Tracks. She is a spectacular singer from Australia with a beautiful voice, and she definitely knows her Dylan. She recorded this record during a period of writer's block and depression, looking to Dylan's canon for solace, enlightenment, and redemption.  
The LP starts with 'Queen Jane Approximately' from 1965's Highway 61 Revisited, a not so obscure tale of a woman headed for a fall. The production is bouncy, full of 12-string Rickenbacker guitar, and with Emma providing a very Linda Ronstadt (tinyurl.com/zublinda) type vocal, reminiscent of 'Different Drum.' Next up is 'I Contain Multitudes' from Dylan's new LP Rough And Rowdy Ways. This song is a bit of an elegiac retrospective, this take is very stripped down, Emma's beautiful voice restrained and completely in control. Of all the Dylan cover choices, this is unexpected and very welcome. 
The flipside of the single 'Queen Jane Approximately' from Blonde On Blonde is 'Sooner Or Later (One Of Us Must Know)', a song about lost love. The production (from Wilco's Pat Sansone) is impeccable, using some great pedal steel. Somehow this reminds me of a great Dusty Springfield track. 1975's Blood On The Tracks is represented by 'Simple Twist Of Fate,' an autobiographical song about the dissolution of Dylan's marriage. Emma's take is sparse and again has that Laurel Canyon (Joni Mitchell, Judee Sill) singer-songwriter feel. It's a very moving and sad song. 
Emma goes back to Blonde On Blonde for the full, almost 12-minute 'Sad Eyed Lady Of The Lowlands,' written for Sarah Dylan (the wife who was broken up with in Blood On The Tracks). 
With your mercury mouth in the missionary times 
And your eyes like smoke and your prayers like rhymes 
And your silver cross, and your voice like chimes 
Oh, who do they think could bury you? 
With your pockets well protected at last 
And your streetcar visions which you place on the grass 
And your flesh like silk, and your face like glass 
Who could they get to carry you? 
Sad-eyed lady of the lowlands 
Where the sad-eyed prophet says that no man comes 
My warehouse eyes, my Arabian drums 
Should I put them by your gate 
Or, sad-eyed lady, should I wait? 
I admire Emma for tackling this one. It is the sign of a true Dylan fan. She sings superbly, but eleven plus minutes is a bit too much for me. This is quickly made up by 'The Man In Me' from 1970's New Morning. Most remember this song from the movie The Big Lebowski. Emma takes on this one as a straight, poppy tune. It almost sounds like The Band are backing her up. 
'Going Going Gone' is from Planet Waves and I remember Richard Hell and the Voidoids covering this on Destiny Street. Emma sings this one with complete authority, again reminding me a bit of Linda Ronstadt. The LP ends with 'You're A Big Girl Now,' from Blood On The Tracks, Emma sounding very soulful and sad as befitting the song's breakup theme. 
Emma Swift is a singular, vital voice. Blonde On The Tracks is an excellent record. It made me reevaluate Dylan and all things Dylan. Dylan is in great hands with Emma. I must also mention you can get the LP through Emma's label, Tiny Ghost Records, via Bandcamp at https://emmaswift.bandcamp.com/ The customer service is exceptional and you get a neat personalized letter with every order. Running my own little record label, these folks are an inspiration. I can only hope we'll be hearing more from Emma soon! 
-----Steve McGowan
Thanks for dropping by. This blog is part of zubrecords.com, an indie label run by people who make and love music! Check out Alert for blogs on music, films, books, and more! Our podcast, Singles Going Steady, is on all major podcatchers and at tinyurl.com/SGSPodcast Lots of cool things to read and listen to at zubrecords.com