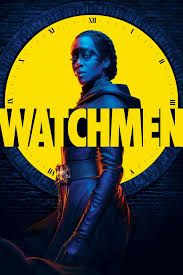 My first pandemic series binge. I'd like to say a little bit about the 9-episode series of Watchmen on HBO. First of all, I know this is a very beloved comic from the DC comics world. I personally am not a comic book guy, and I don't know hardly anything about the Watchmen universe. I haven't read the comics and I haven't seen the recent movie. So, comic book geeks, please go easy on me here. 
I have read that Watchmen has been a bit of a white whale project; many have tried to adapt this series and have been unsuccessful in the past. HBO put its money behind Watchmen by hiring Damon Lindelof, who was a producer on TV's Lost and the HBO series The Leftovers.  He has not stuck to a straight interpretation of the comic series, but calls his Watchmen a 'remix' of sorts. 
So, I'm going to try not to give you too many spoilers. The first thing I love about Watchmen is the acting. Regina King, as Sister Night/Angela Abar, is the central character, and she is top-notch, along with Don Johnson (!), Tim Blake-Nelson, the amazing Jean Smart (who also features in our Legion appreciation tinyurl.com/zublegion), and, wait for it...Jeremy Irons! 
There are some important truths in Watchmen.Though set in 2019, It begins with the 1921 Black Wall Street Massacre in Tulsa, Oklahoma. This is one of many racial atrocities that are not discussed in our history books. The racial component of the show is right up front. The President is Robert Redford and people of color are getting reparations, or, as they call it, 'Redfordations.' In Tulsa, there is an organized good old white supremacist group called the Seventh Kavalry, who are so violent that the police in Tulsa must wear masks and not reveal what they do or where they live.  
In essence, it's a war between two vigilante groups. The police chief is killed and Angela learns some horrible secrets about him. This is where Jean Smart comes in as the FBI investigator. She is a total badass. Other characters appear, Tim Blake-Nelson's Lookingglass, Dr. Manhattan, and, in a castle on one of the moons of Jupiter, is Jeremy Irons as Adrian Veldt. 
The show is one of those that is astounding to look at, there is a lot of time stretching and character development, and it is a pretty exciting ride. It's not afraid to tackle very heavy concepts like institutional racism, and governments using fear to control the people (wait until you see the squid!) 
Then again, it's also a comic book, and there are some giant holes in the plot that aren't addressed.  
One of the bonuses of the show is the music. The in-show backing is done by Trent Reznor and Atticus Ross, and it does have a cool Nine Inch Nails feel that works well in this context. Also, I can appreciate a show where a whole episode is called 'She Was Killed By Space Junk' in which Jean Smart's character unwinds by listening to Devo. 
I enjoyed Watchmen. If you take it for what it is, it's an enjoyable ride. If you really think about it, it doesn't make a lot of sense. It took me out of my comfort zone and I liked it. 
---Steve McGowan   
Thanks for dropping by. This blog is part of zubrecords.com, an indie label run by people who make and love music! Check out Alert for blogs on music, films, books, and more! Our podcast, Singles Going Steady, is on all major podcatchers and at tinyurl.com/SGSPodcast Lots of cool things to read and listen to at zubrecords.com