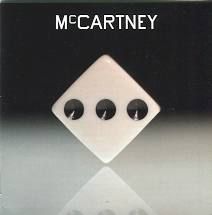 50 years after McCartney and 40 years after McCartney II, Paul found himself in lockdown and decided to make this record "for fun," playing all the instruments himself. This true "solo" recording follows the pattern of those previous records and the results are indeed good. Let's look at the tracks. 
'Long Tailed Winter Bird' starts with acoustic guitar alone, then builds up, adding bass, then crunchy guitars, and Paul's voice layered like a chorus. In come the drums and keyboards. It's a bit of a show-off piece, but Paul can loop and add instruments with the best. "Find My Way' is a bit of classic McCartney pop, using a strong falsetto and an active drum beat, along with bass-heavy moogy horns. Paul sounds like he's having a great time. 
'Pretty Boys' begins all acoustic, but then electric guitar comes in and then the rhythm section. It's irresistibly catchy, Paul's voice showing his maturity. 'Women And Wives' has Paul adopting his 'Get Back' voice attached to a piano based ballad. It's sad and touching. 'Lavatory Lil' sounds like an Abbey Road track, with a cool descending chord pattern. The lyrics are not completely PC, but it's Sir Paul, so he means no harm. This is one of the better songs, with some great guitar work. 
'Deep Deep Feeling' is a raw and honest track: 
You know that deep, deep feeling 
When you love someone so much 
You feel your heart's gonna burst 
The feeling goes from best to worst 
You feel your heart is gonna burst 
Here in my heart 
I feel a deep devotion 
It almost hurts 
It's such a deep emotion 
Now every time it rains 
It sometimes gets too much 
You know I feel the pain 
When I feel your loving touch 
It's good to hear Paul let loose with some vulnerability. Also, this one clocks in at over eight minutes long, quite an epic with a false ending. 
'Slidin'' is a heavy rocker, guitars augmented with keys. Paul hasn't forgotten his rock roots, and this one is in the 'Let Me Roll It' Mode. It's pretty impressive from start to finish. 'The Kiss Of Venus' harkens back to RAM-era McCartney, a fine acoustic number that sounds like Paul is down on the farm: it's stripped down and beautiful. 'Seize The Day' is great pop, led by Fender Rhodes piano. Paul sounds very youthful in his vocal delivery; it's another one of the better tunes on McCartney III. 
'Deep Down' is a slice of stately pop, with horns and keyboard bass. It's forward looking McCartney, with hints of Radiohead in the mix. LP closer 'Winter Bird/When Winter Comes' has Paul describing his farming chores in a great acoustic melody. His voice is still amazing. This one sounds like it's from 1970's McCartney.  A fantastic way to end the LP. 
Paul McCartney is 78 years old. He's released at least fifteen solo records. Oh, and he was a Beatle. He has nothing to prove to anyone, but this lion-in-winter phase suits him well. McCartney III covers a lot of familiar ground, but still somehow manages to see a way forward. It's truly extraordinary. 
----Steve McGowan
Thanks for dropping by. This blog is part of zubrecords.com, an indie label run by people who make and love music! Check out Alert for blogs on music, films, books, and more! Our podcast, Singles Going Steady, is on all major podcatchers and at tinyurl.com/SGSPodcast Lots of cool things to read and listen to at zubrecords.com