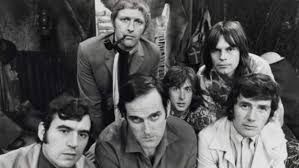 ---
Monty Python's Flying Circus is in my DNA.  The British comedy troupe that performed four seasons of their anarchic, silly television comedy show started in Britain in 1970. By 1974, my very young self was watching these shows presented in the Boston area by WGBH. By 1977, having moved to South Carolina, I watched on SCETV. I almost never missed an episode. 
This documentary, available on Netflix, is a six part series produced by Castle Rock entertainment in 2009. I watched it at least once previously, but I seem to have forgotten most of it. As with many things, the catalyst for rewatching the show came from the one and only Neko Case. Neko, a solo artist and singer for Canadian supergroup The New Pornographers (tinyurl.com/zubpornos and tinyurl.com/zubpornoslive) has one of the best voices in rock, and her Twitter and Instagram accounts are thought provoking and intelligent. She is a champion for animals and there are lots of pictures of her pets, and nature where she lives. 
I was struck by a tweet Neko sent out recently: 

So, intrigued, I decided to rewatch the documentary, and Neko is right. Of the dozens of interviews, there are only three subjects are female; Carol Cleveland (who was in the troupe), Nancy Lewis (their American manager), and Olivia Harrison, standing in for the late George. Dozens and dozens of male comics and performers are interviewed, but there's no Tracy Ullman, no Tina Fey, no French and Saunders, no Amy Pohler. This is funny because on thinking about Monty Python, I never had any male friends that were really into the show. I do know many female friends who are totally into their comedy and can recite lines with the best of them. 
The first episode covers the formation of the troupe. These lads were Oxford and Cambridge types, John Cleese heading for a law career, Graham Chapman, an actual medical doctor. Teaming up with Eric Idle, Michael Palin, and Terry Jones, the group picked up American illustrator Terry Gilliam. The five British members all had worked as writers, honing their style on shows such as The Frost Report and Do Not Adjust Your Set (with Gilliam's animation and Neil Innes' Bonzo Dog Band). The interviews with the Pythons are always interesting and fruitful. Cleese is very smart but a bit of a blowhard, Terry Jones is passionate and uncompromising, Eric Idle is seen as sort of the manager, while Palin and Chapman are top-notch writers. When they pitch the show to the BBC, they are told, "Okay, but just twelve episodes." 
Episode two covers the years of the television show, how the group struggled with finding an audience and getting a regular time-slot on the BBC. The Pythons, although silly and crazy, were very strong on writing - the wild skits were carefully written.* Slowly and steadily, the show picks up a fanatical audience. The interviews include Steve Coogan, Russell Brand, Phil Juptius, and Alexi Sayle. They are all in awe of the show. 
Part three deals with the interpersonal relationships of the troupe. Cleese is considered the star but is a bit of a diva. Chapman struggling with alcoholism, comes out as gay (Chapman died in 1989, they use old interviews and memories from his partner). Even as Michael Palin is becoming the 'glue' of the group, Cleese leaves the show in the fourth season, the TV series is quickly over. 
Episode four deals with the Python's pivot to movies, focusing on Monty Python And The Holy Grail, a production done on the cheap but hampered by both Gilliam and Jones directing at the same time. This causes many issues, Carol Cleveland calling both of them "Loonys."  Graham Chapman emerges as a fine leading man, even when he can't get on the rope bridge because of severe DT's from drinking. The movie turns out to be a triumph, especially in America. As episode four ends, Eric Idle sets up the next installment; in the 70s when asked what their next movie would be, he'd answer: "Jesus Christ: Lust For Glory." 
Episode five deals with The Life Of Brian movie, the troupe taking a very long time to draft a script. Also, because of the religious themes, no one would touch the film's financing. Enter George Harrison, friend of Idle and huge Python fan. He mortgaged his mansion at Tittehurst Park to come up with the movie financing "because he wanted to see it." The shooting and  production of the movie are much smoother this time around, but the troupe was not prepared for the right-wing religious backlash. Jesse Helms tried to have the film banned in North Carolina. (Adrienne: my family and I crossed a PTL picket line to see the film in Charlotte). As usual, though, even bad press is good promotion, and the movie is a triumph.   
Part six deals with The Meaning Of Life movie, which some members felt was a step backward, as it was basically a collection of skits, and the troupe talks about Graham Chapman's death from cancer. The Pythons give him a raucous sendoff at his memorial. The rest of the episode deals with post-Python careers; Cleese doing Fawlty Towers, Palin travel documentaries and Ripping Yarns with Terry Jones, Eric Idle and Spamalot, and Terry Gilliam becoming a big-shot movie director. 
This is a wonderful, if anthro-centric, documentary. Since its making, a second Python, Terry Jones, has passed. The documentary covers well over 40 years of Python. In their own way, they were like a favorite band. Always challenging, inventive, entertaining. They definitely changed the face of comedy as we know it now, not just a few leading male comics. Thanks to Neko for the tip: Python belongs to everyone with the right amount of warp to their sense of humor. 
 *Adrienne: Incidentally, it is these well crafted and maintained scripts that are the real key to their win in Gilliam v. American Broadcasting Co., an important American copyright case. It was ABC's butchering of Python episodes for US broadcast specials that was in essence copyright infringement of the scripts that they were based on. That gave the boys the right to prevent ABC from further airing the nonsensical compilations. 538 F.2d 14 (2d. Cir. 1976). 
-----Steve McGowan 
Thanks for dropping by. This blog is part of zubrecords.com, an indie label run by people who make and love music! Check out Alert for blogs on music, films, books, and more! Our podcast, Singles Going Steady, is on all major podcatchers and at tinyurl.com/SGSPodcast Lots of cool things to read and listen to at zubrecords.com