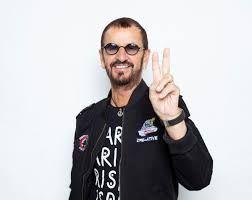 It's fashionable to slag Ringo, and I've done it myself (see our Posies podcast at tinyurl.com/zubposies). Heck, the Beatles' fable machinery even does it in A Hard Day's Night. That's part of the group's public persona. Let's face it, Ringo was an integral and important part of the Beatles. They would not have been the Beatles without him. There's no argument that he is one of the greatest drummers that ever played, and you can't really say that about the other Beatles and their musical (not songwriting) ability, except for Paul McCartney. Essentially the Beatles had the world's best rock rhythm section. 
Ringo is also a survivor. He spent a good two decades after the Beatles' breakup as a blackout drunk. I know people who worked with him during this period and let's just say he wasn't a nice guy. But he straightened himself up, formed his All-Starr Band, and is spreading his own version of peace and love all over. He's now a beloved figure to just about everyone.  
The intro of this show was Ringo in quarantine, behind his drum kit. He looks fantastic and nowhere near eighty years old. The nice thing about this show was that, as he said, it was "a charity gig," proceeds going to the David Lynch Foundation, MusicCares, WaterAid, and Black Lives Matter.  The first song was Ringo and the All-Starr band, live pre-pandemic, doing 'It Don't Come Easy,' which is just a great song.  
Next, percussionist Sheila E. joined in on  'Come Together,' with Ringo playing drums from his remote location. Ringo just killed it on the drums, bashing away and doing it right; Sheila was fantastic. The song ended by adding in bits of 'Revolution' and 'All You Need Is Love.' Then there was a clip of the David Lynch Foundation and Transcendental Meditation, which Ringo learned in India with the Maharishi. 
Sheryl Crow did an astounding version of 'All You Need Is Love,' with multiple screens showing her singing, playing ukulele, drums, piano, accordion, bass, electric guitar and cello(!). So talented! Next there was a clip for WaterAid, an organization that brings clean water to impoverished communities. 
Then, Joe Walsh showed up in person at Ringo's quarantine site. Another famous survivor, he was wearing shades and just seemed like a big goofy kid. They showed a clip of Joe doing a green-screen performance of 'Boys' that was pretty Nu-Wave and wacky. Ringo introduced a clip from the Beatles documentary 8 Days A Week, the segment where the Fabs refused to play to a segregated audience in Jacksonville, FL, and successfully had the venue integrated for their show. Kind of mind-blowing to think of four pasty boys from Liverpool taking that stance in the time and place. (Read more here.) Then they ran the Black Lives Matter clip, and Ringo talked about his love of black music, especially Little Richard, Ray Charles, and going to see Sister Rosetta Tharpe at the Cavern club. 
Ben Harper, with Dave Grohl on drums, did 'I'm Down (But I'm Not Out)' on a cigar box guitar. Next up was a very professional video of Ringo's 'Give More Love' featuring many friends, including Peter Frampton, Jackson Browne, and Elvis Costello. Very well done. They showed the MusicCares clip, and then a pre-pandemic live performance of Gary Clark Jr. doing 'Come Together.' This was a heavy, strident version on which sharpshooter Clark surprisingly eschewed a real solo. 
The last two songs started with the All-Starr Band pre-pandemic performance of ' With A Little Help From My Friends,' Ringo singing just as you remembered. Finally, Paul McCartney, whose appearance was promised in a teaser, showed, but was not as exciting as advertised. They showed an older clip of the McCartney Band doing 'Helter Skelter' with Ringo on drums, Ringo beat the hell out of his kit and Paul was Paul, it was wonderful but not a new collaboration that many were hoping for. 
In the end, Ringo did it right. He continues to bring a positive message, a workmanlike presence to-great music, and a great charitable spirit. Did you know he was in the Beatles? 
Happy birthday, Richard Starkey! 
---Steve McGowan
Thanks for dropping by. This blog is part of zubrecords.com, an indie label run by people who make and love music! Check out Alert for blogs on music, films, books, and more! Our podcast, Singles Going Steady, is on all major podcatchers and at tinyurl.com/SGSPodcast Lots of cool things to read and listen to at zubrecords.com