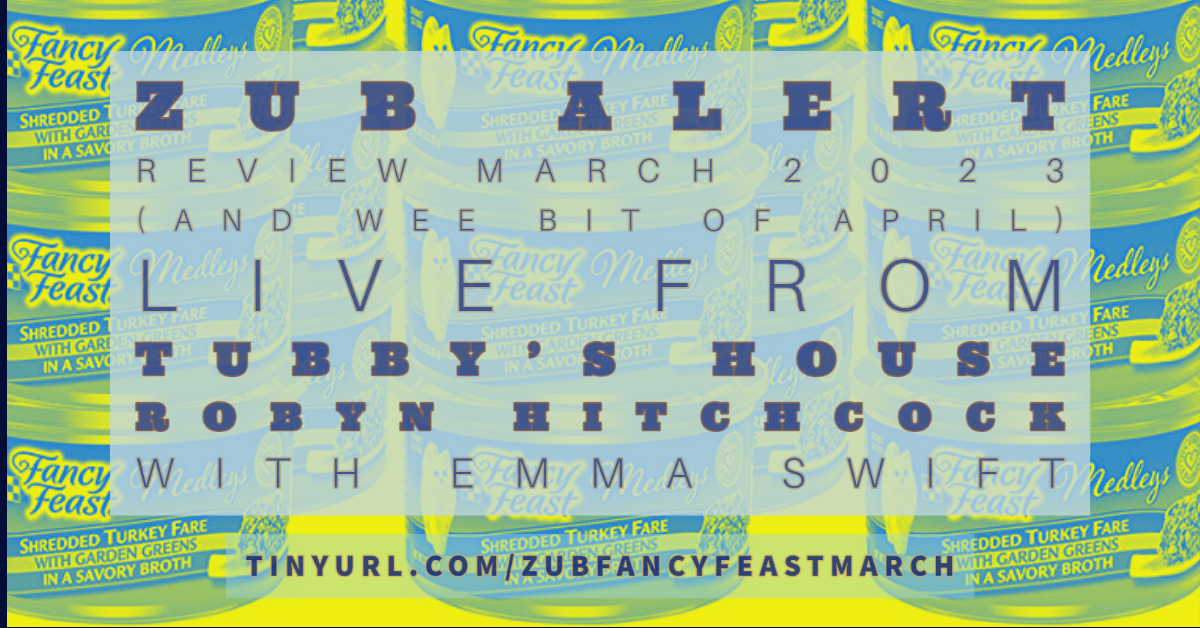 Robyn Hitchcock Live Stream From Tubby's House March and April 2023 
Robyn's been on tour in Spain through much of April AND our beloved Mandolin streaming service has decided to be an ex-service. If you are going into the Live From Tubby's House DTs, let this recap of March with a wee April chaser console your heart.
03/08/23  Robyn was not wearing a polka dot shirt  tonight, and started with 'I Love The Idea Of You ' from Love From London (Commentary Version) straight into the odd/wonderful 'Trilobite.' Having just turned seventy, Reg Played 'Over The Waterfall,' Emma Swift then joined, looking radiant as always, and the duo did 'The Yip Song,' bouncy and very fun. For someone's birthday, Robyn played a fantastic version of 'Egyptian Cream.' 
Saying "I never play this acoustically." Reg played a chimey version of 'Acid Bird,'' while Ringo, one of their two Scottish Folds, jumped up next to him.  Emma returned and grabbed the mercurial Ringo. The duo did a stellar version of 'Pale Blue Eyes' by Lou Reed. The duo had a long conversation about powdered food, Robyn's dad, and many other things. Exit Emma.
Robyn played the recent 'Sir Tommy Shovell' from Shufflemania! Switching to an open G tuning, He played a very pretty 'San Francisco Patrol' from The Man Upstairs. Next was a pensive version of 'Raymond Chandler Evening' from Element Of Light. Also by request: The Beatles' 'I Saw Her Standing There.' As RH played, Ringo chewed on the  plant behind him and Tubby sat on the stool next to him, framing him like cat parentheses.
Emma returned, stylishly sporting a polka dot RH bandana. The duo did Townes Van Zant's 'Pancho and Lefty,' Emma singing solo and absolutely killing it. Her voice is a marvel. The duo launched into The Beatles' 'Rain,' which was fantastic, followed by 'The Man Who Loves The Rain' from Shufflemania! A last birthday request was 'Ole Tarantula,' Reg ended the show by raga-ing out on an extended instrumental. Another great show covering almost every phase of Reg's career - from Fegmania! To  Shufflemania!, Beatles and Van Zant covers, Emma solo, Lou Reed, and Raga with plenty of Scottish Fold activity!
03/20/23 This was a special Monday at an undisclosed location in Portland, Oregon, as Robyn is on tour in the west coast right now. Resplendent in a floral pattern shirt, he opened with a wistful 'September Cones,' from You and Oblivion. Next was a bouncy version of 'Flesh Cartoons' from Eye. Then he was on to a request for 'The Beauty Of Earl's Court.' again from Eye. A fresh faced Emma Smith appeared, and thanks were sent to the Fancy Feast Fund contributors, and they joked about cones. The duo stayed on Eye, singing a great version of 'Cynthia Mask.' They discussed touring and the ravaging of Robyn's voice, then did a poppy version of 'So You Think You're In Love' from Perspex island, then a plaintive, Lennon-ish 'She Doesn't Exist Anymore' from the same record. 
RH then played Groover favorite 'The Cheese Alarm' from Jewels For Sophia, charming and funny. Reg rhapsodized about how much he loves cheese, then played 'I'm Only You,' a beautiful song from Gotta Let This Hen Out! Em appeared for more Fancy Feast thanks, and then the duo sang a lovely version of 'Ride,' also from Perspex Island. The two talked of God, rabbits, and cones and eventually played '52 Stations,' from Groovy Decay. This version had a dark, Lou Reed feel. Em left the screen and Reg played 'Globe of Frogs' from the same LP, with a strong melody. Next up was 'Be Still' from Love From London, which Reg called his "George Harrison song." Reg then played a wonderful "Airscape," from Element of Light, all beautiful fingerpicking and melody. 
Reg ran off to pee, and Em held the show down until a refreshed Reg returned for a discussion of cats and female mortality. And the duo sang 'Birdshead' from You and Oblivion, which was delicate and beautiful. Em left and asked Robin to play one more song, which was 'Surfer Ghost' from Luminous Groove. Reg began his 'Raga' workout and the show was over, the west coast groovers were excited for Wednesday's San Francisco show. Another great show, heavy on Eye and Perspex Island, and lots of obscure tracks. Robyn is obviously in a tour groove, and this improved the stream tremendously.
03/27/23 Another surprise Monday show, which I caught on replay early Wednesday. Robyn had a cool floral blue/white shirt that had a bit of a dazzle ship pattern. Mentioning he was playing "from an undisclosed location in Minnesota," he opened up with a strong version of 'Jewels For Sophia,' which I have not heard in ages. Next up - The Kinks' 'Waterloo Sunset,' an amazing tune done properly. Reg knew this one inside and out, well served! Next was a dark sounding ' The Leopard,' from Element Of Light. 
Emma Swift appeared, looking lovely in a purple flowered dress. They thanked the Fancy Feast Fund contributors. Em talked about moving to California, and the duo sang 'The Wreck Of The Arthur Lee,' mid-paced and well done even after Em said she didn't know it very well. Em adjusted the camera angle and they sang ' A Man's Gotta Know His Limitations, Briggs,' from Ole Tarantula! This was straight up fantastic. The duo discussed Alaska Airlines losing their luggage from Portland to San Francisco. Emma left to deal with the Groover chat. Reg played 'City Of Shame,' from Black Snake Diamond Role, sinister and poppy at the same time. The next request  was 'Surgery' from Gotta Let This Hen Out!, very dark and one I never heard live before. Reg continued with 'I Got A Message For You' from Invisible Hitchcock. 
Emma returned and they played with "Lord Squeakington," their squeaky cone figure. More Fancy Feast thanks, and Reg played 'NY Doll' from Ole! Tarantula!, with Emma singing backup, it was sad and poignant and beautiful. Emma left the screen and Reg continued with a great version of Syd Barrett's 'Terrapin.' This led to a masterful version of 'Chinese Bones,' one of Robyn's very best songs. Then right into 'Shuffle Man' from Shufflemania!, frantic and fun. Em returned and the duo did 'If I Were A Priest' from Element Of Light, a bit tentative but with extra lyrics about a cone, Em and Reg singing great together. Em thanked the Groovers and declared the show over. Reg did get to Raga-out for a few minutes and then the show was really over. Tonight's stream was truly all over the map, from many of Reg's little heard tunes to his best, great Emma singing, 'NY Doll' and 'Chinese  Bones,' and a great Barrett cover, Another stellar show, another great month of streams!
Bonus mini-month!
Before hitting Spain, Tubby and Co. hosted a single show in April.
04/05/23 I think the feed started early! It began a bit disorganized, Robyn in his white-on-black polka shirt strumming a tentative tune, then walking off camera, talking to Emma, followed by Emma entering to check on the video feed, and Robyn returning, playing a lengthy intro, welcoming all to Tubby Towers Studio B, mentioning Easter and Passover, then playing a mid-tempo 'September Cones' from You & Oblivion, which had a strong 'Here Comes The Night' feel. Next a request for 'Noirer Than Noir' from Shufflemania!, definitely hitting some John Lennon buttons.
By request from Reg, Emma appeared, looking fine in a leopard smock. Thanks to the Fancy Feast Fund were given out. Eventually the duo sang "Creeped Out American Girl" from Spooked. This was direct and sounded like the anti-Tom Petty, who was mentioned at the end. Then the duo sang a great 'More Than This,' by Bryan Ferry. The high parts were fantastic. Squishy toy Mr. Squeaky the Cone was introduced while Nick Lowe, Elvis Costello, Willie Nelson, Bob Dylan and Bruce Springsteen were discussed. After much convo, the duo played 'One Long Pair Of Eyes,' from Queen Elvis, one of his best songs, sung perfectly by Em and Reg. Emma left for the laptop and the chat room. 
Reg started on Groover requests, with 'The Abyss' from Tromso, Kaptien. This led straight into 'Listening To The Higsons' from Gotta Let This Hen Out!, a catchy tune with the 'whoa-ohs' throughout. Right into "Ultra Unbelievable Love' from Perspex Island, done rockabilly style. Emma appeared with seltzer for Reg and more thanks for Groover contributors. After some discussion, the duo did 'Sometimes A Blonde' from Spooked, somewhat dark and Velvets-like and tantalizing. After a long convo, the duo did 'Nietzsche's Way' from A Star For Bram, one I had not heard live before. Emma announced that Reg is going to tour Spain, and there would be no more streams in April, they will resume in May. The duo played 'Virginia Woolf' from Robyn Hitchcock, one of my favorite Reg songs. For a final song, the Duo played a slower-than-usual version of 'Ride' from Perspex Island. 
This was an epic stream, almost two hours, featuring obscurities ('Nietzsche's Way',' The Abyss'), hits ('One Long Pair Of Eyes,' Virginia Woolf,' 'Higsons') Everything was put together, sounding great, and Emma always adding to the songs. It will be a long wait for the May streams!
—---------Steve McGowan