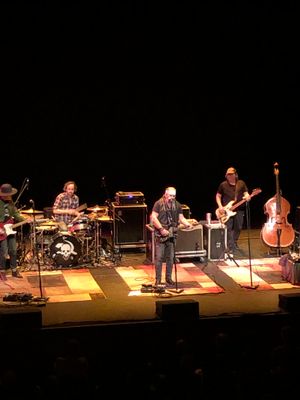 Steve Earle has an X factor that I can't explain, but that continually pulls me to him. It first caught me in the early years of the last decade when, on faith, I went to see him and an earlier version of The Dukes* at my beloved local venue, the Carolina Theatre of Durham. I previously had a bare awareness of him from his 80's days as part of the new Nashville singer-songwriter corps, that included artists like Rodney Crowell and Dwight Yoakam. Earle's image of swagger and hard living didn't draw me in to learn more. I went to a redneck high school; I had more than my share of second-hand honky-tonking. But hearing a happenstance NPR review of Jerusalem, one of his post-jail, post-sober albums, led me to believe that perhaps he was someone worth seeing and hearing. So noticing Earle was in town, on a whim, I paid at the door and was unprepared for what I was in for. He opened with "I Feel Alright," and, from its stummed intro onward, I did and I was hooked. 
So let me lay a little groundwork of my fascination with Earle and his work and then discuss the show in support of his new album. 
Point one: Earle is a prolific, deft, and solid songwriter. He easily explores and interprets genres, like traditional music on The Mountain (both Celtic and bluegrass), country rock, Texas swing, folk, psychedelia, and even blends in the contemporary influences of sounds from his home for the last decade or so, New York City. It is Americana in the broadest sense in that he eagerly consumes and interprets from the broad spectrum of American music. He adapts, changes, learns, and tries on new musical garb, constantly a student of songwriting and on the hunt for new expressions. 
Point two: His indignation is righteous. He proudly comes from the hippie, anti-Vietnam war roots of the late 1960s and protest songs and proclamations of that time. Having grown up in a rural "hippie" community in the South myself, there exists a strong but rare strain of peace-loving, traditional music embracing folk, who still revere their regional roots. For Earle, those roots are Texan. 
Point three: in concert, Earle has some personal pheromone cloud that is a bit bewitching and floats into the audience. I am not sure how he exudes this life force, but to me it was palpable, entirely unexpected, and a bit unwelcome, truth be had (that's what TBH means, right, LOL). Feeling a bit funny, I thought to myself "oh, so THIS is why he has been married 20 times." Probably couldn't be helped by those involved. If you are reading this, odds are YOU'VE been married to Steve Earle, at least once. That's just statistics. I usually don't select my fandom based on Tiger Beat-like reactions, so I was a little irritated at the sensation, but it is part of the Earle legend and I must acknowledge the inexplicable Earle magnetism. Maybe it is the raw talent that mesmerizes, vibrates from him. 
Point four: Earle is a creative force in multiple disciplines. Songwriter. Multiple instrumentalist. Singer. Actor. I even read his magic realism novel, I'll Never Get Out Of This World Alive. Oozes creativity. 
So I have seen Earle maybe half a dozen times, perhaps more, and am an admirer. Let me tell you what was notable about this most recent show. This tour is in support of Guy, a tribute to one of his songwriting idols and mentors, Guy Clark, and a bookend to a Townes Van Zandt album released a decade earlier, honoring his other main mentor (I saw that tour too). 
First, the vocals were a bit buried. The fellow Earle acolyte with me remarked "is that him or the sound system's fault?" Fair point. There is no mistaking it seems he feels less charged, less forceful than pre- and during-Allison Moorer (the most recent ex) days. This last marital split was definitely a cruel cut (read this for more).  Was he holding back? Were the vocals buried in the mix? Despite muddy singing vocals, Earle was conversational, passionate about sharing stories of Guy and Susanna Clark, eager to reminisce about the early, pre-record deal days in Nashville, playing bass for Clark, rooming with David Olney, playing in songwriter's circles in unusual hangouts in town. 
So we heard a bunch about and by Guy Clark, as was to be expected. My fellow Earle acolyte remarked, "the problem is he writes songs that are so much better than his idols'." Having seen the "Townes" tour, that the inherent problem of these albums' conceit.  So there were plenty of Clark tunes in the set, the first 5 all were, and the last encore ended with Clark's "Old Friends." But the audience came alive nine songs in with a rapid succession of "I Feel Alright" (from his sober comeback album of the same name), "Guitar Town," and "Copperhead Road." Having these "hits" early in the set helped quell the crowd, nipping in the bud building restlessness below surface politeness. On the "Townes" tour, a vocal heckler called violently for "Copperhead Road," which was not placed high on the set list that night for his liking. Earle stopped, stared him down, tersely replying, "I know my job." 
So writing and playing these catchy, compelling, story-driven songs are the core of his job. He and The Dukes were dutifully on task that night, tightly presenting over 2 dozen songs, many his own. Setlist link  With so many great albums, you are doomed to miss some favorites, but I was happy that "Galway Girl," "Hardcore Troubadour," and "Billy and Bonnie" all were included. He sang a verse of "Galway" as "her eyes are black and her hair is blue," which I'd not caught at any prior show. 
The band members fluidly change instruments, especially The Mastersons' Eleanor Whitmore, who earned MVP status in turn on fiddle, keys, mandolin, and vocals AFTER having opened the show with her husband, who is lead guitarist (mainly) in The Dukes. Earle always has stellar support, and the versatile Dukes shone again. After 2 dozen songs, they returned for an encore that was remarkable in that Earle favorites did not feature. "Sweet Little '66" from 1987's Exit 0 did kick off the encore, but then he slid into Bruce Springsteen (!) with a bit of "Racing In the Street," and "Pink Cadillac," before ending with Clark's "Old Friends." 
So how does this show rate? Earle seems a little tired, a little sad, but determined to share with his audience matters of real importance to him. This was personal history, memoir. Neither Earle the Activist, nor Earle the Lover (and inevitably, the Spurned Lover) were in attendance.  With the recent release of John Walker Lindh, I was wondering if "John Walker's Blues" would appear in the set. With rumbling of new conflicts in the middle east I was wondering if any of the Iraq War protest songs might surface, or Bush-era rallying cries from "The Revolution Starts Now." He didn't even include the bouncy "Home to Houston," a first-person story song in which a private contractor truck driver in Iraq prays/bargains that he avoids RPGs and makes home in one piece. None did. 
But this album and tour are reflective, internal, not about politics, personal or otherwise. Here it seemed was Earle the Reminiscent, an aging man looking back on his first days in Nashville, remembering a young man aching to share songs and learn his craft. He has learned his job so well that his beloved masters have become eclipsed by the student. As with my first Earle show, I decided, day of, to attend, compelled, beckoned. I can't quit him, and he seems to feel the same way about us, his fans. It's his longest relationship and shows no signs of strain. 
--Adrienne Meddock, The Unrepentant Earle Acolyte
* Incidentally, this included Will Rigby, a frequent flyer in things Zub, featured in the upcoming dB's pod, the Kimberley Rew pod, SGS 33 tinyurl.com/zubhairdo (drummer) and reviewed as a member of the Peter Holsapple Combo tinyurl.com/zubphc