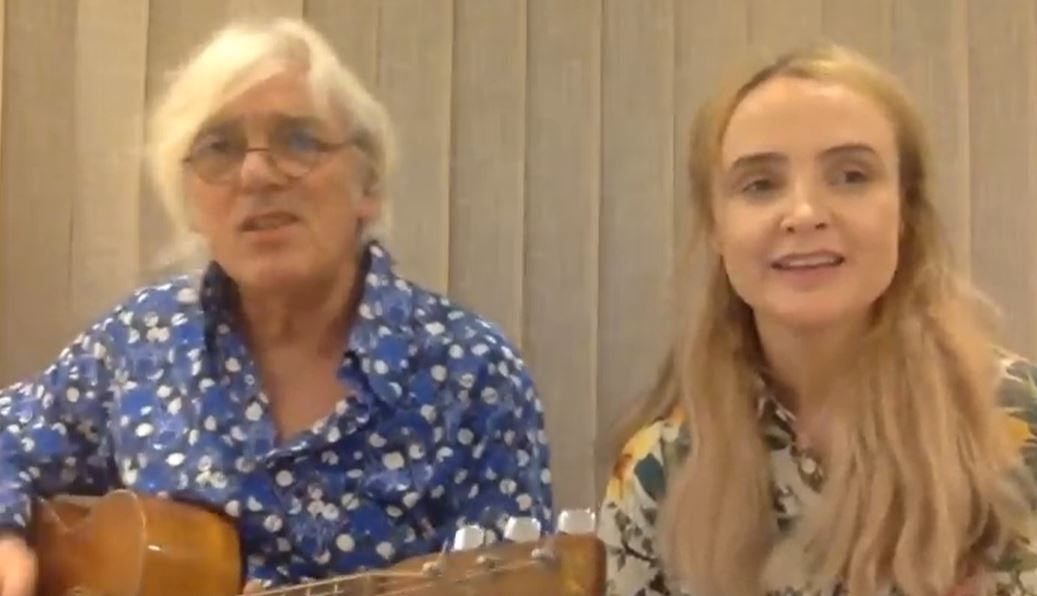 Robyn Hitchcock with Emma Swift Live From Sweet Home Quarantine (all requests) Part 26 
Robyn said hello and mentioned he had a "stack of requests," and launched into a "divorce" song, 'The Devil's Coachman,' which was typical Robyn: sad and surreal and very good. Next was 'Luckiness,' from Propellor Time, a song I haven't heard him do live before. Emma Swift came in, thanking everyone and generally being sweet. Reg said they'd play some "dismal requests," and they started with the great 'The Wreck Of The Arthur Lee,' the duo's voices working wonderfully together. 
They spoke about future streaming shows and doing Brian Ferry and John Lennon shows. Then the duo sang 'Birdshead,' from You And Oblivion, continuing the obscure Hitchcock song vein. It was a gorgeous, gentle song, a real gem in the set. Emma left and Robyn said "my complete lack of faith in humanity" has been proven since he wrote this song 42 tears ago. He then did The Soft Boys 'Human Music' from A Can Of Bees, with some prescient lyrics: 
The wind explodes and rips itself to pieces everywhere 
It itches in the chimney and it suffocates the air 
The angels tried to anchor but they never get the chance 
Their limbs are numb and twisted so they're going to have to dance 
What scares you most will set you free 
That's what the angel said to me, he said 
Ooh baby, when that human music plays I don't know why 
Hitchcock, like last week, was really on a roll. Emma appeared with Tubby, who had business elsewhere. Next was 'Filthy Bird' from Moss Elixir, one of my favorite Hicthcock songs. There was no Deni Bonet violin as featured on the album, but a great version nonetheless. Emma came back with a docile Ringo, and the duo did 'A Man's Gotta Know His Limitations, Briggs.' This is another great, somewhat obscure song from Ole! Tarantula, Reg dropped a verse and there was a bit of confusion, but this was great to hear. "On the subject of tyranny and global disaster," they did 'Brenda's Iron Sledge,' where we got Robyn's nickname from: 
Please don't call me Reg, it's not my name 
After finishing, they did a bit of 'Funky Town." Then Reg played 'San Francisco Patrol,' from his fine The Man Upstairs LP, he picked the chords and Em and he sounded just amazing on this aching love song. It was truly beautiful. They had a long talk about Robyn's crush on Liz Phair, and ended with 'Saturday Groovers,' sometimes with the 'Wednesday Groovers' lyric instead, in honor of the constant listeners. They cut it short and thanked everyone. Robyn really delivered tonight with some more deep cuts, and Emma, as always, was great. 
Robyn Hitchcock with Emma Swift Live From Sweet Home Quarantine (all requests) Part 27 
Robyn and Emma did not do a Wednesday show this week. I made plans to catch the Friday show (earlier in the day, designed to go out to European fans). At the last minute I had a medical appointment and for the first week ever I missed the show...AAAARGH! 
Robyn Hitchcock with Emma Swift Live From Sweet Home Quarantine (1990's by request 2) Part 28 
The show opened from Studio C, Robyn said "turn on your rose colored mind." He started with R.E.M.'s 'Electrolite,' in a very folkie, MTV-Unplugged style. Emma appeared with "Prince Tubbenstein," and then Perry the stuffed lobster. Emma described Billy Bragg as "the Jane Fonda of folk-rock, and the duo sang Bragg's 'Heaven Help Us All' with its lyric about being a "dedicated swallower of Fascism."  Every week the protest songs are getting just a bit more pointed. When they spoke about Billy Bragg, Emma mentioned going to five Billy shows in a row in Australia. 
Next was Pavement(!) and a pretty version of 'Range Life,' Emma singing lead. They caught me by surprise on this one. It was quite charming. After, Tubby caused a ruckus moving the blinds behind them. Tubby continued as Robyn played Beck and 'Devil's Haircut.' Complete chaos and lots of fun. Emma came in at the very end, and they segued into 'Stuck In The Middle With You' by Stealers Wheel. It fit perfectly with Beck. Robyn offered a "shameless plug for my new single," and he and Em did the new version of 'The President.' It's a terrifically sad and poignant song, and continued their protest song theme. They encouraged the audience to vote. 
Emma talked about her 90's crush on Evan Dando, and the duo did a stellar version of The Lemonheads 'It's A Shame About Ray.' Emma asked if Reg could play 'Mrs. Robinson,' and he launched into it. They stopped as they hadn't rehearsed it. Next up was Radiohead and 'High And Dry,' a smashing version sung solo by Emma. Her voice is always the best. Emma talked about Jarvis Cocker and her crush on him in the 90's, then they did 'Common People,' Emma again singing lead. This is such a wry tune about the British class system: 
You will never understand 
How it feels to live your life 
With no meaning or control 
And with nowhere left to go 
You are amazed that they exist 
And they burn so bright 
Whilst you can only wonder why 
Rent a flat above a shop 
Cut your hair and get a job 
Smoke some fags and play some pool 
Pretend you never went to school 
But still you'll never get it right 
'Cause when you're laid in bed at night 
Watching roaches climb the wall 
If you called your Dad he could stop it all, yeah 
This was an amazing take. Emma said they had to do a song "from their favorite Twitter boys, Liam and Noel," and they did Oasis and 'Champagne Supernova,' which I must admit was very good. The last song was Robyn's 'You've Got A Sweet Mouth On You, Baby,' from Jewels For Sophia, this is Reg in full-on Dylan mode, and it was lovely. They had time to show off Tubby and talk about next week. A loose, fun, great show with a lot of laughter and some great cover pics. 
Robyn Hitchcock with Emma Swift Live From Sweet Home Quarantine (RH Songs by request) Part 29 
Robyn started off reading a story about "the Three Directions," surreal and very British and very Robyn. After a portion of the story, he picked up the guitar and did a pretty version of 'Belltown Ramble' from Ole Tarantula!, a song I've never heard him play live. This was a take on Dylan and very good. He had a minimum of chat and went into The Kinks 'Dedicated Follower Of Fashion,' Reg was totally able to channel Ray Davies, and this was a special cover choice. Then it was right into 'Things We Said Today,'  by The Beatles, Robyn reminiscing about seeing A Hard Day's Night in 1964. His version was peppy and more than workmanlike.  Emma Swift was introduced, they discussed Perry the Lobster, and then played 'Trams Of Old London,' from I Often Dream Of Trains. As usual, their voices were great together. Robyn seemed to be on a real nostalgia kick tonight. Emma talked about how Robyn loves museums and those who work in them. Robyn did a silly Kate Bush voice, and the duo had a good laugh.  
Reg and Em did 'Love Hurts,' which was surprisingly good, originally written by Boudleaux Bryant for The Everly Brothers. "Written in 1999, after an exhaustive tour," Robyn introduced 'Mr. Kennedy,' a very straightforward and melodic song, helped tremendously by the two voices. Robyn did a fingerpicked, different approach on 'Autumn Sunglasses,' with Em singing, this is one of my very favorite songs from Robyn Hitchcock, and the delicate version tonight was astounding. Emma went to wrangle a cat after discussing the comments section. 
Reg, alone now, did 'Sickie Boy' from Propellor Time. This is a typical Reg meditation on the state of life, with a lyric "and a loser is someone who wins once in a while." Next Reg did 'Autumn Is Your Last Chance,' a sad, beautiful, so melodic song. From I Often Dream Of Trains, this is unquestionably one of his best songs. I felt privileged to hear it.  
Emma returned, saying "We're gonna celebrate Bruce Springsteen's birthday by playing a Leonard Cohen song." Emma sang ' Famous Blue Raincoat,' and it was stunning to hear her superb voice on this one. Another inspired, nostalgic cover. 
Emma said "that was your nightly bummer," and the duo did 'The Executioner,' from EYE. It was dark and a great slow burner. They ended up the show with The Soft Boys and 'I Want To Destroy You,' which Robyn dedicated to Mitch McConnell. It was wonderful and due to time they stopped early. This was another great show, I'm not sure how they keep doing it, but I'm glad they did! 
----Steve McGowan 
Thanks for dropping by. This blog is part of zubrecords.com, an indie label run by people who make and love music! Check out Alert for blogs on music, films, books, and more! Our podcast, Singles Going Steady, is on all major podcatchers and at tinyurl.com/SGSPodcast Lots of cool things to read and listen to at zubrecords.com